101 Fun Things To Do With Your Dog in New York City
There are so many fun activities to do with your dog in NYC that you shouldn't have to choose just one! This is the ultimate guide for anyone looking to visit New York City with their furry friend, or if you're a local looking to spice things up. We have over 100 recommendations on what to do, see, and eat while you're here. Scroll down for 101 fun things to do in NYC with your dog. 
Parks
1. Central Park
Central Park is heaven for dogs. It's exactly 843 acres of urban park that runs right down the middle of Manhattan. It's the most visited urban park in the United States, with over 37.5 million annual visitors.
The park has everything, from rocks to climb, to ponds, to a carousel and even a castle. There are free events held nearly every day, and guided tours and walks. Official off-leash hours are between 9PM and 9AM, when dogs take over and are free to run and play to their hearts' content.
Location: Central Park stretches from 110th Street to Central Park South (59th Street), and from Central Park West (8th Avenue) to 5th Ave (Manhattan).
2. Prospect Park
Prospect Park is Brooklyn's most iconic park, and it's definitely worth a visit, especially if you're a dog owner! The park offers up acres of dog-friendly green space in addition to Dog Beach, a swimming hole for pups.
You can connect with other Prospect Park dog owners through FIDO, New York City's largest off-leash community. They host events throughout the year, like Coffee Bark, a monthly get together for dog owners to meet, socialize, and exchange information while enjoying coffee, pastries, and dog biscuits.
Location: Prospect Park W, Parkside Ave. bet. Flatbush Ave., Ocean Ave. and Prospect Park SW (Brooklyn).
3. Riverside Park
This scenic waterfront park on the Upper West Side stretches four miles from 72nd to 158th streets along the Hudson River. It's home to three dog runs, a few restaurants, skate parks, sports fields, and many walking and bicycle paths.
Location: From 72nd to 158th streets along the Hudson River (Manhattan).
4. Flushing Meadows-Corona Park
This historic Queens park was the site of two twentieth century World's Fairs. It's the largest park in Queens, with sports fields, hiking trails, barbecue areas, two lakes, a zoo, museums, a botanical garden, and even a baseball stadium. There are approximately 897 acres of space to frolic with your pup.
Location: Grand Central Pkwy., Whitestone Exwy. bet. 111 St. and College Point Blvd., Park Drive E. (Queens).
5. Brooklyn Bridge Park
The waterfront park has tree-lined pathways, a great lawn, a dog run, and even a carousel. It's located in the Brooklyn Heights and DUMBO neighborhoods, and divided into eleven sections: Piers 1 through 6, Fulton Ferry Landing, Brooklyn Bridge Plaza, Empire Fulton Ferry, Main Street, and John Street.
Stop in to check out the various piers and enjoy the gardens. Don't forget to check out their list of free events beforehand to see what's happening.
Location: 1 Water Street, on the corner of Old Fulton and Water Street (Brooklyn).
6. Washington Square Park
Named after George Washington, this 9.75-acre public park has everything from children's play areas to trees, gardens, paths to stroll on, a chess playing area, park benches, picnic tables and not one, but two dog runs.
The park is always buzzing with activity and a frenetic New York energy that's contagious. There are musicians playing on benches, sunbathers lounging on lawns and canines frolicking in the dog parks.
Pass through the iconic Washington Arch, located on the park's border with Fifth Avenue, at the north side entrance, and dip your paws into the beautiful central fountain.
Location: At the base of Fifth Avenue between MacDougal Street and University Place (Manhattan).
7. McCarren Park
Nestled between Greenpoint and Williamsburg, McCarren Park is a Brooklyn staple. It has 35 acres of bustling activity, with a dog run, bocce courts, and a community pool. It's a popular destination for sports, sunbathing, and dog-walking.
Location: N. 12 St., Lorimer St., Manhattan Ave (Brooklyn).
8. Hudson River Park
Hudson River Park stretches from 59th Street south to Battery Park. It has 550-acres, spanning 4.5 miles, making it the second-biggest park in Manhattan after Central Park.
This expansive waterfront features various eateries, pathways, piers, and multiple dog runs. Check their website to learn about free events, including information especially for dog lovers.
Location: On the west side of Manhattan between Battery Place and W 59th Street (Manhattan).
9. Fort Greene Park
This historic park was named Brooklyn's first ever park in 1847. It has sloping hills and huge trees, making it a great place to take your dog for a fun stroll. It's a great place to socialize during off-leash hours (from opening until 9:00 a.m., and from 9:00 p.m. until the park closes). Check out their massive Prison Ship Martyrs' Monument, with an eight ton bronze urn at the top. It's illuminated at night!
Location: 100 Washington Park (Brooklyn).
10. Astoria Park
Located in Queens, Astoria Park sits on the edge of the East River, between the Triborough Bridge and Hell Gate Bridge. It's home to New York City's oldest and largest swimming pool! Other attractions include bocce courts, fourteen tennis courts, a skatepark, and a running track. Head here for off-leash hours.
Location: 19 St. bet. Astoria Park S. and Ditmars Blvd (Queens).
11. Pelham Bay Park
Pelham Bay Park is the largest public park in New York City. It's a full 2,772 acres – more than three times the size of Central Park! This green oasis has several peninsulas, a lagoon, miles of bridle paths and hiking trails, a beach, and a 13-mile saltwater shoreline. The southwest park has a dog run, and many dogs frequent the waters of Orchard Beach as well (see more below). It's a must see for any dog lover, and is full of plant and wildlife right in the Bronx.
Location: Watt Avenue &, Middletown Rd (The Bronx).
12. Inwood Hill Park
Inwood Hill Park contains the largest remaining natural forest land on Manhattan Island. Unlike other parks in New York City, the majority of the park is natural and consists of mostly wooded, non-landscaped hills. It's home to Inwood Hill Park Dog Run, also known as Homer's Run, which has it's own not-for-profit advocacy group. They share plenty of tips, ideas, and resources for dog life in Inwood. You can find more information about them here.
Location: Payson Ave. & Seaman Ave (Manhattan).
13. Morningside Park
This narrow park stretches for thirteen blocks through the neighborhoods of Harlem and Morningside Heights. It's built on a steep incline, with impressive landscapes and even a waterfall and pond. The park is close to Columbia University, as well as many coffeeshops and restaurants. There's a great dog park with wood chip floors and and two separate fenced in areas.
Location: W 110 St to W 123 St, Manhattan Ave to Morningside Ave (Manhattan).
Restaurants
Be advised: City Law states that you can bring a non-service dog into a restaurant only if you are sitting in an outdoor seating area. That means dining with dogs is best done during warmer months (April – October). Learn more about the rules for dining with dogs in NYC here.
14. Fred's
This casual and cozy eatery serves up delicious and traditional American fare with a particularly noteworthy brunch. They have happy hour from 5pm – 7pm on Monday – Friday. There are vegetarian, vegan, and gluten-free options on the menu, making it friendly for all.
The restaurant is named after a female black Labrador Retriever named, you guessed it, Fred. Fred was bred to be a guide dog and companion for the visually impaired by the NGO Guiding Eyes for the Blind. When she didn't pass testing, she was adopted by her loving family. Today, Fred serves as the face of the restaurant's logo, and inspired their motto (Come! Sit! Stay!).
Bonus: bring a framed photo of your dog and they'll hang it on the wall!
Location: 476 Amsterdam Ave, Upper West Side (Manhattan).
15. The Boat Basin Cafe
Located right on the Hudson river, the Boat Basin Cafe is a New York City staple. Dogs are welcome in the covered area (in case it rains), and throughout the outdoor seating. With a great atmosphere and delicious food, it's a win/win.The restaurant is open as early as late March and extends through the end of October.
Pro tip: stay for the sunset and enjoy the incredible views! Then take a walk through Riverside Park.
Location: W 79th St, Upper West Side (Manhattan).
16. Fresh Salt
Fresh Salt is a laid back restaurant in the historic South Street Seaport area. They have soups, salads, sandwiches, and great drinks. Their daily happy hour is from 4pm – 8pm with $5 well drinks and drafts, and $6 house wines.
Check out the canine patrons on their special Instagram, dedicated to the dogs of Fresh Salt.
Location: 146 Beekman St, Lower Manhattan (Manhattan).
17. La Esquina
What looks like an old New York diner on the outside doubles as a Mexican taqueria and underground speakeasy on the inside! Although your dog won't be able to enjoy the basement bar – you enter through the kitchen – they can enjoy tacos and queso fundido with you outside.
Order one of their famous tacos or Elote Callejero (that's grilled corn with cheese and chili powder), and wash it all down with a Mexican Coke.
Location: 114 Kenmare St, Nolita (Manhattan).
18. Ellington In The Park
This outdoor restaurant overlooking the Hudson River makes for a great place to spend a summer night with your pup – go at sunset! They serve cold drinks and standard fare pub food like wings, burgers, and pizza.
There are umbrellas for shade and an archway that dogs are allowed under. While they're not known for their service, with great views of the water and the laid back ambiance, you still can't beat it. They're open seasonally.
Location: 105th Inside Riverside Park, Upper West Side (Manhattan).
19. Barking Dog
This family-friendly and reasonably priced spot is a great option if you're on the Upper East Side. It's all in the name – Barking Dog is super dog friendly, with great yappy hour deals and fun dog-themed decor.
They offer tasty, cafe-style fare, with pancakes and eggs for breakfast, and classics like fish and chips and grilled skirt steak for lunch and dinner. Don't miss their doggy water fountain, a great place for your pup to get a cold drink.
Great news, they just opened a second location in Hell's Kitchen!
Location: 1678 Third Ave. at 94th St., Upper East Side (Manhattan) and 329 W 49th St, Hell's Kitchen (Manhattan).
20. The Spotted Owl Tavern
This cozy tavern has a warm ambience and great pub eats. They have daily specials like $11 burger and fries on Fridays, and all day brunch. There's also a $6 beer/shot special if you want to get weird.
Location: 211 Ave A, East Village (Manhattan).
21. La Bonbonniere
This no frills diner is a West Village staple. It's been open since the early 1930s and continues to serve up chocolate chip pancakes and juicy cheeseburgers seven days a week, from 7:00am – 10:00pm. If you're lucky enough to see an empty table outside, hurry and grab it. Cash only.
Location: 28 8th Ave, b/t Jane St & 12th St, West Village (Manhattan).
22. The Grey Dog
The Grey Dog is an all day cafe and coffee shop. It was founded by two brothers, Dave and Pete, who decided to name it after their pups. Today, three dogs are featured in the logo and The Grey Dog can be found in five different locations across Manhattan.
Check out the #dogsofgreydog hashtag on Instagram to peep some of their cute canine customers.
Location: Chelsea, Nolita, Union Square, Flatiron, West Village (Manhattan).
23. La Contenta Oeste
This Mexican eatery caters to our canine amigos with their own doggy menu. Give your dog a taste of Mexico with dishes like Pollito Con Papas (poached chicken breast with roasted carrots and potatoes) and El Vegetariano (quinoa, rice, sweet potatoes and carrots).
While they're chowing down, treat yourself to some guacamole and chips, fish tacos, and one of their signature cocktails (we recommend The Mayan or one of their Micheladas).
They have happy hour seven days a week, late night bites at 2am, and brunch on the weekends.
Location: 78 West 11th Street, Greenwich Village (Manhattan).
24. The Butcher's Daughter
This self described "vegetable slaughterhouse" is a plant-based restaurant and juice bar. Their 100% vegetarian menu changes daily, with delicious, healthy options and a great drink selection.
They serve breakfast, lunch, dinner and weekend brunch. They're a great place to go if you have dietary restrictions!
Location: Williamsburg (Brooklyn), Nolita (Manhattan), West Village (Manhattan).
25. Sunday in Brooklyn
This Brooklyn Bistro wants you to feel like every day is a Sunday in Brooklyn. They're located near Domino Park, with yummy eats for breakfast, midday, dinner, and brunch. They're a cash free restaurant, so bring your credit card! Oh, and order the pancakes.
Location: 348 Wythe Ave, Williamsburg (Brooklyn).
26. Tacocina
Tacocina is a great option if you're spending the day with your pup in Domino Park. Located right in the middle of the park, this taco stand serves (duh) tacos, margaritas, and other Mexico-inspired eats that you can enjoy while overlooking the East River.
Hang out at their outdoor seating or chow down somewhere in the park. Doggos love tacos too!
Location: 25 River St, Williamsburg (Brooklyn).
27. Stone Street Tavern
The Stone Street Tavern is located on, you guessed it, Stone Street. This short strip in Manhattan's Financial District is one of New York's oldest streets. It offers old world charm with cobblestone pavement and is closed to traffic – pedestrians only!
In warm weather, restaurants and bars on Stone Street place long wooden tables outside in the middle of the street for people to enjoy.
The Stone Street Tavern sits right in the middle of the street, with craft beer, artisanal cocktails, a seasonal menu and outdoor seating. We recommend ordering the Lobster Mac & Cheese or Tuna Tartare.
Location: 52 Stone St, Financial District (Manhattan)
28. Ollie's Ice Cream + Stuff
It's not a restaurant, but we still had to include Ollie's on the list!
Ollie's Ice Cream + Stuff is NYC's first-ever ice cream parlor for both dogs and humans. It's the brainchild of Eric Kyriakopoulos, a local bartender-turned-barktender, and dog dad to Simon, a rescue from Korean K9 Rescue.
Ollie's scoops flavors like Sea Salt Carmel and Nitro Cold Brew for humans, and Peanut Butter Pumpkin Butt, made with pumpkin, peanut butter and cashew yogurt, for dogs. Yum!
Location: 158 Irving Ave, Bushwick (Brooklyn).
29. Pig Beach
This barbecue joint is a paradise for meat lovers. They serve up brisket, burgers, and baby back ribs, oh my! There's plenty of outdoor space with umbrellas for shade and cold beer on tap. Don't worry, there's also a chickpea burger and plenty of sides for all you vegetarians out there.
Location: 480 Union St, Gowanus (Brooklyn).
Coffee Shops
30. Boris & Horton
Boris and Horton is a dog-friendly cafe in the East Village where your pup is welcome to socialize and play off-leash while you enjoy delicious brews and toasty sandwiches. They regularly host fun and dog-friendly events, including trivia nights, crafting (needle felting, knitting, and more), and breed meet ups.
Location: 195 Avenue A, East Village (Manhattan)
31. Hutch + Waldo
This Australian hangout specializes in coffee drinks along with seasonal meals and snacks. They use fresh, local produce to put together a range of delicious breakfast and lunch offerings, and they even have a variety of gluten-free and dairy-free options. Don't miss their classic blue French Bulldog logo and great outdoor seating.
Location: 247 E 81st St., Upper East Side (Manhattan)
32. Sey Coffee
This chic, modern coffee house is a coffee connoisseur's paradise. Coffee is roasted in-house, right in Bushwick, and Sey even offers "cupping sessions" where you can sniff, swirl and sip any number of beans. Their open-air space is light and bright, and they have plenty of room to let your good dog hang out while you enjoy a cup of Joe.
Location: 18 Grattan Street, Bushwick (Brooklyn)
33. Oliver Coffee
Right by the Brooklyn Bridge, you'll find Oliver Coffee – a charming, old school coffee shop with new age goods. Besides coffee, matcha, and delicious pastries, they also offer an eclectic selection of magazines and curated market items. There's even a coffee and pastry to go window for those just passing by.
Location: 5 Oliver St, Two Bridges (Manhattan)
34. Chateau le Woof
If you're a dog-owner headed to Queens, Château le Woof needs to be on your must see list! This charming pet market and cafe is a laid back, super dog-friendly mecca for dog and coffee lovers alike.
Their combined love of caffeine and canines has them serving up delicious craft coffee for humans, and treats and toys for pups. They have an off-leash play area, delicious food (for both you and your dog), and great coffee. They host regular events and are located right across the street from Socrates Sculpture park.
Location: 31-01 Vernon Blvd, Astoria (Queens)
35. Birch Coffee
Birch serves up delicious brews from small batches prepared locally at their Long Island City roast house. They have many locations throughout the city, meaning you can grab your Birch fix from a number of spots.
Plus, they're dog lovers! In early 2019, Birch created the Bully Blend, a phenomenal coffee blend from which all profits – that's right 100% of them – are donated to pitbull rescue.
Jeremy, one of the founders, has two adopted pitbulls and quickly developed a newfound respect for the breed and concern for their violent misrepresentation. Birch works with a few New York rescues, including Social Tees and New York Bully crew, and sends monthly donations from the coffee sold in stores.
Location: Various
36. Cha Cha Matcha
This pink and green wonderland popped up in New York City a few years ago, bringing matcha to the masses. Their drinks are healthy, tasty, and super colorful, making them the best place to head to for a delicious treat and the perfect Instagram photo. Need a caption? Try "Love you so Matcha" – it's trademarked!
Location: Various (Manhattan)
37. Super Nice
This bakery and espresso bar in East Harlem serves up fresh donuts (including vegan donuts!), strong coffee, baked goods, and savory hand pies, and they have a walk-up window your dog will love.
Super Nice also has tasty drink specials, like their caramelized brown sugar and dulce de leche lattes that you won't want to miss! There's no seating, but you can head to nearby Marcus Garvey Park for an impromptu picnic with your dog.
Location: 156 E 117th St., East Harlem (Manhattan)
38. 787 Coffee Co.
787 Coffee Co., named for the area code in Puerto Rico, is a Puerto Rican coffee shop with locations sprawled throughout the city. Their beans come straight from Puerto Rico and they even sell their bags to go. They offer fresh empanadas, with vegan options, and unique coffees – try their rum infused cold brew or their coquito latte.
Location: Various (14 coffee shops in NYC!)
39. Alita Cafe
Co-founders Alejandro Ceballos and Paolo Maliksi named their cafe after the nickname Alejandro grew up calling his "abuela" (grandmother in Spanish). Both classical musicians, the two decided to open a coffee shop after becoming enamored with the sense of community the spaces created. They proudly serve small-batch coffee, brewed locally, along with Mexican sodas, croissants and chorizo and cheddar biscuits.
Location: 797 Grand Street, Williamsburg (Brooklyn)
Bars
40. d.b.a.
d.b.a. is what happens when a beer lover and a dog lover give birth to a bar baby. They're known to host dog parties and have great happy hours. With a patio, a selection of over 100 beers, and dogs allowed both inside and out, this place can't be missed.
Bonus: check out their Instagram feed for plenty of pup porn.
Location: 41 1st Ave., Manhattan (East Village).
41. Tradesman
Tradesman is a laid back neighborhood bar with a nice sized backyard, cozy seating, and great deals. They have a solid Happy Hour until 9pm every day but Saturday that offers up $4 Drafts, $6 Specialty Cocktails, and $5 Well Drinks.
It's hard to find a $6 specialty cocktail that's not watered down anywhere else in the city, so it's a win for that alone. It's cash only but there's an ATM up front.
Bonus: if you're there, you might meet Lupe, the official Tradesman dog. She's prominently featured on their Instagram.
Location: 222 Bushwick Ave, Brooklyn (Bushwick).
42. The Anchored Inn
The Anchored Inn advertises themselves as a place to get fed and drunk. Perfect! Their limited menu includes goodies like Carmen Fries (cheddar sauce, queso Oaxaca, bacon, scallions, chipotle mayo) and Bacon Wrapped Hotdogs.
Enjoy these treats outside with a pitcher or drink special. Don't forget to check out their Instagram for daily food specials.
Location: 57 Waterbury St, Brooklyn (Bushwick).
43. L.I.C. Bar
This Queens watering hole has willow trees in the backyard garden that offer shade in the summers, and glowing heat lamps for warmth in the winter. They host a reading series on the second Tuesday of every month, and on Sundays they host live music. There's a $20 minimum on credit cards.
Location: 4558 Vernon Blvd, Queens (Long Island City).
44. Josie's
This dingy dive bar has cheap, cold beer and generous mixed drinks. There's pool and a jukebox to keep you entertained, and even a WiFi password if you ask nicely. The fake taxidermy adorning the walls means it's animal friendly…err sort of, and yes, dogs are allowed inside.
Location: 168 Ave B, Manhattan (Alphabet City).
45. The Levee
The Levee describes itself with four simple words: Beer. Booze. Pool. Dogs. The free, endless cheese puffs are a win-win too. They have a ton of games in the back – from checkers to scrabble to arcade games, you name it, they probably have it. There's a $15 dollar card minimum so stay awhile or bring cash.
If you're brave enough, check out the Texas Two Step – a beer and shot of tequila $6, SOLD! They're open daily from noon 'til 4am.
Location: 212 Berry St. at N. 3rd, Brooklyn (Williamsburg).
46. Lucky
There's a Lucky's on Avenue B in Manhattan that is not to be confused with the Luckydog bar in Brooklyn. This dive steps things up a notch with a great outdoor patio and a full bar.
Order a bucket of beer or go crazy with a wine slushie or frozen lemonade.
Pro tip: sign in on Yelp and get a free shot of whiskey. They offer up A1 Steak Sauce chasers with it, if you dare.
Location: 168 Ave B, Manhattan (Alphabet City).
47. Brooklyn Brewery
Nothing's better than pups and pints. Brooklyn Brewery allows well behaved, leashed dogs in their tasting room, so you can sample the beer on tap with your pup at your side.
There's no cover, no reservations, and plenty of tables to sit back and enjoy a pint. Bring some water for your pooch because the beer is for humans only.
Location: 79 N 11th St, Brooklyn (Williamsburg).
48. The Brooklyn Beer Garden
This celebration of art and beer transforms an outdoor lot in Brooklyn into an open air gallery and bar every summer. Enjoy a cold beer or cider whilst surrounded by lively creations from local street artists. Even the tables are covered in art!
The Brooklyn Beer Garden opens every year from May through September.
Location: 33 Wyckoff Ave (Bushwick).
49. East River Bar
This neighborhood outdoor party is located right under the Williamsburg Bridge. They have a huge, 1,000 square foot covered back patio area, with lots of tables, grills for BYOBBQ (Bring Your Own BBQ), and, if you're lucky, some food trucks.
There's also pool, foosball, a photo booth, juke box, and some great happy hour specials. It's a great spot to check out after you've crossed the bridge and need to quench your thirst.
Location: 97 S 6th St, Brooklyn (Williamsburg).
50. Do or Dive
Do or Dive is the dog-friendly dive bar to end all dive bars. Their decor includes loads of dog-themed memorabilia, and the French Bulldog mascot, affectionately known as "poops," is often found walking around.
Don't miss their delicious drinks like Watermelon Mint Margarita (on tap!) and "That Coffee Thing," a boozy frozen coffee thing with bourbon and brandy. They have great seasonal drinks too (think Hot Toddy and Eggnog in the winter, and Irish Coffee in the summer).
If you're lucky, you'll get your drink served in one of their limited edition doggy tiki mugs – you can take them home! Plus, they have outdoor space!
Location: 1108 Bedford Ave, Brooklyn (Bedford Stuyvesant).
Dog Parks
There's no shortage of dog parks in New York City. Here's a list of some of our favorites:
51. Hillside Dog Park
Hillside Dog Park is situated on a hill (who would have guessed?) and divided in two parts, one for small dogs and one for large dogs. The ground is a mix of dirt and wood chips, and the slope and terrain make it the perfect area for dogs to romp and run.
There are tables and seating for humans, and water fountains and trees for hydration and shade. It's a slice of heaven in the urban jungle, and when you're there, you'll almost forget that you're in the middle of a bustling city (and right next to the BQE).
There's an active community called Friends of Hillside Dog Park, Inc. (FHDP) who help preserve and improve the park. You can join their Facebook group here.
Location: Columbia Heights & Vine St. DUMBO (Brooklyn).
52. Dewitt Clinton Dog Park
We couldn't keep our local dog park off the list! What this dog park lacks in popularity, they make up for in residential charm. It's locals only!
There are two runs, a larger one for big dogs, and a smaller one for dogs 25 pounds and under. There are benches, hoses, and a few trees for marking.
Heads up: there's also a horse stable across the street, so steer clear if your dog isn't a fan.
Location: 52nd Street and 11th Ave. Hell's Kitchen (Manhattan)
53. Madison Square Dog Run
One of the best known dog parks in the city is the Madison Square Dog Run, located in bustling, you guessed it, Madison Square Park. Also known as Jemmy's Dog Run, it has benches, trees, and small and big dog areas.
Plus, they often host events like their annual Halloween Party and Madison Square Barkfest, a family-friendly event for dogs and dog-lovers. The run was recently renovated in 2019, and has great upkeep.
Besides the dog run, be sure to check out nearby attractions like the Flatiron Building, the park itself, and Shake Shack – don't forget to order a Poochini! If you're a regular, join their Membership program as a Madison Sprout (or above), and you'll get a Madison Square Park collar tag so your pup can proudly display their Madison Friendship.
You can join their newsletter here.
Location: 24th and Broadway, Flatiron (Manhattan).
54. West 72nd Street Dog Run
Riverside Park is home to nearly 400 acres of NYC parkland stretching from 59th Street to 181 Street along the Hudson River. There's so much to see and do along the water, which of course includes taking a romp at the 72nd Street dog run!
The dog run was officially opened in November 2004 thanks to the efforts of FLORAL, an Upper West Side dog owner and park advocacy group. It's entirely maintained by volunteers and contributions, so do your part when visiting and be sure to pick up after your dog.
Their Instagram is inactive, but you can get more information on their website.
There are a few dog runs in Riverside Park, so if you're not thrilled with this one, just walk a few blocks uptown to the next one!
Location: Intersections of 72nd St. and Riverside Ave, Upper West Side (Manhattan).
55. St. Nicholas Park Dog Run
This is one of the most adventurous dog runs I've seen in Manhattan. There are boulders and rocks to climb, though be warned that some of the climbing might be a little treacherous for smaller dogs (or even people).
If you're not careful, you might actually fall off of the large boulder that separates the higher and lower edge of the run. But the place is big and has plenty of running room, trees for sniffing and peeing on, and there are two sections to separate bigger and smaller dogs.
St. Nicholas Park Dog Run is cool and unique! No watering area, though.
Location: St Nicholas Terrace (Manhattan).
56. Canine Court
Canine Court, also known as the Van Cortlandt Park Dog Run, is located in New York City's third largest park, Van Cortlandt Park — a more than thousand acre park that blankets the ridges and valleys of the northwest Bronx.
The dog park is NYC's only dog run and agility course park for dogs. There's ample space for your dog to run around and even try their paw at some agility.
It's one of three dog parks in Van Cortlandt Park.
Location: Broadway & W 252nd St, Riverdale (Bronx).
57. Homer's Run
Homer's Run is located in Inwood Hill Park, a historical and hilly green space with a long river front, sports areas ,and lush greenery.
Inwood Hill Park is the only real forest left on the island of Manhattan. It has three trails, various rock formations, and a view of the Hudson River and the Palisades. It's also home to tulip trees, oaks and maples, as well as Manhattan's last salt marsh.
The dog park is a good size, with benches and trees that provide plenty of shade.
Location: Payson Ave. &, Seaman Ave, Inwood (Manhattan)
58. Washington Square Park Dog Run
The Washington Square Park Dog Run, located in the heart of Greenwich Village, is a great place for dogs to hang out, socialize, and play.
Named after George Washington, Washington Square Park is a 9.75-acre public park and has everything from children's play areas to trees and gardens, paths to stroll on, a chess playing area, park benches, picnic tables, and not one, but two dog runs. There's a small dog run in the park too.
Location: 52 Washington Square S, Greenwich Village (Manhattan).
59. Tompkins Square Dog Run
Tompkins Square Park Dog Run is New York City's first ever dog run, opened in 1990. Its many features include a state-of-the-art running surface composed of decomposed granite sand, underground drainage, a large and small dog run, three swimming pools, picnic tables, and bath areas with hoses to spray off your dog before returning home.
The Dog Run has a very active community who share news, fundraise, and work to preserve the park. You can check out their website or join them on Facebook.
Location: 500 East 9th Street, East Village (Manhattan)
60. Maria Hernandez Park Dog Run
This community run dog park in Bushwick has seating, partial shade, an area for small dogs, and a gravel floor.
They have an email list (you can sign up here), or you can follow the pack on Instagram and connect with fellow Pack Members in the official Facebook Group.
Location: Irving Ave., Kinickerbocker Ave. bet. Starr St. and Suydam St., Bushwick (Brooklyn).
61. Forest Park Barking Lot
This giant 14,000 square foot dog park is located in Kew Gardens, Queens.
It was established in June 2015 through the collaboration of dedicated community volunteers, New York City Department of Parks and Recreation, and the Partnership for Parks.
They have a great Facebook page, as well as a website and Instagram.
Location: 80-30 Park Lane Kew Gardens (Queens)
Markets
62. Go to the Farmers Market
Farmers Markets are a great place to hit up for fresh produce and do some shopping. They're also perfect for a little strolling and people watching.
Grow NYC has over 50 green markets and 15 farm stands all throughout the five boroughs. Over 200 local farmers, fishers, and bakers sell what they grow, raise, catch, and bake themselves, directly to consumers – no middle men or brokers allowed!
Our favorite Farmers Markets around NYC include:
The Union Square Green Market – Open Mondays, Wednesdays, Fridays, and Saturdays from 8:00 a.m. – 6:00 p.m.
Grand Army Plaza Greenmarket – Open Saturdays from 8:00 a.m. – 3:00 p.m.
63. Brooklyn Flea
The Brooklyn Flea Market makes an appearance every weekend between April and October, right under the archway in DUMBO.
Dig through vintage clothing, dusty old records, and artisan crafts while wandering the cobblestoned streets. There's also a smorgasbord of food vendors offering unique eats, mixed in with retro furniture and handmade jewelry. It's the best place to spend a weekend afternoon!
Brooklyn Flea also runs an open-air flea market every weekend in Chelsea, open year-round!
Location: Water Street between Adams Street and Anchorage Place. April through October, Sundays 10 a.m.- 5 p.m.
64. Smorgasburg
Smorgasburg is the largest weekly open-air food market in the United States. It attracts thousands of people to Brooklyn, Manhattan, and other locations across the country each weekend to eat from a variety of local vendors. Smorgasburg is open seasonally on weekends.
Visiting Smorgasburg is a great way to spend time outdoors, eat good food, and have a picnic with your dog.
Smorgasburg has locations in Williamsburg, Prospect Park, and the World Trade Center.
Location: Brooklyn and Manhattan.
65. NYC Street Fairs
Every summer, New York City streets close down for different periods of time so that local vendors can sell everything from fried Oreos to Mexican corn, ice cold lemonade to handbags and interesting clothing. These summer street festivals happen all throughout NYC, usually targeting different neighborhoods on alternating weekends.
Heading to a street fair is a great way to people watch, eat until you feel sick, and walk uninterrupted in a car free area. Make sure your dog is leashed and keep an eye out for street meat.
Location: Various.
Shopping
66. Stay Forever
This shop in Ridgewood, Queens features handmade jewelry, home goods, ceramics, stationery, and one-of-a-kind gifts. They host tons of fun events, including floral design workshops and jazz baby Fridays for little humans.
If you're lucky, you might spot Gizzy, the Strand's former littlest book seller, during your visit – she's one of the co-founders!
Location: 818 Woodward Ave #D, Ridgewood, NY (Queens).
67. Books Are Magic
When her local bookshop closed, author Emma Staub took matters into her own hands and opened one herself. Voila! Books Are Magic was birthed in 2017. This cozy and welcoming book haven is heavy on community and literary fun.
They host a plethora of events every month, and even have a book subscription club. Check out their book graffiti around the corner and snap a pic.
Location: 225 Smith Street (Brooklyn).
68. Columbus Circle Mall
Columbus Circle Mall is an indoor mall with a selection of over 50 retail shops and boutiques. The space has something for everyone; it's a great place to shop, dine, and even see art – there are 12-foot-tall sculptures made by Colombian artist Fernando Botero. Plus, it's right across the street from one of the best dog parks in the world: Central Park!
Columbus Circle is located at the main entrance to Central Park where Broadway, 8th Avenue, Central Park South and Central Park West all intersect.
Location: 10 Columbus Circle (Manhattan).
69. Hudson Yards
How do you create a new neighborhood in a historic place like New York City? Ask Hudson Yards.
Hudson Yards is home to more than 100 diverse shops and eateries, interactive installations like The Shed and The Vessel, and 14 acres of public plazas, gardens, and groves. There's plenty to do and see, and your dog is welcome to join you.
Location: Between 10th and 12th Avenues from West 30th to West 34th Streets, Hudson Yards (Manhattan).
70. Turnstyle
Turnstyle Underground Market is a full city block featuring 39 eateries, 19 food vendors, 10 retail stores and 10 kiosks, all connected to the underground 59th St-Columbus Circle MTA station!
Turnstyle is located beneath 8th Avenue, between 57th and 58th Street. There are seven street-level entrances to the market, and no, you don't need a Metrocard to enter. Their selection of shops and the food hall are a great place to browse on a rainy day.
Location: 59 St-Columbus Circle, (Manhattan).
71. The Oculus
The Oculus is the new World Trade Center Transportation hub. It's an impressive, light-filled and bright new architectural sight in Lower Manhattan. It's home to the Westfield World Trade Center shopping center, where you can find everything from coffee and snacks, to banks, clothing, and electronics.
Location: 33-69 Vesey St, World Trade Center (Manhattan).
72. Industry City
Industry City is a one-stop destination of experiences, eateries, events and everything in between. It's comprised of 16 buildings built on 35 acres of repurposed industrial space.
It's worth a visit, since you'll be able to wander with your dog through the waterfront green spaces, immersive retail selection, and public art installations. Bring your wallet and your camera!
Location: 220 36th St, Sunset Park (Brooklyn).
73. Pet Stores
NYC has some of the best shopping in the world, and that includes pet stores! The pet shops around the five boroughs offer a plethora of unique duds, healthy treats, and even fun events for your dog to enjoy. Here are a few of our favorites:
Zoomies
Gone to the Dogs
Shop Dog & Co.
Sightseeing
74. Take a Tour
One of the best ways to learn about New York City and experience what is has to offer is to take a tour. Luckily, there are a number of tours that are also dog-friendly!
Free Tours by Foot, a pay-what-you-wish company, offers a variety of tours throughout NYC, including three different ghost tours, neighborhood guides, and street art tours. They have walking tours with a guide, as well as virtual tours and self-guided tours for those who'd rather go at their own pace.
If you want to go solo, consider Sidewalk tours. This app offers self-guided tours that'll have you meandering the streets of different neighborhoods, learning about the city. Bring headphones and your phone!
And if you're taking a guided tour, always give the company a heads up ahead of time about your dog's attendance to get the official green light from the tour operator.
75. Walk Down Broadway
One of the cheapest and best ways to see the city is to walk down Broadway. The avenue is the oldest north–south main thoroughfare in New York City; in fact, much of the current avenue began as the Wickquasgeck trail before the arrival of Europeans.
While Broadway snakes through parts of the Bronx and Westchester County, it's most notable for being Manhattan's longest avenue, stretching 13.3 miles across the island. It passes through notable neighborhoods like Chinatown, SoHo, Times Square, and Flatiron. It's a great way to spend time outdoors and see the sights.
Broadway runs from the top of Manhattan to the tip of the island. Start your journey down Broadway at any point, but if you're up for it, try walking down the entire length of the island. It would be an adventure for sure, and something to check off the New York bucket list.
Be warned that a walk down Broadway will take approximately seven hours, including breaks. We recommend going from north to south, as it's the best route, starting in Inwood and ending with views of the Statue of Liberty.
76. Walk Along the Hudson
The Hudson River is a 315-mile river that flows from north to south, primarily through eastern New York State. The southernmost portion of the river runs along the western shores of Manhattan, dividing the city from New Jersey across the river.
The lively river has plenty of piers that were formerly used for shipping and berthing ocean-going ships. Today, many have been converted into parks, and host everything from dog runs, to restaurants, ferry stops and more.
The Hudson is worth a visit, no matter where you are on the island. I recommend the Christopher Street Pier, also known as Pier 45, located opposite West 10th Street in Greenwich Village, or a walk through Hudson River Park, which runs from Chambers St. to 59th St.
77. Walk Across the Brooklyn Bridge
There's nothing like a walk across the historic Brooklyn Bridge. Soak in views of the Statue of Liberty, enjoy the spectacular skyline of lower Manhattan, and admire the beautiful architecture.
The bridge has a 1.3 mile long pedestrian walkway that will keep you and your pup far from vehicles. It's a great way to burn some energy while sightseeing.
Be sure to go early morning or late at night to avoid huge crowds. We recommend entering on the Manhattan side, and enjoying Brooklyn Bridge Park at the other end.
78. Take a Ferry Ride
The subway and bus aren't the only ways to get around NYC. Grab your pup and take a ride on the East River. The NYC Ferry has six routes stopping in all five boroughs, and allows caged and/or muzzled dogs.
A one-way fair will cost you $2.75, and dogs ride for free. Hop on and head to places like DUMBO, Astoria, or the Lower East Side.
The Staten Island Ferry is also dog-friendly, allows caged and/or muzzled dogs, and is free!
79. Ride the Subway
The New York City subway is the easiest – and cheapest – way to zip around the city. $2.75 can get you to all five boroughs. Well behaved pups are allowed on the subway, as long as they're in a bag.
Have a large dog? Not to worry. Creative New Yorkers have found a solution for getting them on the train too.
80. Walk Across the Williamsburg Bridge
Built in the late 1800s, the Williamsburg Bridge connects the Lower East Side of Manhattan to the Williamsburg neighborhood of Brooklyn. Pedestrians have their own walkway, so you can cross without worrying about cars zooming past.
Crossing this bridge is a great option for shy pups or those who love to run, since it usually has less foot traffic than either the Brooklyn or Manhattan bridge.
81. Do a Photo Shoot
New York City has some of the best Instagrammable spots in the world. From street art to colorful streets and picturesque cafes, there's something worth photographing on every corner.
Plan a photoshoot in your favorite neighborhood. You can do it yourself or hire a photographer to capture the magic.
82. See Some Art
If you think you can only see great art in museums while in New York City, think again. There's plenty of street art to take in that's not only free, but stunning. Here are some of our favorites:
Welling Court Mural Project: Back in 2009, residents of Welling Court decided to band together to beautify their neighborhood. Through hard work and organizing, the Welling Court Mural Project was born. Today, over a decade later, the community mural project has brought together artists from around the globe to help foster beauty in the neighborhood. Every year, new, large-scale murals are painted in the streets, yielding an open air museum of art that is free and open to the public, 24/7.
Bushwick Collective: The Bushwick Collective is an outdoor street gallery that features the work of artists from all over the world. The gallery begins on Jefferson Street and continues on Troutman Stree, going towards Saint Nicholas Avenue. Walk the streets at your leisure and snap photos with your favorite pieces. Don't forget to tag the artists!
100 Gates Project: The 100 Gate Project started as a way to beautify the city. They connect merchants with artists to create original murals on roll-down security gates building an open-air gallery all throughout neighborhoods like the Lower East Side, East Harlem, and the East Village.
83. Go to a Museum
A museum alll about dogs? Yup, New York has one! The Museum of the Dog! Run by the American Kennel Club, the Museum of the Dog features canine-related artwork. They have a great permanent collection, as well as regular exhibits and many dog-related events.
They open their doors to dogs on Furry Fridays, a dog-friendly event that the museum runs every month.
If you're looking for more art, head to the William Secord Gallery on 15th Street. They specialize in 19th and 20th century dog and animal paintings, and are a popular destination for those interested in original dog paintings, works on paper, sculptures, and more.
Unlike most museums in NYC, they welcome all leashed pets, as long as you make an appointment.
Exercise
84. Take a Hike
Let your pooch wander the forest while feasting on the sights and smells of the woods! Inwood Hill Park is the only forest left on Manhattan Island. It has three trails, various rock formations, and a view of the Hudson River and the Palisades. It's also home to tulip trees, oaks, and maples, as well as Manhattan's last salt marsh.
Be sure to check out Shorakkopoch Rock while there, the alleged place where the "selling" of Manhattan, between Peter Minuit and Native Americans, took place.
Inwood Hill Park is only a subway ride away. Take the 1 train to 215th Street.
Location: Payson Ave. &, Seaman Ave, Inwood (Manhattan)
85. Go for a Bike Ride
Citi Bike is the country's largest bike share program, with 25,000 bikes and over 1,500 stations across Manhattan, Brooklyn, Queens, the Bronx, Jersey City and Hoboken. It's a great way to explore the city, and your dog is welcome too – either strap them on your back in a dog backpack or let them run alongside you on the bike path.
Single rides cost $3.99 or you can get a day pass for $15.
86. Dog Beach
Located at Long Meadow in Prospect Park, Dog Beach is a swimming hole for our four-legged friends. It was recently renovated in 2016 with rocks brought down from upstate New York and new fencing. Dogs are able to swim, run, and play freely within off leash hours during the dog days of summer.
87. Go for a Swim
Living in the concrete jungle doesn't mean you have to go without swimming. There are a few places for your dog to splash, play and swim besides dog beach (listed above). Many New York City beaches allow dogs during part of the year.
Otherwise, check out one of these places:
Francis Lewis Park
Louis Valentino, Jr. Park and Pier
Crescent Beach Park
88. Join a Pack Walk
Pack walks are a great way to tour a neighborhood, meet local dogs, and exercise while socializing. There are pack walks organized in Brooklyn once a week, where dogs and their owners meet up to walk, explore, and hang out.
If you'd like to step it up a notch, consider joining a running club. Many are dog-friendly, and will allow you to run with your dog by your side.
89. Go to a Dog Meet Up
Dog meet ups provide an opportunity for your pup to socialize and play with dogs. Meet ups are organized by breed, dog size, neighborhood, and/or special interest. Many take place in dog runs or parks, where dogs are able to frolic and stretch out.
Here's a dog-friendly event calendar where we share details of the various dog meet ups happening throughout the city.
We also have a comprehensive list of dog groups and meet ups throughout the city that are free to join: Dog Groups and Meet Ups in New York City.
90. Do Stand Up Paddle (SUP & Pup) and Kayaking
Spending a day on the water isn't reserved for country dogs. City dogs can enjoy it too!
NYC offers a few places where dogs are welcome to SUP & pup (stand up paddle) and kayak with you. It's a fun experience that'll definitely get their tails wagging.
Dogs are welcome to join in rentals for free at Manhattan Kayak (but are not allowed for group lessons or group tours). Pay $10 for 40 minutes on the water. They provide dog lifejackets and even hold special SUP & Pup events. Don't forget your camera!
The LIC Community Boathouse at Hallets Cove and Anable Basin also welcomes dogs. They provide dog lifejackets, and kayaking with them is totally free.
Manhattan Kayak: Pier 84 , 44th Street & 12th Ave, (Manhattan)
LIC Community Boathouse: Hallets Cove, Socrates Sculpture Park, 31-10 Vernon Blvd, (Queens)
Seasonal Activities
91. Go to a Holiday Market
Holiday markets in NYC are a great place to spend an afternoon people watching, shopping, and snacking. Hit up one of these markets, and be sure to grab some mulled wine or hot cocoa while there:
Winter Village at Bryant Park: Featuring over 170 vendors (!), the Winter Village at Bryant Park has something for everyone. There's a cozy skating rink, wholesome eats, and holiday events like a tree lighting and caroling. It's a winter wonderland, right in the middle of the city!
Union Square Holiday Market: This European-style winter market features more than 150 local and national vendors, so there's truly something for everyone. Head here for a day of winter fun, grab a snack, shop 'til you drop, and then cap it all off with play time at the dog park right in Union Square.
Columbus Circle Holiday Market: This annual holiday bazaar is located right at the entrance of Central Park, the city's best dog park! With more than 100 booths, there are plenty of dog-themed items to choose from. We liked the dog breed socks and freshly made hot apple cider donuts. Shop here, and then head into the park.
92. Go See a Movie
Every summer, movies are shown under the stars – and for free! – all over the city, on lawns, in parks, and even on rooftops. Pack a blanket, your pup, and some popcorn, and enjoy a night out. Check out the following:
Central Park Film Festival
Movies with a View
Summer Screen
Summer on the Hudson
93. Go Sledding
Sledding is fun for all ages, and all leg counts – two or four.
When Central Park gets more than six inches of snow, their sledding areas open for everyone to enjoy. The two most popular spots are Pilgrim Hill, found by entering the park around 72nd St and Fifth Ave, and Cedar Hill, located a bit further uptown between 76th and 79th St at Fifth Ave.
If you're closer to Prospect Park in Brooklyn, head there for fun. Top sledding spots include Long Meadow, Lookout Hill, Drummer's Grove, and Endale Arch.
Need a sled? We recommend this one.
94. March in the Easter Parade and Bonnet Festival
Every Easter, celebrants don festive finery and show off their very best bonnets along Fifth Avenue. The annual pageant is a New York City tradition that dates back to the 1870s.
The parade marches north on Fifth Avenue, from 49th Street to 57th Street, and dogs are welcome to join too. It's a great excuse to put on your Sunday best and slap a fancy hat and bow tie on your dog.
95. Go to the Tompkins Square Park Halloween Parade
The party of the year happens annually at Tomkins Square Park when thousands of costumed canines and spectators get together for the biggest dog costume parade in the world.
Even if your pup doesn't want to dress up, this time honored tradition is worth experiencing. Creative pooches of all sizes and ages come to battle it out for best costume and to take home epic prizes.
There are thousands of participants, spectators, and even celebrity hosts and judges. This is an event you won't want to miss!
96. Go to a Ball Game
The Mets, Yankees, and Cyclones all host Bark in the Park nights, where you're welcome to come and enjoy a ball game with your pup. Sometimes they even allow pups to walk the field and provide special dog-friendly freebies. It's a fun night at the stadium for everyone!
97. My Dog Loves Central Park Country Fair
What's not to love about Central Park? There's off-leash hours, acres of lush land, and even a waterfall. The Central Park Conservancy runs Central Park Paws, a program for all of the dogs and owners who frequent the park. They also invite dogs and dog lovers to celebrate Central Park's vibrant dog community and promote responsible park stewardship at the annual "My Dog Loves Central Park Country Fair."
This free event features games and contests, giveaways, tips from trainers, microchipping, and more.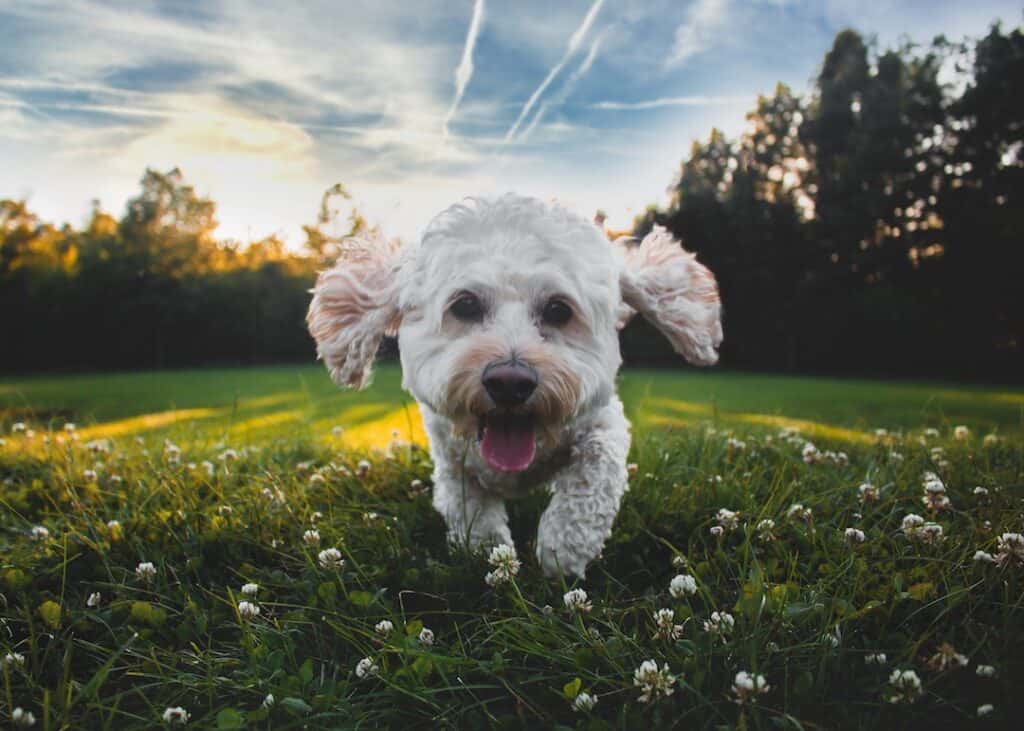 Miscellaneous Activities
98. Go to a Dog-Friendly Event
One of the best things about New York City is that dogs can have as active a social life as humans! There are dog-friendly events run daily all throughout the city.
Here's a dog-friendly event calendar where we share information and details for the various dog-related events happening in all five boroughs. There's everything from breed meet ups, to coffee barks, to fundraisers and craft nights, and even doga (dog yoga).
99. Book a Session with a Dog Photographer
Put your best paw forward and allow a professional to capture your dog by booking a session with a dog photographer. There are a number of dog photographers in New York City who offer everything from lifestyle sessions at your home to outdoor, picturesque shoots across the city, to studio sessions.
100. Go on a Bar Crawl
Nothing says summer like a bar crawl. Sunshine, cold drinks, and hot dogs (the woof kind!) make for a great day.
Gather your best dog friends and do a dog-friendly bar crawl. If you're in the East Village, then hit up the six dog-friendly locations on this NYC Bar Crawl that we designed ourselves! There'll be playtime, pints, and puppies, all of the ingredients for an epic crawl.
101. Visit Coney Island
Coney Island is the city's playground. It has an amusement park, the beach, and a vibrant boardwalk full of fun. Leashed dogs are allowed on the boardwalk at Coney Island year round, and allowed on the beach from September 30 through April 30.
Visit Nathan's hot dogs for a bite, buy a ticket to a Brooklyn Cyclones Bark in the Park game, or check out Coney Island Walls, an "Outdoor Museum of Street Art." You can even catch a free movie at Coney Island Flicks on the Beach.
Don't forget the sunblock! Get there on the D, Q, N, or F train to Stillwell Avenue.
Learn more about dog-friendly NYC here.