The Ultimate Dog-Friendly Guide to Central Park
Central Park truly is a dog paradise for city dwelling canines. With 843 acres of land, this green escape is home to 23 dog-friendly regions throughout the park. Some of these areas include Harlem Meer, East Meadow, Cedar Hill and Mineral Springs. And not only that, but there are 21 dog fountains distributed throughout the park, with plans to build more. What more could you want?
I've been lucky enough to live near Central Park for my entire life, which means I've been visiting regularly since birth. It's a magical place for humans and dogs alike, and those visiting or living in the city are so fortunate to be able to escape to it. Here are the 10 best dog-friendly things to do in Central Park.
But first, here are some Central Park dog rules that you should be aware of, whether you're visiting on two or four legs.
Central Park Dog Rules
New York State law and New York City Health Code require that dogs be vaccinated against rabies, and that every dog owner carry proof of a current dog license and rabies vaccination while in public.
Leashes are to be no longer than 6 ft. in length.
Clean up after your dog.
Dogs must not dig, chase, or harm wildlife, damage park property or interfere with other park visitors.
Please respect signs, fences, and red flags that may indicate temporary closures due to restoration, maintenance or weather conditions.
Off leash hours in Central Park
Off-leash hours in Central Park are at 6:00am – 9:00am and 9:00pm – 1:00am.
Dogs must remain on-leash from 9:00am to 9:00pm.
Dog leash areas of Central Park
Even during off-leash hours, dogs must always be leashed in the following locations:
Arthur Ross Pinetum (Mid-Park between 84th and 86th Street)
Bridle Path (Loop surrounding the Reservoir)
Children's Glade (West Side between 103rd and 106th Street)
Conservatory Garden (East Side between 104th and 106th Street)
East Green (East Side at 69th Street)
East Meadow Oval (East Side between 97th and 100th Street)
Kerbs Boathouse Plaza (East Side at 74th Street)
North Woods (Mid-Park between 101st and 110th Street)
The Ramble (Mid-Park between 73rd and 79th Street)
Shakespeare Garden (West Side at 79th Street)
Strawberry Fields (West Side between 71st and 74th Street)
Turtle Pond Lawn (Mid-Park at 80th Street)
West 86-90th Street Lawn
Other areas where signs requiring dogs to be leashed are posted
Where are dogs NOT allowed in Central Park?
Dogs are never allowed at:
Great Lawn Oval
Hallett Nature Sanctuary
Nell Singer Lilac Walk
Stephanie and Fred Shuman Running Track
Sheep Meadow
All ballfields and recreational courts
All playgrounds
All sand volleyball courts
All water bodies, streams, and ornamental fountains
Elm islands at the Mall
The Central Park Zoo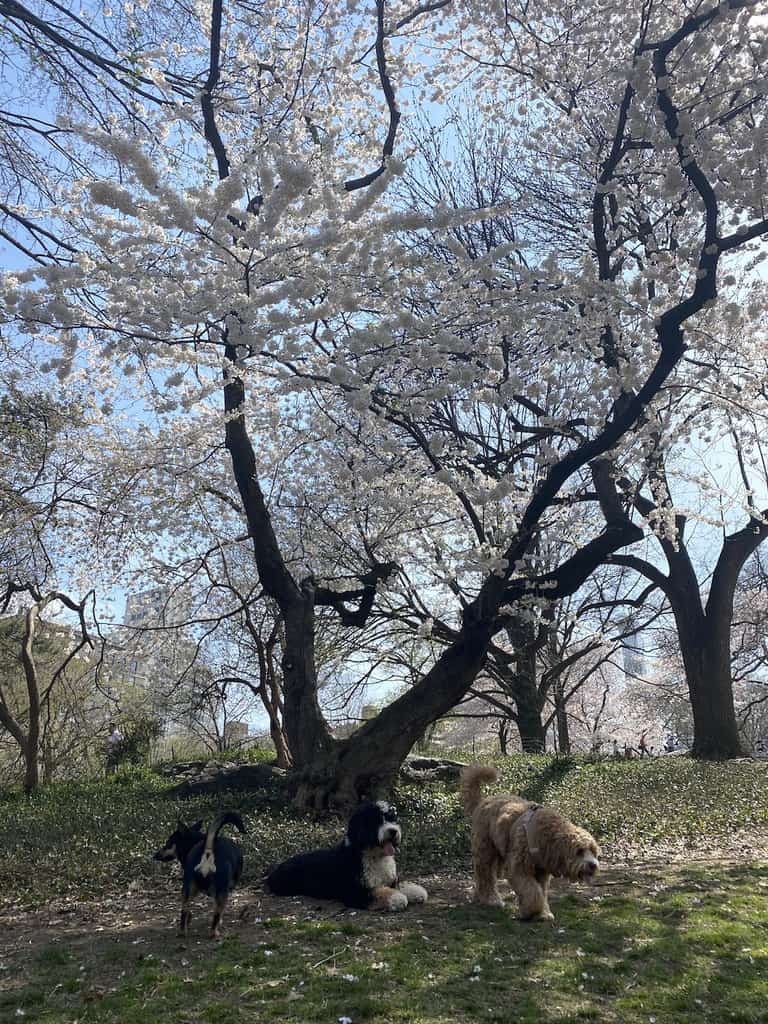 Does Central Park have a dog park?
No, Central Park does not have an official dog park. But it's still a great place to visit with your dog! And it does have off-leash hours (see above).
Are there dog events and meet ups in Central Park?
Yes!
Every year, the Central Park Conservancy hosts the My Dog Loves Central Park fair, a fun and free event where the dog community comes together to learn, play and celebrate Central Park.
The My Dog Loves Central Park fair includes contests, training tips, games and much more. The event is typically run in the fall, and takes place at the Naumburg Bandshell (Mid-Park at 72nd Street).
There are also many breed meet ups that take place unofficially in the park. Check our list of Dog Groups and Meet Ups in New York City for more information.
The 10 Best Dog-Friendly Things to do in Central Park
1. Tour Seneca Village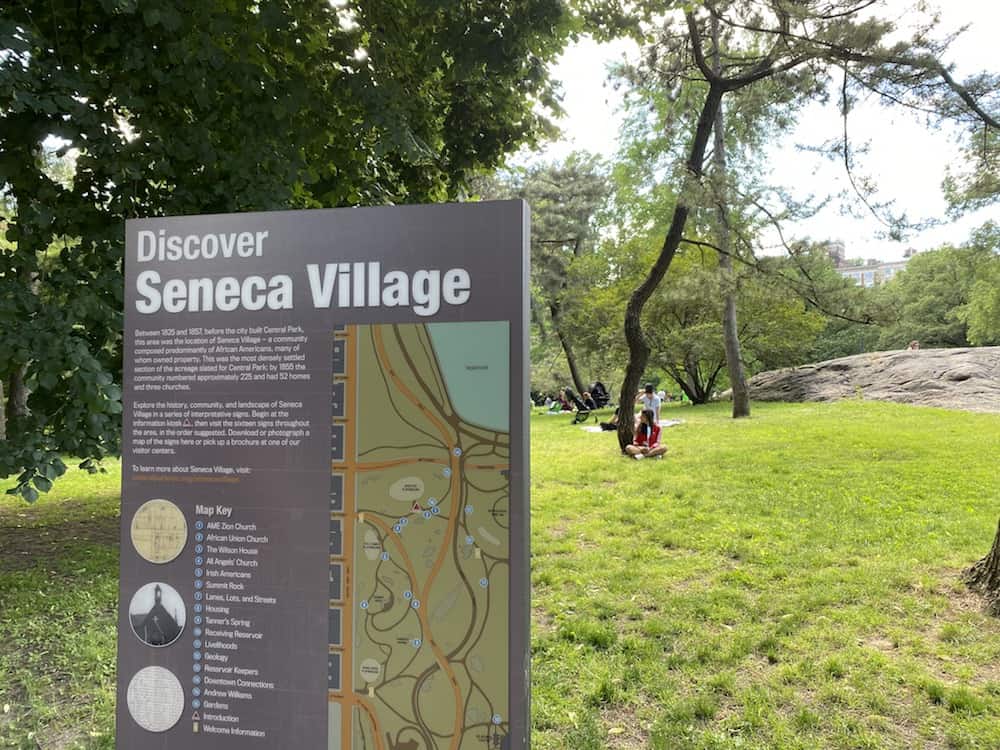 Before Central Park, there was Seneca Village.
Seneca Village was a 19th century community of predominantly free African-Americans that stretched from West 82nd to West 89th Street. They resided here to escape the unhygienic conditions and racism of the densely populated Downtown Manhattan.
By 1855, the village consisted of approximately 225 residents, made up of roughly two-thirds African-Americans, one-third Irish immigrants, and a small number of people of German descent.
By the mid-1850s, Seneca Village also had about 50 homes and three churches, as well as burial grounds, and a school for African-American students. Many of the African-American inhabitants owned property and, as such (property ownership was a precondition) had the right to vote, a rarity at the time.
Of the 100 Black New Yorkers eligible to vote in 1845, 10 lived in Seneca Village.
In 1853, the city acquired the land Seneca Village sat on through eminent domain, the law that allows the government to take private land for public use with compensation paid to the landowner. Ultimately, all residents had to leave by the end of 1857.
In the 1990s, a group of scholars and archeologists interested in the story of Seneca Village formed the Institute for the Exploration of Seneca Village. They organized a dig and unearthed artifacts from that time period.
Recently, a new temporary outdoor exhibit called Discover Seneca Village was put up, providing information and highlighting research about the community and its layout.
Definitely walk through the area, read the signage, and get a glimpse into pre-Central Park history. It's a great loop to do with your dog, and an important piece of New York history that's often overlooked.
Location: enter the park at Central Park West and West 85th Street.
2. Visit the Balto statue
In 1925, a devastating diphtheria outbreak hit Nome, Alaska. There wasn't enough antitoxin to go around, so a team of mushers and sled dogs, including a Siberian Husky named Balto, traveled 674 miles to deliver medicine.
Balto's team ran their leg of the trip almost entirely in the dark, and managed to stay on the trail in near whiteout conditions. They forged through blizzards and braved frigid temperatures as low as -23 °F, but ultimately succeeded.
The statue of Balto was made as a lasting tribute to commemorate his heroic journey. It was unveiled in Central Park on December 15, 1925, with Balto himself in attendance. It features Balto, his name and a plaque engraved with his story and the words "Endurance · Fidelity · Intelligence."
There is some slight discoloration on Balto's back and ears from decades worth of touching, rubbing and playing. You're free to ride Balto and climb on top of him!
Fun fact: The statue was made by Brooklyn-born sculptor Frederick George Richard Roth, who has other statues standing in Central Park as well: Tales of Mother Goose and Dancing Goat and Dancing Bear.
Location: West of East Drive and 67th Street, and north of the Central Park Zoo.
3. Explore the North Woods
Waterfalls? In Central Park?!
It's true! Located in the northwest corner of Central Park, the 40-acre North Woods is a slice of secluded woodlands right in the middle of Manhattan.
Tucked into this dense area is a hidden oasis of mini-waterfalls. These picturesque pools are dotted throughout rock formations, tall trees and rustic arches.
There are at least five different waterfalls, so grab your dog, explore the North Woods, and find them all!
Fun fact: Good old NYC tap water flows through these falls (they're all man-made!) – it comes from a 48-inch pipe hidden by the rocks at the Pool Grotto on West 100th Street.
Location: Enter from the West side through the Glen Span Arch around 102nd Street and follow the moving water, called the Loch, which is Scottish for "lake".
4. Walk through the Ramble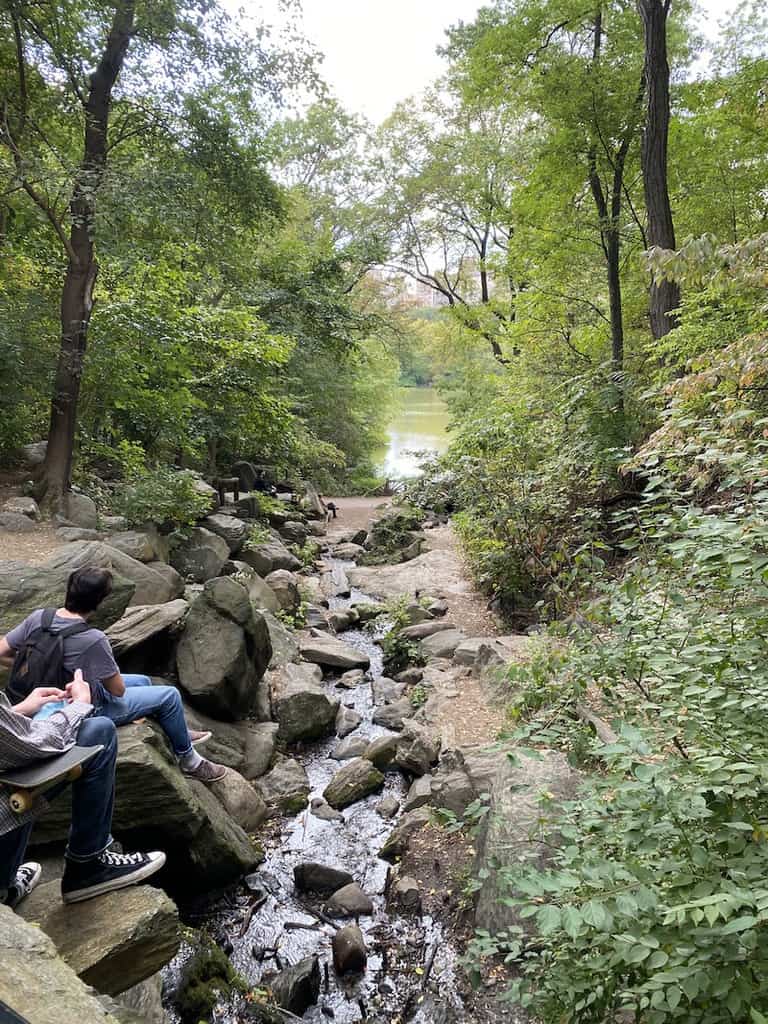 Get lost with your dog in the Ramble, a 36-acre woodland retreat in the middle of the park.
This enchanting area of the park has winding paths, wild greenery and scurrying woodland creatures. It was made for strolling, exploring and quiet time in nature.
It's also an excellent place for birdwatching – over 270 bird species have been spotted here – so don't be surprised if you spot aviary enthusiasts with a binocular or two.
Be sure to check out the Ramble's three highlights when walking along the twisting pathways: Azalea Pond; the Gill, a stream that feeds into the pond; and Ramble Stone Arch.
Remember: Dogs must be on leash at all times when exploring the Ramble.
Location: In the middle of the park between 73rd and 78th streets.
5. Hang out during off-leash hours
In the 1990s, Parks Commissioner Henry Stern introduced the idea of off-leash hours for dogs to New York City parks.
The idea was two-fold. First, he wanted to help parks recover from a state of decline, crime and violence, and second, he wanted to help dog owners socialize and exercise their dogs.
Off-leash hours have been a huge success, with dogs getting to frolic and play while their owners kick back and watch. And luckily, they get to enjoy themselves in the mecca of all dog parks, Central Park!
Off-leash hours in Central Park are 6:00am – 9:00am and 9:00pm – 1:00am.
Location: Even during off-leash hours, there are some areas in the park where dogs are not allowed or must remain on-leash. See above for full details.
6. Walk around the Reservoir
The Reservoir in Central Park is 40 feet deep and holds over one billion gallons of water. It covers 106 acres, a full eighth of the park's surface.
This large body of water was built in the 1860s as a backup to the Croton water system's Receiving Reservoir. At the time, it was the world's largest man-made lake.
The Central Park Reservoir was officially retired as the city's water source in 1993, although it still provides water for the Pool and the Harlem Meer, both located in the park.
It's a great area to take a walk, with nearly 200 Yoshino cherry trees planted on the east side of the Reservoir, and a similar number of Kwanzan cherry trees on the west side.
There's a popular 1.58 mile running track that surrounds the reservoir, but dogs are not allowed on it. Luckily, it's also encircled by the park's bridle trail, a much wider and equally scenic path, and one that's perfect for strolling with your pup.
Fun fact: The reservoir's official name is the Jacqueline Kennedy Onassis Reservoir. It was renamed after the former first lady in 1994 to commemorate her contributions to the city, and because she lived nearby – she used to run around the track!
Location: Between 86th and 96th street.
7. Take a photo at Strawberry Fields
Strawberry Fields is a 2.5 acre living memorial to the Beatles singer and activist John Lennon.
The memorial was built in 1985, a few years after John Lennon was murdered outside of his apartment building, the Dakota, located just across the street.
It's named after the Beatles' song "Strawberry Fields Forever," which Lennon wrote about his childhood home in England.
The tribute features a circular Portuguese style mosaic on the pavement, with the word "Imagine," the title of another famous Lennon song, in the middle.
It's a great place to people watch, and sit and relax, as it's surrounded by benches and large elm trees.
The area is especially lively on Lennon's birthday (October 9) and on the anniversary of his death (December 8), when people gather to sing songs and pay tribute.
Location: Central Park West at West 72nd Street.
8. Smell the flowers at the Conservatory Garden
A European garden on Fifth Avenue? Yup.
The Conservatory Garden is a six acre European style garden, and the only formal garden in all of Central Park.
Step through the extravagant Vanderbilt Gate, made in Paris in 1894, and enter into another world, far from the hustle and bustle of Fifth Avenue's Museum Mile.
The garden is divided into three sections: the French-style North Garden, Italianate Center Garden, and the English-style South Garden.
There's a plethora of flowers, fountains and walkways, that'll make you feel as though you've just stepped across the pond.
Location: Between 104th and 106th Streets, west of Fifth Avenue.
9. Picnic and play on the grass
When you're tired of the concrete jungle, head to a nice patch of grass in Central Park.
Besides rock formations, winding pathways, and lakes, the park also features sprawling greens, perfect for lounging, playing fetch or enjoying a picnic.
So, when you've had enough of hard sidewalks, head to one of the dog-friendly lawns and relax, people watch and let your dog sink their paws into the grass.
10. Walk down the Mall
Central Park rolled out the red carpet on the way to Bethesda Terrace with the Mall; a wide and beautiful walkway, lined with huge trees and historic statues.
The Mall was specially designed to accommodate horse drawn carriages, to allow wealthy residents wearing their Sunday best to stroll down the pathway and enjoy the scenery.
Today, it's home to roller skaters, artists and street performers. It's still a lovely path to stroll down, with the shade of one of the largest stands of American Elm trees in North America, and plenty of benches for relaxing.
Bonus: Walk to the end of the Mall and enjoy Bethesda Terrace and fountain, with epic views and passages.
Location: The Central Park Mall runs through the middle of the Park from 66th to 72nd street.
Have you ever visited Central Park with your dog? Let us know in the comments.
Related posts:
---
Pin for later!