15 Items Dogs in New York City Can't Live Without
As an Amazon Associate, I earn from qualifying purchases.
The life of a New York City dog is unique to that of one living elsewhere. There are great perks to living in this massive city, but it also comes with some annoyances that are hard to escape – I'm talking about you, street meat!
If you're moving to the concrete jungle, there are certain items you'll want to make sure you have in stock. They'll make your dog's life easier, happier, and safer.
Luckily, I run the @dogsofnyc Instagram page, a great online community of dog owners and dog lovers in and around NYC. I tapped into that resource and asked my audience of over 16,000 dogs living in New York City about the products they can't live without.
Below is an overview of the most popular items listed. Thank you to everyone who contributed!
1. Poop Bags
Picking up after your dog is not only a social responsibility, it's the law.
The Department of Sanitation can fine a New Yorker $250 for not picking up dog waste under law 161.03 of the New York City Health Code, also known as "the Pooper Scooper Law."
Plus, it's the right thing to do. Let's face it, no one wants to live in a neighborhood where they have to dodge dog poo like a real life game of minesweeper.
So, keep your neighborhood clean, and follow the law, by always having poop bags on hand.
What we recommend: You'll help reduce the environmental impact of dog waste and the amount of plastic going into landfills by using compostable poop bags. I recommend these. They're made of plant based material and easily compostable.
If you've forgotten to refill your roll, don't worry. Ask a fellow dog owner walking by if they can spare a bag, or grab an extra at one of the 1,000 canine waste bag dispensers installed by the NYC Parks Department.
2. Rain Coat
It's hard enough to get your dog to venture outside when it's raining, but throw dealing with a wet dog in an apartment on top of that and you've got a recipe for disaster.
Keep it cute and avoid the wet dog shakes with a handy, and stylish, raincoat.
It might help coax your dog into walking a bit further to use the bathroom.
What we recommend: The Bel Air raincoat from Zee Dog is both stylish and super adjustable, and made with ripstop waterproof material. Plus, it features reflective strips that add visibility, for those nighttime walks, and a cool pouch to store it in.
If you're on a budget, check out this reversible rain jacket that comes in two fun patterns!
3. Portable Water Bottle
New York City dogs are always on the move, whether they're going for a walk around the neighborhood or hanging out at the dog park. Since NYC is super dog-friendly, it's easy to bring your dog along when going out to eat or having a drink at the local watering hole.
Be prepared on any outing, and bring a portable water bottle. It's important to stay hydrated, especially during the summer when the concrete jungle starts to sizzle between your pup's paw pads.
What we recommend: I recommend this one, because it's lightweight, leak proof, and the perfect size to throw in your purse or backpack.
4. Paw Wipes
I'm going to state the obvious: the streets of New York City are gross.
It doesn't help that Mayor de Blasio slashed more than $21 million for litter basket pickup from the Sanitation Department's budget, and that the number of rats scurrying about has ballooned in the past year.
But one New Yorker's nightmare is another New York dog's heaven. There are smells, and chicken bones, and rat friends galore for NYC dogs to smell, eat, and play with – not that we advocate letting your dog eat or play with rats.
But keep that gross stuff outdoors, and don't let your dog track it into your apartment. All of the dirt and grime that might stick to their paws can be removed with some handy paw wipes.
What we recommend: I love these Earth Rated dog wipes. They're plant-based and compostable, and come in either unscented or with a nice lavender smell. Plus, they're super sensitive, so they won't mess with your dog's allergies.
5. Paw Balm
The concrete jungle isn't always so nice on dog paws.
Cold, hard concrete isn't as forgiving as other surfaces, like grass or gravel, and unfortunately, the city is covered in concrete. Throw in snow, salt and dirt, and you've got a recipe for dry and cracked paws, which can be super painful.
Protect your dog's paws with paw balm. The balm acts as an invisible boot that forms a breathable shield and protects against snow, salt or hot pavement. It's great for active dogs, those with sensitive paws, and a must if your local dog park is concrete.
What we recommend: The name I heard over and over again regarding paw balm was Musher's Secret. I guess it's not really a secret, because more than a few dog owners in NYC recommended the brand. Their paw wax protects against heat, sand and snow.
I've also heard great things about the Natural Dog Company PawTection Paw Balm stick. It's made of all natural ingredients, and is easy to apply, since it comes in a roll out stick similar to a chapstick.
6. An Amazing Dog Walker
New Yorkers are busy and dogs need exercise. The average person may not have the spare time to give their dog three good walks a day, with adequate time outside.
Enter dog walkers.
A dog walker wears many hats: they're your dog's babysitter, companion and exercise buddy. They make sure your dog stays hydrated, goes to the bathroom, and gets their steps in. You trust them with your pet, but also with the keys to your home.
A good, trusted dog walker is a must for any New Yorker.
What we recommend: Talk to your neighbors! When at the dog park or going for a walk, ask your fellow dog lovers who their dog walker is.
7. Light Up Collar
In the city that never sleeps, dogs are out at all times of day and night! That includes early morning off leash hours, and late night pee runs.
Even though the city is pretty well lit, there are still darker corners where small dogs or dogs with darker coats may be harder to spot.
Avoid any incidents by putting a light up collar around your dog's neck, or a strapping a light to their harness. It's sort of like those blinkers on bicycles, except cuter.
What we recommend: This water resistant glowing dog collar comes in a bunch of colors, and is rechargeable using a USB cord. It's also adjustable, so you can cut it down to fit your dog's neck. It's meant to fit loosely around your dog's neck, and easy to slip on and off.
If you're not too keen on putting things on your dog's neck, you can check out these light up dog tags – they can be attached to a harness! – and glowing leashes.
8. Dog Bag
Whether you're hopping on the subway or browsing the aisles of a department store, dog bags are useful for dogs on the go.
I can think of 101 reasons why a dog bag is useful for a city dog, so a good bag should be at the top of your list. Heck, I have a few different bags to choose from depending on what I'll be doing that day – subway ride? K9 Sport Sack. Vet visit? Sherpa original. Hanging out? Canvas tote.
Got a big dog? No sweat. There are dog bags available that can carry pups up to 90 lbs!
What we recommend: we have a whole blogpost on the best bags for riding the subway! We definitely recommend the K9 Sport Sack, a super sturdy dog backpack, but if you're looking for side carriers or any other styles, check out this post.
9. Stylish Bandana
So it's not Paris, but New York is still one of the fashion capitals of the world. Add a bit of flair to your pup's look with a stylish bandana. While sweaters are great during winter, bandanas are great all year round. Plus, they're cheaper.
Besides the fashion, bandanas are great for other things too. They can help you spot your dog at the dog park, or be used as a makeshift rag if needed.
Extra points if you get one that goes well with your pup's coat.
What we recommend: There are loads of great places that sell dog bandanas, search through Etsy and go nuts. Or you can easily make your own!
10. Waist Pack
Keys, wallet, phone, leash, treats, water.
What did I forget?
If you're going for a quick walk around the block, this might be ok, but if you're headed for a longer outing, you'll need even more gear – extra poop bags? chapstick? a charger?
Give your pockets a break and get a waist pack to carry your gear. It'll free up your hands, so you can handle the leash and pet your dog.
What we recommend: This Waterfly one comes in a myriad of colors, and has space for a water bottle. It also has different compartments and pockets. If the cross-body style is more your thing (I get it, some people don't like fanny packs), check out their sling. I hear it's good for lefties.
11. Short Leash
New York has plenty of tight spaces where you need a bit of extra control.
A short leash and a tight grip will give you better control over your dog, especially when walking on those narrow sidewalks with pedestrian traffic going to and fro. It'll make it easier to pull your dog away from cars, other dogs and street meat.
They're especially great if your dog is a puller!
What we recommend: This padded short leash is reflective and pretty inexpensive. Otherwise, check out this silicone leash that's extra durable.
12. Long Leash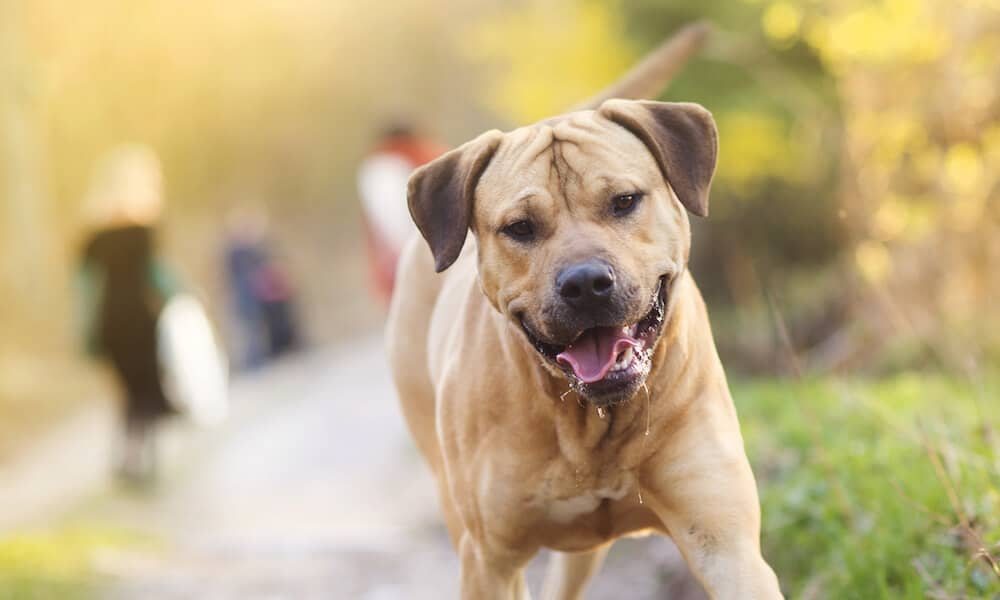 For a dog in New York, the most coveted time of day is before and after nine, when all hell breaks loose and the leashes come off. Off-leash hours are when dogs get to be dogs, and get a whiff of freedom from the days when their wolf ancestors roamed the island.
But being trusted with off-leash hours doesn't come easy, especially when there are so many temptations (other dogs, street meat, and squirrels, to name a few), and dangers lurking (um hello, the street).
A 30ft leash is great for recall training, so you can work up to off-leash hours. It's sort of like the training wheels on a bicycle: you're not quite there, but almost.
What we recommend: This cord leash comes in three sizes, with a rotating clasp so it doesn't tangle, and it's own storage bag.
13. NY Dog License
I, like many city kids, don't have a driver's license, but my dog does!
Well, to be fair, it's just a license – he can't drive.
All dogs in New York City must have a license, and the licenses must be attached to their collars while in public.
It's a way for NYC to keep track of dog residents, to help find lost dogs, and for medical safety.
Heads up: if your dog doesn't have a license or the license is not properly displayed, you can get a fine.
Licensing fees help fund shelters and pay for free and low-cost spay and neuter programs, so they're for a good cause. For spayed or neutered dogs they cost $8.50 per year. If your dog is not spayed or neutered, a license will cost $8.50 if the dog is under 4 months old, or $34 if it is older. They can last from one year to up to five years, depending on what type of license you want.
What we recommend: You can apply for a dog license online, or by downloading and mailing in an application.
14. A Good Harness
Collars are great for showcasing ID tags, but when it comes to walking, training, and real control, you'll need a good harness.
Using a dog harness instead of a dog collar makes it easier to control and manage any dog, especially large ones or those with leash manners that still need work. It's also great for training and preventing injury, since a harness distributes pressure over a larger portion of the body (pulling on a collar can hurt a dog's neck and back).
Since walking on New York City sidewalks can be tricky – the traffic! the people! the street meat! – it's best to have as much control over your pup as possible.
What we recommend: This ruffwear harness offers great coverage and control for all types of dogs. It comes in a bunch of colors too. My personal favorites are Buddy Belt harnesses – they're stylish and long lasting. And of course, we have to mention fan favorite Puppia. They make fun, lightweight mesh harnesses that are machine washable.
15. Sweater + Coat
Sure, your NYC radiator is probably blasting heat and turning your apartment into a sauna every winter, but the outdoors are a whole different story.
Once winter rolls around you'll want to keep your pup warm during their walks.
If you're like me, and you have a small dog, grab a few different sweaters and coats, and layer up! It's fashionable and cozy.
If your dog just needs one garment, make sure it covers both their back and their belly.
What we recommend: There's so many to choose from, and at so many different price points. Browse your local pet store or check out some favorite dog brands online.
Are there any items your dog can't live without? Let us know in the comments!
---
Pin for later!