Where to Find the Best Matching Dog and Human Clothes
Dogs are adorable, but putting them in clothes – and matching clothes at that – takes the cuteness to a whole new level. Plus, matching dog and owner clothing is always Instagram GOLD. You can't lose!
That said, it's not always easy to find dog and owner matching outfits. That is, unless you have the torso of a child. And it's especially difficult if your dog is relatively small and you can't simply slap kids clothing on them.
So we did the research for you and put together a list of places with the best options for getting matching clothes for you and your dog. Here goes!
American Eagle


Price: $$
Sure, American Eagle is known for their all American style, but did you know they design their classic gear for dogs too?
That's right, American Eagle has an "American Beagle" section for you and your all American, patriotic pup. These are essentially miniature versions of American Eagle's signature fleeces and sweaters that you can pick up for your dog. They're great for those who live in colder climates.
They typically only offer a few styles and colors, and only seasonally, so be sure to check back when their new lines come out.
Dog Threads


Price: $$$
You might have seen Dog Threads while scrolling through Instagram or watching ABC's Shark Tank (yes they got a deal!). Dog Threads is the ultimate place for dog parents to shop. This family-owned business is all about exceptionally made, matching clothing for all members of the family, four-legged members included.
They sell everything from Hawaiian shirts to plaid button ups, and even cozy sweaters. All seasons are covered.
Plus, you'll be shopping for a good cause – a portion of all sales are donated to animal rescue. I mean, just look at the picture. Looking good boys!
Pendleton Woolen Mills


Price: $$$
Need a matching outfit that just screams "I've been sipping chardonnay in Sonoma?" Pendleton Woolen Mills is that brand. They are seriously chic, and make gorgeous clothes.
This American clothing company is known for their textiles, blankets and woolens. They are among the few woolen mills still in operation in the United States today, and their fabrics are still woven in the Pacific Northwest.
Their classic patterns are used to make an array of goods, like blankets, human clothing, accessories, and dog clothing. That means you can pick up a dog bed, leash, and jacket for your dog, and a sweater, blanket, and bag for you – all with the same pattern. It's a match made in heaven. Perfect for cozy nights by the fire or family photos for your holiday card.
Target


Price: $
Target has an extensive line of matching pajama sets for the whole family, dogs included. Once the holiday season rolls around, they release their new line, and always offer great patterns at an affordable price. Grab a cozy, matching set or two for you and your dog. The matching pajamas make for snuggly nights of Netflix & Chill, and super stylish mornings.
The pajama sets come in sizes for babies and then run all the way up to adults. You can choose from a variety of styles and patterns online.
Club Huey
Price: $
Club Huey is a small business run by a thrupple – a husband and wife team with their French Bulldog Huey. They have a matching/twins collection full of t-shirts and sweatshirts that are all hand printed and packaged in their home in Texas.
Their stock is full of funny sayings and pop culture references that will make everyone smile. They're constantly updating their offerings, so check back often (especially during the holidays) for new, creative and matching outfits.
Plus, they always have discount codes and sales going on!
H&M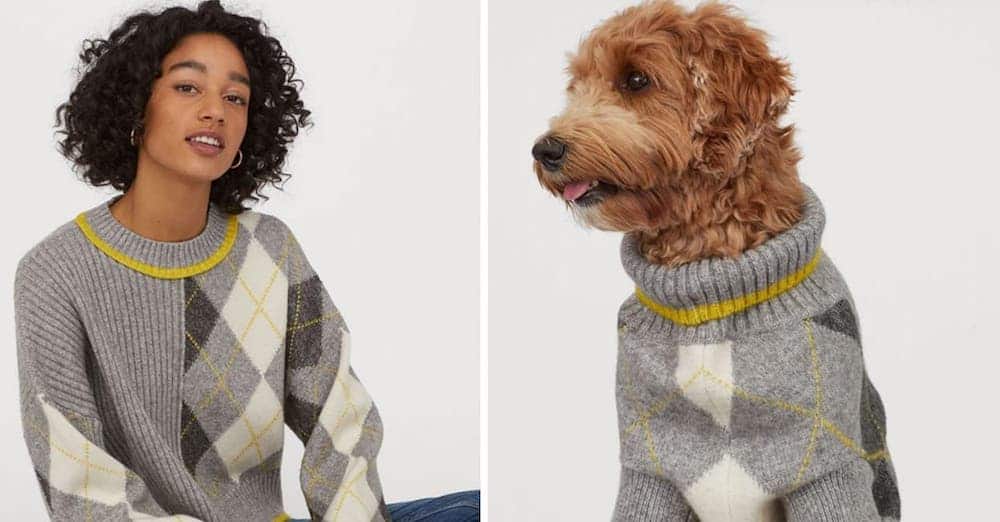 Price: $$
Every season, H&M releases new collections from designers across the globe. And some have even started to include dog clothing for fashionable pups.
In a recent collaboration with Pringle of Scotland, a range of items included scarves, dresses and sweaters that were made with matching dog sweaters. The best part is, the collection was part of H&M's Conscious Collection, meaning everything was made with recycled polyester and organic cotton. Feel good and look good with your pup.
Each collection is seasonal, so check back often, and hurry because they tend to sell out!
Disney
Price: $$
How many Disney dogs are there? Do you think you could list them?
There's Eric's Old English Sheepdog Max from The Little Mermaid, and Pongo and Perdy from 101 Dalmatians. And we can't forget Lady and the Tramp and Pluto.
Disney has always loved dogs, obviously featuring pups in plenty of their cartoons. So Disney fans went totally wild when the company finally released their pet collection.
It includes fun leashes and collars, cartoon painted dog bowls, and yes, you guessed it, matching items for you and your dog. Let your real dog wear your favorite cartoon dogs and join in on the fun.
FitFrenchie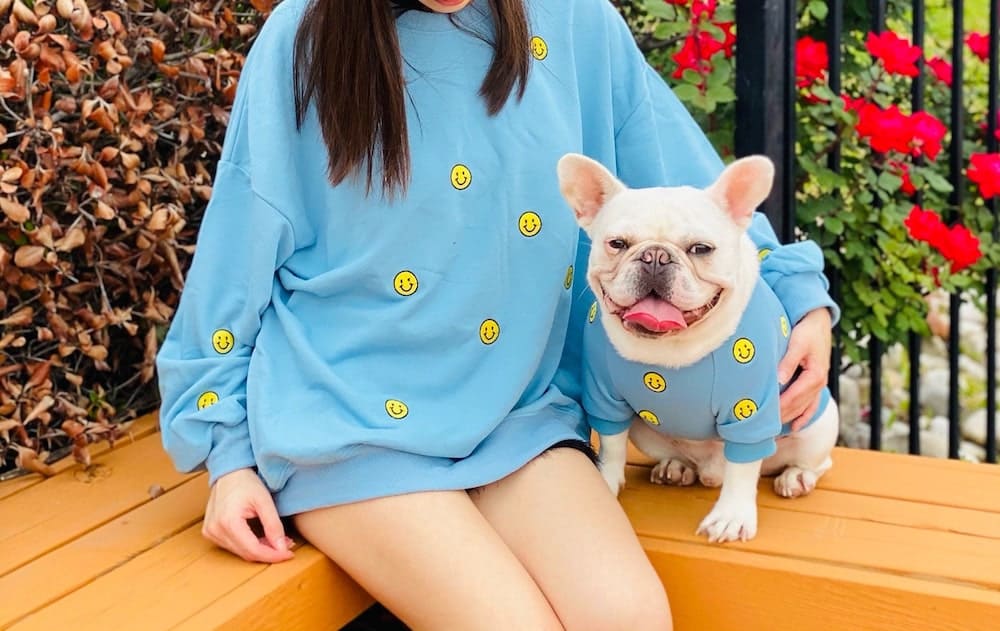 Price: $$
FitFrenchie are the Etsy champs of matching dog and owner clothes. They specialize in all things matching, from sweaters, to sweatshirts, to button downs and t-shirts. They offer all kinds of patterns and styles, and have sizes for both small and large dogs. They even do custom designs! They're a must see if you're planning to match with your dog.
Canada Pooch
Price: $$$
Canada Pooch has a whole match your pup line, and it's not just limited to clothing. They offer colorful matching sweatsuits, as well as fanny packs, hoodies, masks, scrunchies, and pajamas. Check back often as the line expands.
The Gap
Price: $$
The Gap sells classic American duds, and every now and then they throw a few dog items in the mix. Every Fall and Winter season brings new dog sweaters and pajamas in timeless prints. With a bit of searching, you'll usually find a human counterpart that matches!
They're pricier than Target when it comes to matching pajamas, but their quality is unmatched and they always offer good sales. Check them out!
Old Navy
Price: $
Old Navy has jumped on the family matching pajamas train and I'm not mad! They offer really cute seasonal pajamas in lots of fun holiday prints.
Even though the store is known for their affordable family clothing, don't sleep on their pet section! There are plenty of options for everything from bandanas, to outwear, and even toys.
Do you ever wear matching outfits with your dog?
---
Pin for later!