Can pugs swim? All about pugs and swimming
Come summertime, when the heat rolls in, there's nothing better than cooling off with a nice swim. And sure, you've probably seen large dogs like labradors and golden retrievers enjoying the water, but what about pugs? Can pug dogs swim?
With their blocky heads and stocky little bodies, many would probably assume that they can't. But they'd be wrong! Pugs, like other breeds, can be great little swimmers, and often enjoy playing in water. Here's the low down on pugs and swimming.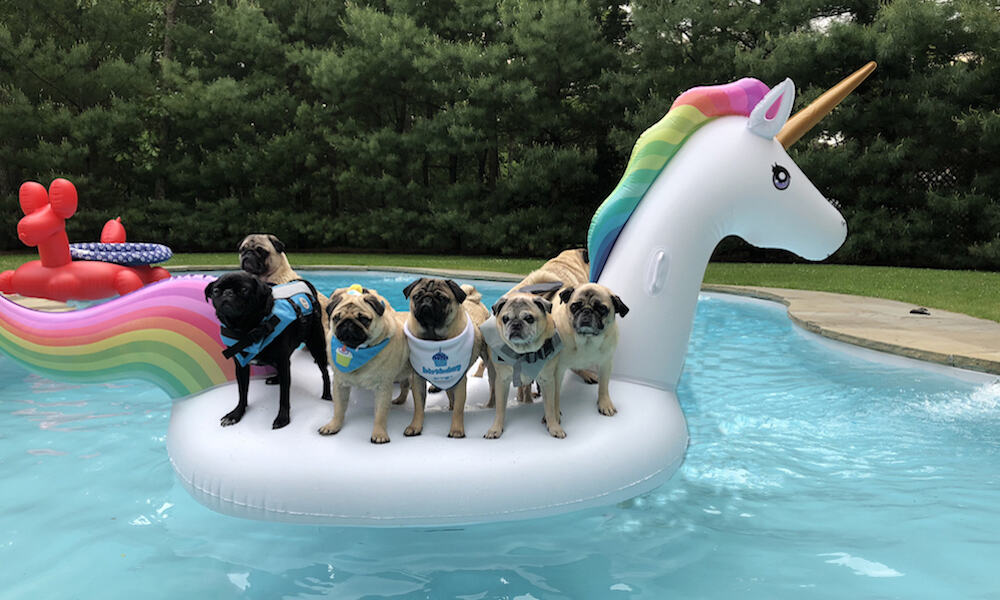 Can pug dogs swim?
Yes, pugs can swim! Just like other dog breeds, pugs can enjoy water and doggy paddle like the best of them.
That said, keep in mind that dogs, like people, have individual, personal preferences. So while some pugs might love the water and getting wet, others may prefer to keep their paws dry.
Are pugs born knowing how to swim?
Pugs, like all dogs, are born with a natural and inherent instinct to paddle in water. You've probably seen it – you hold a dog over a body of water and they start to kick their legs even before their paws have gotten wet.
But, unfortunately, that doggy paddle may be the extent of their ability to swim. While some dogs (think retrievers and settlers) were born to swim, it may be difficult for some pugs to keep their head above water. Stubby legs, big heavy heads, and barrel chests don't exactly give pugs a leg up.
But that doesn't mean that pugs can't swim! It just means it may be harder for them than other breeds, and that you'll need to keep an attentive eye on your pug any time they're around water.
Introducing a pug to water
A pug's introduction to water is going to have a major effect on their attitude towards swimming. For example, a dog who is thrown into the pool without warning will likely develop an understandable fear of water.
It's important to make sure that your pug's first time in water is a positive experience! That way, they associate water with fun.
Here are a few things to keep in mind to ensure your pug has a good experience their first time in the water: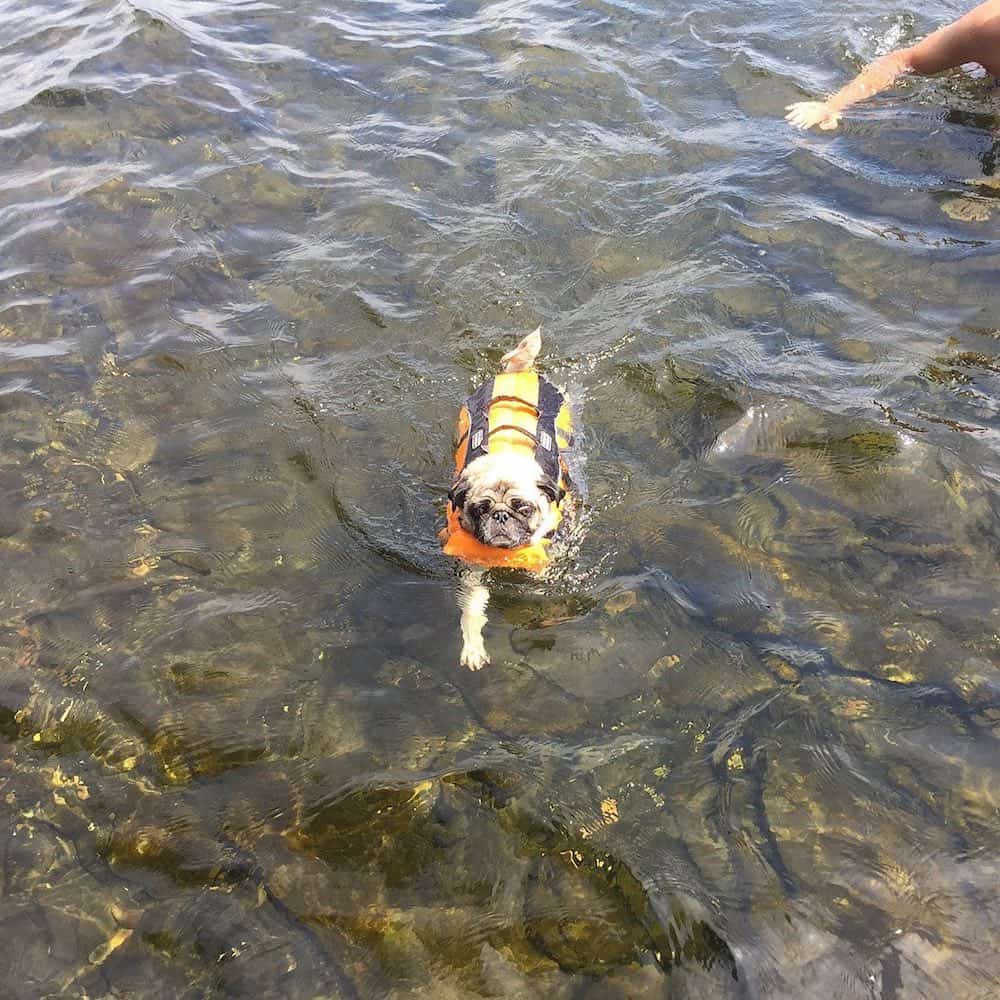 Teaching your pug how to swim
If you throw a pug who is unfamiliar with water into a pool or lake, here's what'll happen. Their adrenaline will kick in, they'll kick their legs like mad to survive, and they'll learn to fear water and associate it with all the negative emotions that this first experience brought up. That's no way to teach your dog how to swim!
Instead, do the following to teach your pug how to swim: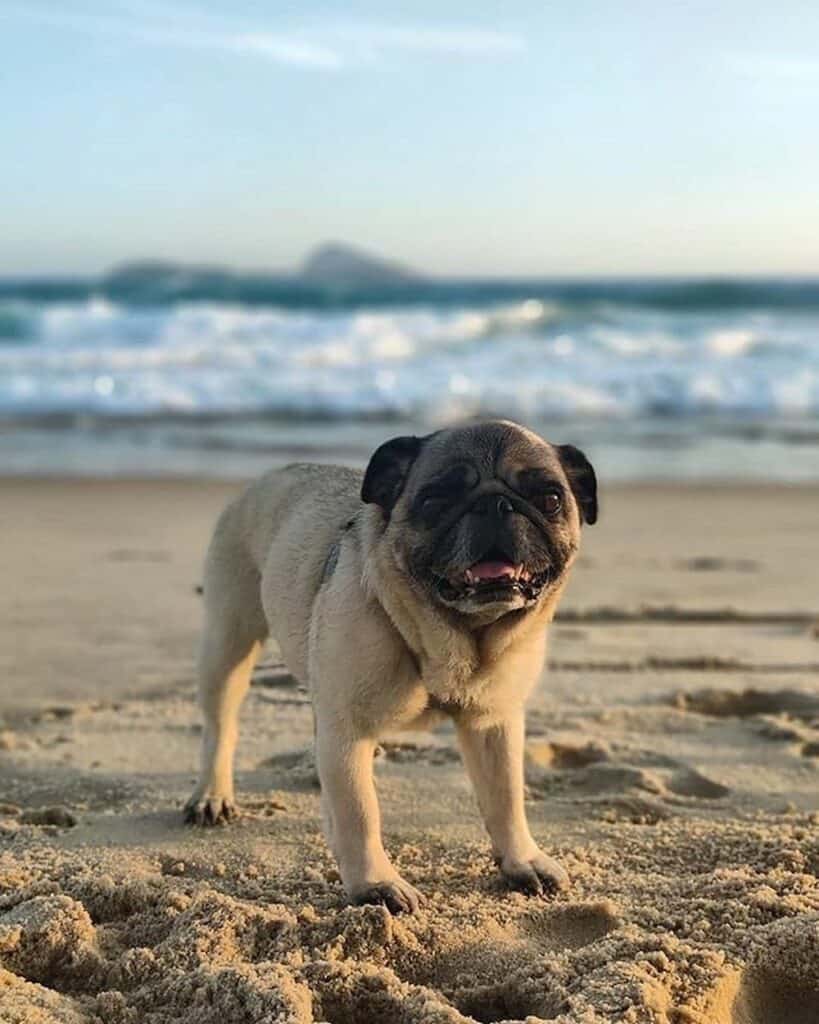 Pug Water Safety
It's super important to be aware of water safety when it comes to pugs and swimming. Spending time in the water can be great fun when done safely. Here are some tips for making sure you and your pug stay safe in the water:
Swimming pugs: do's and don'ts
Pugs gone swimming: items to help your pug enjoy the water
Outward Hound Dog Life Jacket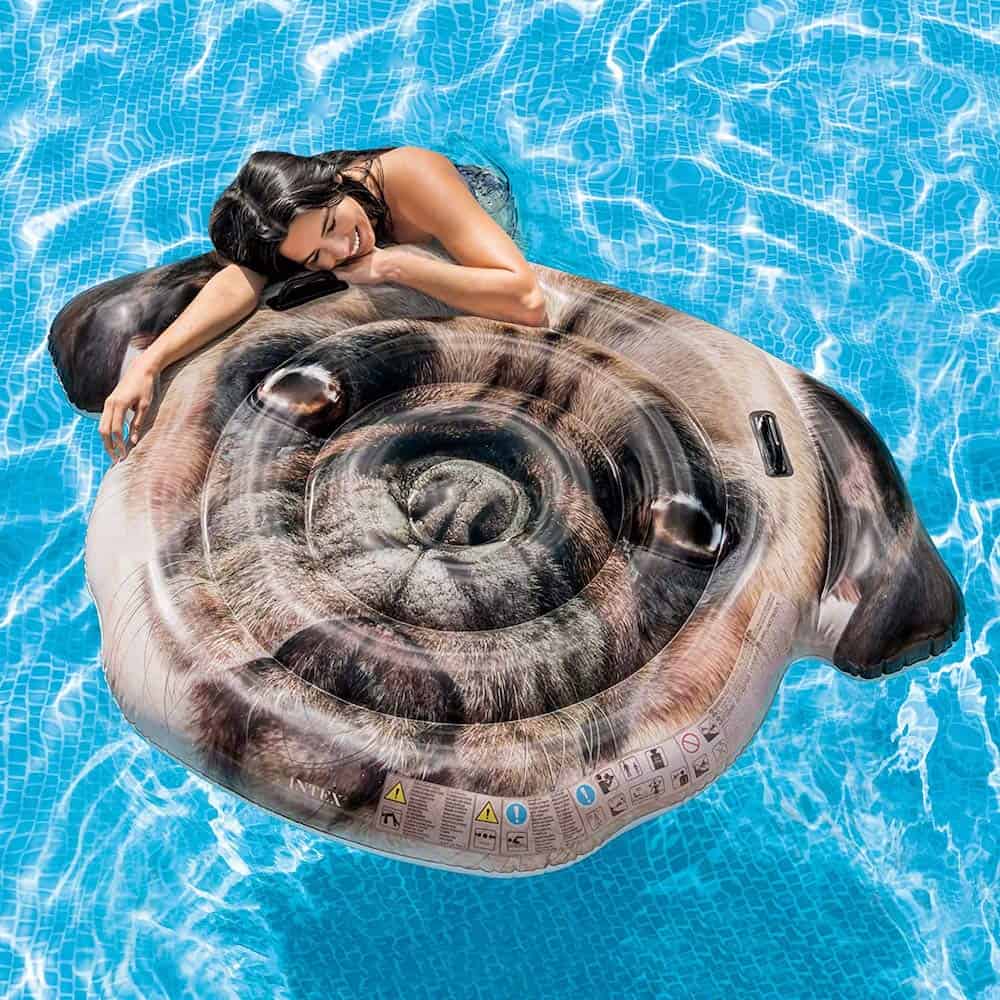 Pug Face Inflatable Island
Microfiber Hooded Pet Towel
Are the chemicals in a pool bad for a pug?
Just like pool chemicals can irritate a human's skin, they can affect your pug's skin too. The breed, as you probably know, has very sensitive eyes and skin, and each pug will react differently to each pool.
Keep a watchful eye on your pug if they're in the pool, and check their skin and eyes after 5 to 10 minutes of pool time to see if there's any sort of reaction. After a swim, be sure to rinse your pug off well to remove any traces of chlorine.
Pug maintenance: what to do after a swim
Pugs ears and wrinkles are sensitive, and if they're soaked, especially in water with chlorine or other harmful pool chemicals, they'll need to be properly washed and dried.
Post swim, rinse your pug off well with fresh water and pat them dry. Make sure moisture doesn't remain in their facial folds or ear canals. You can use a soft towel, facial wipe or cotton ball to help out.
Water retained on your pug's skin can lead to fungal growth, ear infections and more.
Does your pug swim? Let us know in the comments!
---
Pin for later!