A Guide to Dog-Friendly Transportation in San Francisco
As visitors will soon learn, the city by the bay is not cheap! Of course, a great way to cut down on costs is to use public transportation whenever possible. It's convenient and cost effective. That said, here's the low down on all pet-friendly San Francisco and Bay Area transportation.
If you're looking for a specific mode of transport, feel free to skip ahead:
Muni Pet Policy
Muni is San Francisco's public transportation system. It includes 54 bus lines, 17 trolley bus lines, 7 light rail lines that operate above ground and in the city's subway (called Muni Metro), 3 cable car lines, and 2 historic streetcar lines. Fares can be paid using the MuniMobile® app, a Clipper® Card or cash.
The Muni Pet Policy is as follows:
Pets may not ride Muni during peak hours:
Monday through Friday from 5:00 am – 9:00 am or 3:00 pm – 7:00 pm.
During off-peak hours, only one pet per Muni vehicle is allowed to ride.
Dogs must be leashed and muzzled and can only ride on the lap of the rider or under their seat; all other pets must be carried in a small, closed container on the lap of the rider or under their seat.
Pet owners or guardians must pay a fare equal to their own for their pet to ride.
That being said, many locals have told us that the rules aren't usually enforced, and dogs ride at any hour and without purchasing an extra fare. Use your own discretion and decide how you choose to ride.
BART Pet Policy
Bay Area Rapid Transit, known as BART, connects San Francisco with Berkeley, Oakland, Fremont, Walnut Creek, Dublin/Pleasanton and other cities in the East Bay. Pets are allowed on board as long as they adhere to the following:
Pets must travel in a secure, enclosed carrier specifically manufactured for pet transport.
Animals must be kept off seats and out of aisles.
BART runs on weekdays from 5:00 am to midnight, on Saturday from 6:00 am to midnight, and on Sundays from 8:00 am to midnight. You can ride BART with either a valid BART ticket or a Clipper Card.
Caltrain Pet Policy
The Caltrain is a commuter rail line that services San Francisco and Santa Clara Valley.
Unfortunately, no pets, other than service animals, are allowed on the Caltrain. Bummer.
However, I know of small dogs in pet carriers who have ridden on Caltrain with no issue. Use your own discretion.
Golden Gate Transit Pet Policy
Golden Gate Transit (GGT) provides bus service in San Francisco, Marin and Sonoma counties.
Animals and pets are permitted aboard buses as long as they are inside an approved, hand-carried container.
SamTrans Pet Policy
SamTrans runs through portions of San Francisco, Palo Alto and San Mateo County .
The SamTrans website only mentions service animals on board, but a customer service agent that we reached out to stated the following:
"You can bring a small, non-service dog on the bus. The dog must be in a crate."
AC Transit Pet Policy
Alameda-Contra Costa Transit District (AC Transit) runs buses in the East Bay and select areas in San Mateo and Santa Clara. 
Pets are allowed. They must be carried in a secure container that can fit on the owner's lap, and the animal must not endanger or annoy other customers.
VTA Pet Policy
The Santa Clara Valley Transportation Authority (VTA) runs 82 bus routes and 3 light rails.
Small pets are permitted on both VTA buses and light rails, and must be in a completely enclosed cage or carrying case that is small enough to fit on the customer's lap. The animal must not endanger or annoy other customers.
Golden Gate Ferry Pet Policy
The Golden Gate Ferry connects the Ferry Building in San Francisco to Marin County (Larkspur, Sausalito and Tiburon). You can pay your fare using a Clipper Card, from terminal ticket machines or online.
Animals and pets are permitted aboard ferries as long as they remain in an airline-approved, hand-carried container.
San Francisco Bay Ferry Pet Policy
The San Francisco Bay Ferry operates six commuter ferry routes. Their service offers routes connecting San Francisco to Oakland, Alameda, Harbor Bay and Vallejo and a route connecting South San Francisco to Alameda and Oakland. You can pay your fare using a Clipper Card, the Hopthru app or by buying a paper ticket.
Small pets are allowed on board the ferry. They must be non-disruptive and in a completely enclosed cage or carrying case that fits on your lap.

Uber Pet Policy
Pet parents asked, and Uber listened. Uber now offers Uber Pet rides, pet-friendly rides for you and your pet.
Requesting an Uber Pet ride is similar to requesting any other type of Uber vehicle. Just put in your destination and scroll down to Uber Pet. It should look like this:
There is no breed or size restriction with Uber Pet! You can bring one pet on your pet-friendly ride, and any additional pets you bring are within the individual driver partner's discretion. I'd recommend letting the driver know ahead of time if you have more with a message or text.
Unfortunately, pet-friendly rides will cost a bit more than other vehicle options.
Also, if your pet leaves waste, excessive hair, or damages the vehicle, you could be charged a cleaning fee.
If you're traveling with a service animal, then feel free to request any type of Uber.
According to Uber:
Service animals are permitted to accompany riders at all times. If you're traveling with a pet that's not a service animal, drivers may choose whether or not to allow the pet in their vehicle.
Uber recommends texting or calling the driver ahead of time to give them a heads up that you're traveling with a dog, and to bring a blanket or towel with you.
Smaller dogs in carriers are generally tolerated very well. We've used Uber many times with our two dogs and have never been denied a ride.
Lyft Pet Policy
Lyft states that "it's entirely up to the driver whether or not to allow the passenger's pet in the vehicle." They advise passengers to notify their drivers ahead of time if they'll be traveling with a dog.
We recommend keeping your dog on a leash or in a bag, and bringing a towel for clean up.
Yellow Taxis Pet Policy
Dogs are allowed in yellow cabs, but it's ultimately up to the driver. Small dogs in carriers usually have the most luck with getting a ride. If you have a large dog, have them sit by your side as you hail a cab, so the driver can see that they're well behaved. Bring a towel for them to sit on and remember to tip generously.
Pet Taxis Pet Policy
If you want to ensure that you can ride with your pet, and that you won't be denied, order a pet taxi. They're reliable, safe and are guaranteed pet friendly. The two highest rated services in San Francisco are Bay Area Pet Taxi and Lucky Pawz Pet Services. Contact them directly for rates and reservations.
Visiting other cities? Click here to learn about pet transportation in New York City.
Photos © @otisthepugsf
---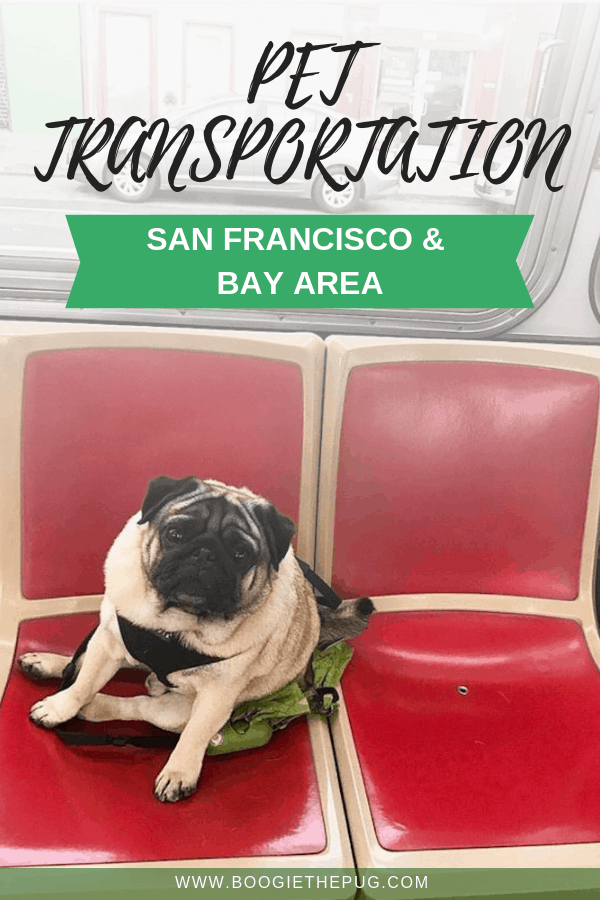 Pin for later!