Flying La Compagnie with a Dog: Newark to Paris
There have been so many changes in the aerospace industry over recent years that the average pet traveler probably has whiplash! But one of the best things to develop over the past few years has been the creation of new airlines with updated policies.
Some new airlines are finally getting hip to the fact that pets are family, and that people want to bring them along when they travel. One of these airlines is La Compagnie, a French boutique airline that opened in 2014.
La Compagnie has a more pet-friendly airline policy than most, and a larger pet in cabin allowance too. They're all about offering a unique business class experience that's comfortable, convenient, and luxurious.
If you're thinking about traveling with La Compagnie, read on to learn how to do so, and how it went for traveler Roark and his dog Malibu.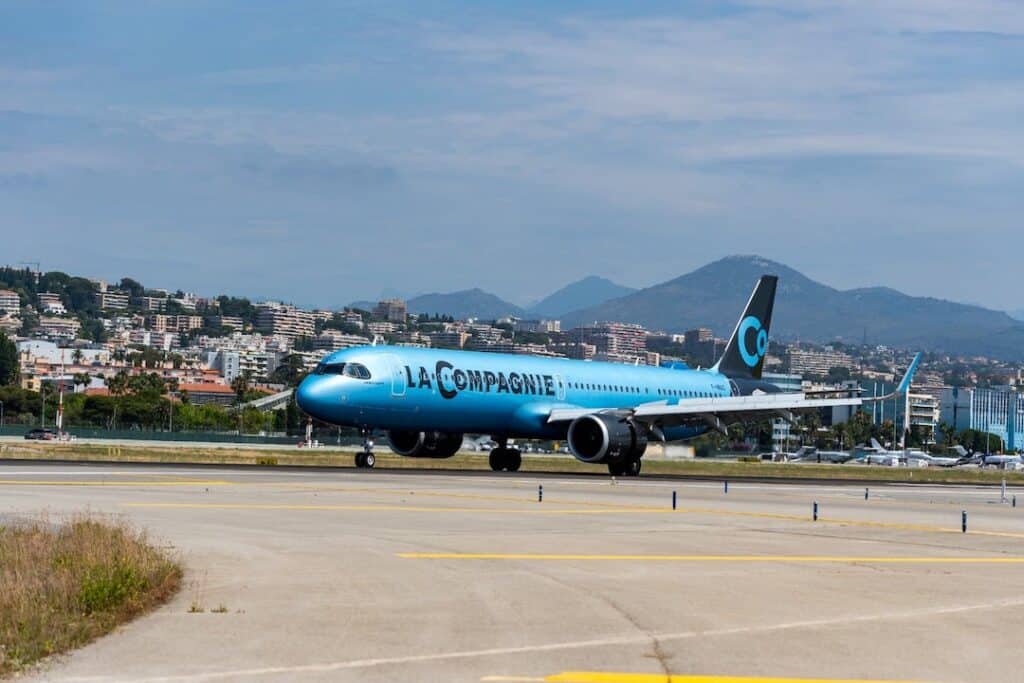 La Compagnie: The Low Down
First things first, La Compagnie's pet policy.
La Compagnie allows small dogs and cats (under 15 kg, or 33 lbs) to travel with you in cabin at a fee equal to 10% of your ticket fare.
Their more inclusive pet policy is not the only thing different about the company. They offer passengers a 100% business class experience, with planes stocked with 76 full flat seats, free unlimited Wi-Fi for all passengers and seasonal, healthy, delicious meals for a unique business class experience. It's an elevated way to travel, for both you and your dog.
And what about routes? While the company started out offering all-business class flights between France and Newark Liberty International Airport, they've since expanded, and are now offering more routes. There are flights between Newark and Nice Côte d'Azur, Paris and Tel Aviv, and Milan and Newark, with others being planned in the future.
With all of this, it's no surprise the airline is so popular!
Flying La Compagnie with a dog: A first hand experience
On March 3, 2022, Roark, his wife Linda, and their dog Malibu flew on a La Compagnie flight from Newark to Paris.
Here's their experience flying with La Compagnie.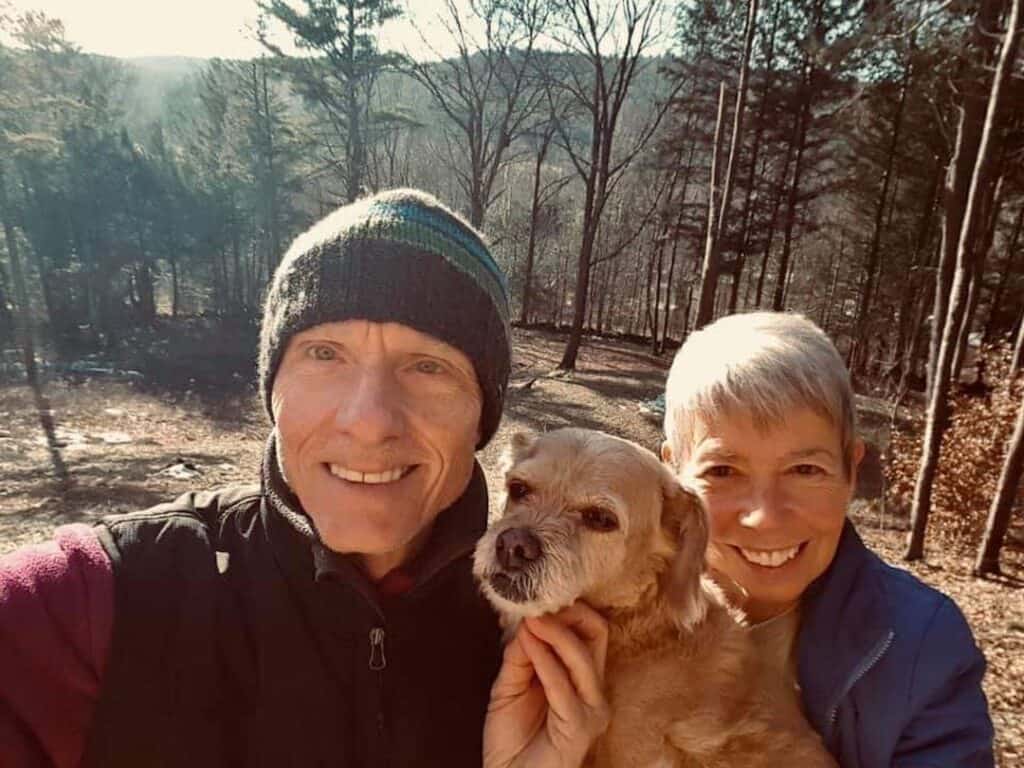 The details
Flight: Newark to Paris
Dog Breed: Mixed-breed terrier with a relatively long torso.
Dog Weight: 22lbs
Pet Carrier: Katziela Carrier
Pet Carrier Dimensions: 22 inches x 12 inches x 15 inches
Pet Carrier Weight: 8 lbs
Booking the flight
Adding Malibu to our flight was easy. As you may or may not know, they will allow a total of three pets on any given flight. This excludes service animals.
Before booking we asked if there was room on that flight for our pet. The agent said yes and we informed them that we were bringing our dog (less than 33 pounds, including the carrier). They added her and charged us 10% of the cost of tickets (about $200).
We did have to send her paperwork in advance (no later than 24-48 hours before the flight left) to their medical operations group for review. This included the rabies vaccination certificate and the USDA endorsed health certificate. Within 24 hours they confirmed that our pet was accepted.
Seeing a vet and getting the USDA endorsement
Our vet was USDA approved (i.e. trained and certified in completing their paperwork).
The vet fills out the paperwork by providing all the info on your pet including the owner information, the chip implant number, rabies vaccination info, description of pet, etc…
Once that information is input into the USDA on-line system, the USDA Veterinary Medical Officer will sign and endorse the six page document (i.e., the certificate). There is a USDA seal on this document.
The vet can do the exam and submit (input) this info into the USDA system up to 30 days before the pet is due to arrive in the destination country, but the USDA officer does not look at the paperwork until 10 days before the pet is due to arrive in the destination country.
Keep in mind that certain countries have different requirements so the vet should be certain to check what that country requires. For example, the UK has different requirements from France, Italy, or many of the Schengen countries.
The vet provided a prepaid return envelope to be sent via UPS, FedEx, or the USPS. Our vet used UPS overnight but I would recommend using FedEx next morning delivery. Under normal circumstances the USDA will look at the on-line application up to three days after the 10 day period is started and if there are no issues they will update their system acknowledging approval and send it out that night. If there are questions, they will communicate with the vet on-line and the vet can make the needed changes.
Our application did not have any errors, however there were delays which I will now share. Because we live in Western Mass., our application normally would be sent to Albany, NY. However, and perhaps because of the heavy volume of applications in New York, our application was re-assigned to the Wisconsin office.
Our application was reviewed about three days after the start of the 10 day countdown and approved on February 25 (a Friday). We were leaving the following Wednesday, so still in good shape. So the application was put in the UPS box on Friday evening in Wisconsin, and subsequently flown to a commercial airport near O'Hare or Midway in Chicago (apparently where they route such UPS mail).
It was then sent to NJ (we gather somewhere near Teterboro) where UPS has another distribution point. Because of a snowstorm that weekend it did not arrive in NJ until early (about 4:30am) Tuesday morning. It was then driven directly up to Greenfield, Mass where our vet has her office.
She received it at about 11:00 Tuesday morning. We then drove to her office (nearby) and picked it up. This was a series of unfortunate circumstances which caused us and our vet some serious stress.
There were many attempts to communicate with the USDA and UPS and finally on late Monday night our vet got a UPS Supervisor on the phone who advised her that the package was in NJ and would be delivered late that morning.
This is why I said to use FedEx next morning delivery service. I find them to be generally more reliable. Also, it is worth trying to find out where the application is being processed.
Had our application been processed in Albany, we would have received it by Monday morning at the latest (even with UPS). With FedEx, we would have had it on Saturday.
The Pet Carrier
We used the Katziela Carrier. Although it was a little tight for our Malibu, she acclimated to it with some practice.
The carrier was pretty strong but I wouldn't overdo it. It has very convenient detachable wheels and a carrying case. It opens on both sides and has little compartments for treats, bowls, and the like in the front and on both sides.
It is about the max legal size allowed by the airline and folds up easily for putting into the carrying case. Needless to say, it worked for us. Happily, we barely used it during our flights.
Arriving at the airport for departure
We arrived at the airport very early (3:30pm) and per the website, they didn't start check in until 2 1/2 hours before take-off at 7:30pm. We waited a bit at the head of the small line (with Malibu outside of her carrier the whole time).
Malibu was getting antsy and decided to poop right there (see picture of her waiting). My wife Linda cleaned it up and we were good.
At 5:00 we were at the counter and they asked for all the papers for us and Malibu. We had cleared the documents one day in advance and received an email indicating that Malibu was approved by the airline. We had no worries and no problem. It was pretty quick.
The airline rep didn't seem concerned about Malibu's size (22 lbs) or her carrier, which was the max size allowed. They just eyed-balled her and it and said no problem. Didn't even weigh her. We walked her through the airport and security with no questions or concerns.
Boarding the flight
At boarding time I had requested that we be allowed on early and they just let us through outside of the carrier. No questions.
I had the carrier folded up in its bag by then and no one seemed to care. We were in row five and Malibu just trotted on and sat between us. There were no other pets on the flight, which was only about 60% full.
The flight
Malibu was never in the carrier and slept pretty well. We had our seats extended and she basically slept under them. It was a decent flight but there was turbulence so not much sleep for me, but the seats were really comfortable and it looked like an almost new plane.
Good food and wine was offered. The staff was friendly and professional. I would fly them again in a minute.
Arrival
We arrived about 30 minutes early which caused some disembarkation issues but we eventually got into the terminal and cleared immigration pretty quick.
By then our bags were waiting on the carousel. We walked Malibu into customs where they asked us to put her into the carrier as their were drug sniffing dogs around and they wanted to avoid any canine disagreements.
I should mention that as we were getting on the bus to take us to the terminal we were asked to put Malibu in her carrier…"it was the rules." We did and then waited until the bus could move. We allowed her out once in the terminal until we ran into customs.
Nobody in the airport looked at her papers and we flagged a taxi to our next flight out of Bourget Paris for a private flight to Pisa (our final destination being Lucca).
Great flight in a small jet. Took about 90 minutes (versus a seven hour train train to Milan and four hour car ride to Lucca). They were great flights without a lot of the standard airline hassles and the only real check anyone did on Malibu's papers was at La Compagnie's check-in. When we arrived in Pisa we stopped for one minute in the immigration officer's office who asked for our passports and saw they were U.S. He didn't even open them and waived us through. We are all dead tired but it was well worth the cost, the effort, and the near nervous breakdown waiting on the USDA.
Linda and I are now happily in Lucca drinking Chianti Classico and Malibu has been sleeping a lot, but she does love "La Mura" – the wall around Lucca which is basically a huge circular park around Lucca Centro. Lot of good sniffs.
Final Thoughts
I would definitely recommend La Compagnie.
It was an almost new airplane with very comfortable seating with full inclination capability. Food was quite good and the staff were nice and professional.
It costs roughly the same as most business class airplanes but since it is 100% business class; it is much smaller and boarding was very easy. I've already discussed the experience with our pet and that was a relative breeze.
The only issue we had was because we arrived 30 minutes early at Orly, so they weren't ready at the gate which had us disembarking onto a bus which was full and we still had to wait a bit. It was like the airport was closed and they weren't quite ready to open. I don't believe this was a La Compagnie problem, but more of an airport operations problem.
No matter, we breezed through the airport once that issue was addressed. Also, they now fly to Milan from Newark and given that we are in Lucca, It makes it much easier for us to fly (if we go back anytime soon).
Thank you to Roark, Linda, and Malibu for sharing their experience with La Compagnie! You can read about other airline pet policies here. If you've flown with your pet and would like to share the experience, email us.
---
Pin for later!