The Best Books For Dog Lovers
There's nothing better than curling up with your dog and a good book. Whether you're about to go on a trip, or staying indoors to escape the cold, a good book and a friendly pup are both great to have by your side! Here are some titles that we love. They include novels, non-fiction, photography, and more – there's something for everyone. Have one to recommend? Let us know in the comments.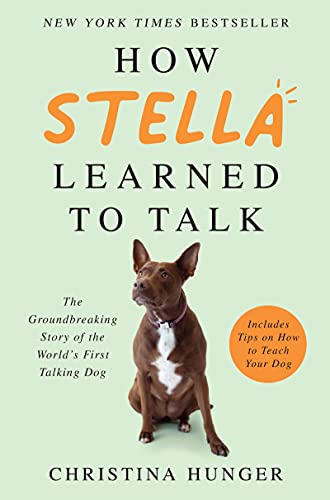 How Stella Learned to Talk: The Groundbreaking Story of the World's First Talking Dog
When speech-language pathologist Christina Hunger got a puppy, her life changed. She began to question her dogs communication capacities, and using devices to help her talk. This book is part memoir and part how-to guide, and packed full of insightful insight into the world's first talking dog.
---
Travels with Casey
Travels with Casey is the perfect book for dog loving travelers. This memoir tells the story of writer Benoit Denizet-Lewis and the cross-country journey he takes with his nine-year-old Labrador-mix, Casey. Denizet-Lewis packs up Casey in an RV and together they travel for four months across thirty-two states. It's a fun read about life, dogs, and traveling.
---
Dogs and Their People
Barkbox, the company that brings us monthly goodies of dog stuff, funny videos on social media, and all things dog, has their own book too! This book is all about the bond between pups and their humans. It features funny stories, beautiful images, and loads of tail wagging goodness. BONUS: we're in it! Check us out on page 96.
---
The Education of Will
This heartwarming memoir recounts the life of animal behaviorist Dr. Patricia McConnell, her dark past, and a troubled Border Collie named Will. While dealing with Will's own fears and aggressions, Patricia is forced to face her own trauma as a troubled youth. The journey to heal, for both her and Will, is intense and necessary. This book is wonderful for anyone dealing with a difficult dog, and anyone interested in the deep bond between dog and human.
---
Dogs On Instagram
One of the best accounts on Instagram is no longer just on your feed, it's also a book! The people behind the popular Instagram account @dogsofinstagram have made a beautiful book featuring over 400 photographs of dogs. This curated compilation will keep your tail wagging.
---
Where the Red Fern Grows
This book is a classic for any young reader and dog lover. It tells the timeless story of a boy and his dogs; Billy, Old Dan and Little Ann. They become best friends and hunting partners, sharing adventures while roaming the hills of the Ozarks.
---
Finding Gobi: A Little Dog with a Very Big Heart
Finding Gobi is about marathon runner Dion Leonard, who met a stray dog while competing in a 155-mile race through the Gobi Desert in China. The small dog joined Dion on his run, and ended up staying with him for 77 miles. Dion found himself sharing his supply of food and water with the dog, carrying her over rivers, and letting her sleep with him in his tent at night. This incredible story doesn't end at the finish line, however, and they're faced with more hardships before heading home. This amazing true story is an excellent read thats full of adventure and emotion.
---
Men & Dogs
Hot guys and cute dogs? Yes please! Men & Dogs features 50 gorgeous men paired with even hotter canines. The 100 match ups will leave you lusting after both man and man's best friend.
---
Off the Leash: A Year at the Dog Park
TV critic Matthew Gilbert is not a so-called "dog person," so when he gets a Yellow Lab puppy named Toby his life changes drastically. Off The Leash is about his foray into the dog park world, where he meets other dogs, dog owners, and learns about the amusing, and somewhat complicated subculture.
---
Being Human
William Wegman is famous for his iconic photos of his pet Weimaraners. Being Human presents more than 300 images from Wegman's personal archive in sixteen unique chapters. The images are whimsical and stunning, and a reminder that Wegman is one of the best when it comes to dog photography.
What's your favorite dog book? Let us know in the comments!