The Best Dog-Friendly Places to Stay on a U.S. Road Trip
Road trips are a great way to get out there with your dog. It's easy to jump in a car and take a trip. Your car, your rules. But the same doesn't go for places to stay. Not all accommodations are created equal, and unfortunately some do not welcome pets. Here are six dog-friendly places to stay when on the road.
Be sure to check out our list of questions to ask pet-friendly hotels.
La Quinta
La Quinta hotels are a comfortable and affordable option for any road trip.
With close to 900 locations, and approximately 88,000 rooms located in 48 states, you're bound to find space for you and your pup.
Every La Quinta comes with free WiFi and breakfast in the morning. Many also have swimming pools. Pups stay free and there are up to two allowed per room.
Heads up: La Quinta recently merged with Wyndham Hotels, and now each hotel can institute its own policies. Call ahead to ensure there is no fee. Plus, while the majority of La Quinta hotels allow pets, but there are 11 locations across the US that don't.
Red Roof Inn
Red Roof Inn
call themselves upscale economy.
They have comfy beds at budget-conscious rates; rooms start at just $49.99 a night. Each room comes with a flat screen TV, free WiFi, and free coffee. Plus, if you stay three nights, you get an extra night free!
They permit all family pets weighing 80 lbs or less.
Motel 6
This no-frills franchise cost only $6 a night when they first opened in 1962.
Today, there are more than 1,400 locations across the United States and Canada.
They're a great option for anyone on a US road trip because they offer affordable, clean, comfortable rooms, and can be found pretty much anywhere.
Besides being affordable, Motel 6 hotels are extremely pet-friendly. They welcome all well-behaved pets, with a maximum allowance of two pets per room.
Fun fact: they were the first ever national pet-friendly chain, and have welcomed pets since their opening.
Airbnb
Airbnb makes it easy to travel with pets. Log on to the website, and click the "Pets Allowed" button when conducting a search. Voila! Pet-friendly lodgings will pop up that you can then browse through.
With an insane number of listings and every kind of accommodation you can imagine (from houseboats, to barns, to tree houses!) you're sure to find something you like.
Pro tip: In the past, I've messaged properties that aren't listed as pet-friendly to see if they'd make an exception.
I provide my dog's breed, size, and temperament in the message. Sometimes I get a yes, and other times I've gotten a no, but it doesn't hurt to ask! Try it out and you might be surprised.
If you haven't signed up for Airbnb yet (it's free!), use my offer code for $40 in travel credit.
Check out more tips on booking a pet-friendly Airbnb here: How To Book a Pet-Friendly Airbnb: There's More To It Than You Think!
Choice Hotels
You can't go wrong with Choice Hotels.
They operate hotel chains like Quality Inn, Comfort Inn, and Econo Lodge, found across the nation with more than 2,500 pet-friendly locations.
They have an easy to use website listing all of their pet-friendly accommodations, along with travel tips, the top dog-friendly cities, and a pet travel checklist. With so many brands, locations, and price points to choose from, they are one of the best options when it comes to road travel.
Camping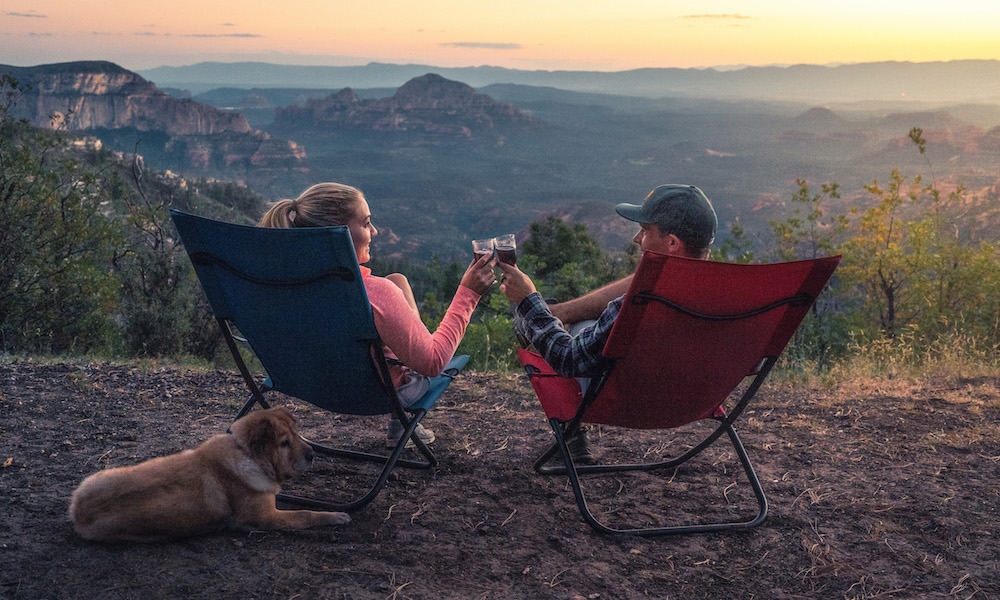 Camping is a great option for the adventurous pups out there.
There are many campgrounds across the country that are affordable. Plus, most come with amenities to make your stay more comfortable, like bathrooms, a shower, laundry, and even WiFi. If you're lucky you'll get to stay in a State Park.
Check out GoCampingAmerica or Camping USA to find camp grounds on your route.
RV or Camper van
For a super comfortable road trip experience, travel in style with an RV or camper van. They provide space and comfort that a standard car just doesn't have. It's like renting a car and a hotel room in one!
Plus, you won't have to worry about finding pet-friendly accommodation along the way, since you've already got a bed on the go.
Don't own an RV or campervan? Not to worry, we've got you covered. Here's a list of Pet-Friendly RV and Camper Van Rentals in the USA.
Click here for more pet-friendly accommodation info!
---
Pin for later!