How To Book a Pet-Friendly Airbnb – There's More To It Than You Think!
There are a few reasons that we use pet friendly Airbnb spots when traveling. Although it doesn't have the same perks as staying in a hotel (ahem….room service!), it does offer amenities that make traveling with a dog easier. Things like extra space, a full kitchen and more variety of choice (seriously, there's everything from yurts, to tree houses, and even a home shaped like a giant beagle).
So if you're planning a trip with your dog, and considering Airbnb for accommodation, use these tips for booking the perfect spot. There's a lot more to it than just clicking the pets allowed box.
New to Airbnb? Sign up here and get $40 off your first booking.
1. Search all available listings
When searching for a place to stay, I like to look at listings that are both pet-friendly and not pet-friendly.
Why? For starters, there are typically fewer pet-friendly options available. Depending on your destination, there may be just a fraction of the number of regular listings that you have to choose from once you click the pet-friendly filter.
Plus, sometimes you find the perfect spot and it just so happens it's not listed as pet-friendly. You want to find a place that both you, your dog, and your wallet will be happy with.
Don't limit yourself to pet-friendly listings.
While we check those first, we also search all available listing to find the space that best fits our needs, and we contact them regardless of their policy. We send a message explaining who we are, who our dogs are, and why we'd be respectful guests.
While some politely decline, others have allowed us to book a stay.
It helps to have positive reviews, especially ones that mention your well-behaved dogs.
Things to keep in mind when looking for a place to stay:
Some listings have pets in residence, meaning animals live on the property. This should be noted in the listing (see below to find out where). Keep this in mind, especially if your pet isn't social.
Take note of things like number of stairs or if the home is located on a hill, especially if your dog is a senior.
Avoid staying in a private or shared room, and instead look for listings where you have the entire place to yourself. It will be more comfortable for yourself, your dog, and the other guests.
2. Message the host before booking
Even if a listing is pet-friendly, message the host before booking to get the green light.
Not all pet-friendly listings are actually all that pet-friendly, and not all non pet-friendly listings are not.
I once messaged a pet-friendly listing, only to discover that pets were not allowed on the furniture or bed, and they couldn't be left alone in the home. This wouldn't work for us, since we had planned to visit a few museums and have some solo dinners out.
Plus, our dogs are older, and although they're active, they very much enjoy nap time. We like to take advantage of their down time to visit places that are not pet-friendly. The listing wasn't the place for us.
Besides ensuring the place is a good fit, messaging your host beforehand also gives you the opportunity to tell them about your dog. This is especially necessary if the listing isn't pet-friendly (you might convince them otherwise!).
Here are examples of what you should inform hosts of when asking to book:
Supplies you're traveling with (ex. a dog bed or a crate).
Dog size and age.
Your dog's travel experience.
I like to tell hosts that my dogs are both seniors, that we bring along their dog bed for them to sleep in when we're out of the house, and that they are both potty trained. I also invite them to look at my past reviews, and let them know that my dogs are well traveled (they're used to staying in new spaces).
3. Be honest
It's always best to be honest with your host.
Lying about anything could lead to ruining your plans, or worse, being asked to leave. It's also a sure fire way to get a negative review, which might mess up your future chances of booking a place.
If there's something negative about your dog you don't want to disclose, don't lie about it; instead share it, with a positive to go with it. For example, pugs shed a lot. We let hosts know that to deal with loose dog hair we are happy to sweep daily and bring a dog bed to minimize fur on furniture. With bad, comes good – there's always a balance!
4. Ask the important questions
Each listing is unique, with their own set of rules and restrictions.
When it comes to those concerning your pet, it's better to know up front so you're not surprised by them later.
Some good questions to ask include:
Are pets allowed on the furniture and/or bed?
Can pets be left unattended in the apartment?
Are there restricted areas that are off limits?
A good host will be up front about these things by including the information in the listing (under Policies) or informing you before booking. But, in case it's not communicated, you can inquire yourself.
5. Know your dog
Before deciding on a place, know what kind of accommodation your dog will be comfortable in.
Is your dog afraid of loud noises? Don't book an apartment on a busy street. Does your dog bark and get bothered if they hear or smell other dogs? Look for a place that's more isolated, and away from foot traffic.
You know your dog best, and it's up to you to decide where your dog will feel more comfortable. Choosing the right setting will ultimately make your trip, and your dog's trip, a better one!
6. Follow the Rules
Airbnb is all about community. Being a respectful part of the community means following rules, since after all, someone is trusting you in their home. If your host has rules, like no dogs on the furniture, be sure to follow them. If the rules impede your lifestyle, then don't stay there. It's simple.
7. Bring supplies
Most Airbnb locations come equipped with household necessities for humans. But for dogs? No way. So you'll have to bring your own. Be sure to pack the things that will make for an easy and comfortable trip.
Some items worth packing include:
Crate
Dog bed
Cleaning supplies
Blanket
Lint roller and/or magic brush
We like to travel with a dog bed, so the dogs have a place to sleep that's not the furniture, and wipes, for easy clean ups.
8. Rack up good reviews
Airbnb is part of the sharing economy, meaning that it operates in a collaborative, peer-to-peer fashion. Like with other sharing economy sites (think Uber), reviews are really important. On Airbnb, both guests and hosts rely heavily on reviews. If other hosts have had a good experience with your stay, chances are new hosts can trust you too.
There's no better way to book a place with your dog than to rack up good reviews.
Multiple positive reviews will back up your claims of a well-behaved dog, and show that you're a respectful and truthful guest.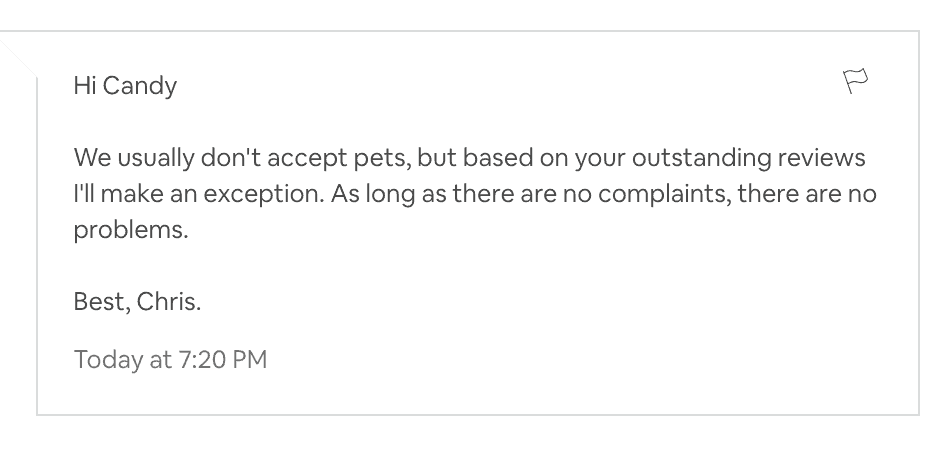 I like to invite hosts to check out my reviews so they can read proof of my dog's extensive travel and positive experiences with other stays.
If other hosts claim that my dog's were well behaved, then new hosts can trust them to be too. It makes booking new sites a lot easier!
Common Airbnb Questions Answered
How can I tell if a listing allows pets?
If a listing is pet-friendly, it will specify under House Rules.
Here's how to tell if an Airbnb listing allows pets:
Go to the listing on airbnb.com.
Scroll down to Things To Know, or click on it from the menu options up top.
Under Things To Know, check House Rules to find out if pets are allowed.
How do you filter on Airbnb?
If you want to search for pet-friendly listings, do the following:
Go to airbnb.com and click Places to stay
Type in your destination and dates.
Under Guests type in the number of guests and whether it includes pets.
Click Search and pet-friendly listings will appear.
Can hosts charge extra for pets on Airbnb?
Yes. Some hosts will charge an extra fee, usually directly as a pet fee or as an increased cleaning fee.
How can I tell if there are pets already at the listing?
Some Airbnb locations have pets in residence. Luckily, Airbnb makes it possible to identify hosts with pets.
To find out if hosts have pets at the list:
Go to the listing on airbnb.com.
Scroll down to Things To Know, or click on it from the menu options up top.
Under Policies, check House Rules to find if there's a section titled You must also acknowledge.
Under You must also acknowledge, if there are pets, the following will appear: Pet(s) live on property.
This post contains affiliate links that help keep boogiethepug.com running. To learn more, visit our Disclosure & Disclaimer page.
---
Pin for later!