The Best Pet Deals on Prime Day 2021
It's the most wonderful time of the year: Amazon Prime Day 2021!! This two day holiday is every shoppers dream. With heavily discounted items left and right, all across the Amazon website, you won't know where to focus your gaze. But fear not! We've rounded out the best deals for you and your pup. If you have prime (ahem, two day free shipping!) then grab these deals before it's too late.
This post contains affiliate links that help keep boogiethepug.com running. To learn more, visit our Disclosure & Disclaimer page.
Furbo Dog Camera
It's Furbo!! The pet camera that lets you check on your pet when you're away from home, speak to them, and feed them treats! Get a whopping 30% discount on it.
Embark Dog DNA Test
Embark screens for over 350 dog breeds, types, and varieties, as well as 200+ genetic diseases. You can also find and connect with other dogs that share DNA with yours, including distant and close relatives.
Get 40% off on Prime Day.
Hoover Pet Vacuum
This vacuum tackles stubborn pet hair and dirt on furniture, stairs and hard to reach areas. It comes with a pet upholstery tool, crevice tool, dusting brush, & built-in headlights. Get 30% off on Prime Day.
Zesty Paws Allergy Immune Supplement
These grain free soft chews support immune, histamine, and digestive health for dogs with skin, seasonal, and environmental allergy issues. They're jam packed with natural ingredients, including salmon fish oil to provide Omega 3 fatty acids, and digestive prebiotics and probiotics. Get 30% off on Prime Day.
Outward Hound Dog Life Jacket
Just in time for summer! This life jacket comes with adjustable straps and reflective accents, so you can always spot your dog in the water. Dual grab handles make it easy to restrain and lift your dog out of the water, and a front neck float helps keep your dog's head above water. Get it for 30% off!
BarkBox Monthly Subscription Box
Surprise your dog with a monthly box of fun! Barkboxes include a variety of high-quality toys and healthy treats that will keep your dog engaged and entertained. Get 50% off your first month's Barkbox subscription.
Automatic Pet Water Fountain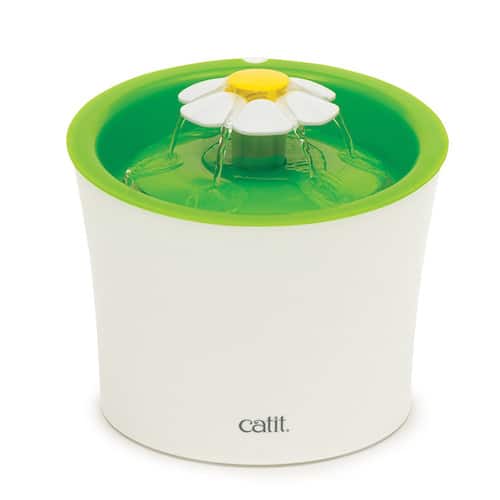 Ok so this water fountain is technically for a cat, but why should felines have all the fun? This water fountain works great for small to medium dogs, and keeps them hydrated. The pump is ultra quiet, and has three different flow settings. Plus the triple filtration system means your pet is getting clean, safe water at all hours of the day. It's 29% off for Prime Day.
Bissell Portable Dog Bath and Grooming System
Skip the traumatizing bath and use the Bissell portable dog bath and grooming system instead. This portable all-in-one system can be used to wash your dog in any room of the house, anytime, with minimal mess AND can also be used to clean up the messes that your dog or other family members may leave behind on carpets, rugs and upholstery. Get $40 off.
Whistle Go Explore Location Tracker
This is perfect for all those helicopter pet parents out there: the Whistle Go Explore. Set it up to alert and quickly locate your pet, whether they've made a sneaky escape, or are 3,000 miles away. You can receive notifications if your pet's location leaves a designated safe area. Besides that, it also monitors activity levels, calories, distance, and activity, along with behaviors like licking, scratching, and sleeping. The Whistle Go Explore uses AT&T nationwide network and Google maps and requires a Wi-Fi connection. Get it for 25% off.
Amazon Basics Pet Sofa Lounger
Treat your dog to yet another place to get comfy with this Amazon Basics Pet Sofa Lounger. It comes in three sizes, and is made of memory foam to provide cushioning support and help reduce pressure points. Get 30% off on Prime Day.
Petcube Pet Monitoring Camera
This pet monitoring has it all. It comes with 1080p HD video, 30-foot night vision, built-in live chat so you can consult a vet 24/7, motion alerts, and two-way communication. Get it for 25% off.
Bissell Smart Purifier
Ok so this pick isn't so much for your pet, but for you and your loved ones! The Bissell Smart Purifier has a three stage filtration system that captures particles in the air, including pet dander. Now you can invite your slightly allergic friends over to your house and enjoy the company without all the sniffling and sneezing. Plus, every Bissell purchase supports the Bissell Pet Foundation and its mission to help save homeless pets. Get 30$ off on Prime Day.
Dog Travel Bag
For the dog on the go, this travel bag comes in handy. It keeps all of your pets supplies safe in organized compartments, and includes one dog tote bag, two dog food carriers, one water-resistant placemat, and two silicone collapsible bowls. It features a water repellent oxford outer material, so your goods stay dry and protected no matter where you're going.
Pet Storage Stepper
These pet stairs double as storage, with each step opening up to reveal space for supplies. It's great for a compact apartment or as an organized place to keep all pet gear. When not in use, they can fold up to be put away.
Davie's Sweet Potato Dog Treats
These healthy dog treats are made of one ingredient: sweet potato! They're made of 100% all-natural sweet potatoes, right here in the USA. they're a great alternative to rawhides, and rich in iron, vitamin A, vitamin C, and B vitamins.
Slow Feeder Pet Bowl
This slow feeder is designed to slow down feeding time, preventing indigestion, vomiting and bloating. It imitates nature and the way wild dogs forage for food, forcing your dog to pause and consume at a slower pace. It works with both wet and dry dog food.
Dog Nail Grinder
This dog nail grinder uses a diamond drum bit grinder to painlessly and precisely trim your pet's nails. It's a very quiet motor, with a low vibration, so it won't spook your dog. It's rechargeable and portable.
Honest Paws 5-in-1 Oatmeal Dog Shampoo and Conditioner 
This 5-in-1 wash cleans, deodorizes, conditions and detangles coat, and moisturizes skin. Their eco-friendly formula is plant based and made of natural ingredients. It leaves your dogs coat smooth, clean, and shiny.
What's your favorite Prime Day deal?