13 Dog-Friendly Things to Do in Philly
The city of brotherly love has gone to the dogs! Just a hop, skip, and a jump from New York City (it's less than 2 hours away!), Philly is a dog lover's dream. There are sprawling parks, a wide range of dog friendly restaurants, and incredible pet stores. Plus, it's cheaper than the Big Apple, so your wallet will thank you. Jump on an Amtrak and make way for this historical city with your pup in tow. Here are 10 dog friendly things to do in Philadelphia.
1. Climb the Rocky Steps
Known as the "Rocky steps" by Stallone and boxing aficionados, the landmark is actually the 72 stone steps leading up to the entrance of the Philadelphia Museum of Art.
Climbing the steps is a rite of passage for any Philly visitor. Jog up the steps with your pup and then raise two paws at the top! You'll get a good workout, and don't forget to check out the bronze Rocky statue at the base.
Movie trivia: Did you know that Sylvestor Stallone's original idea was to have Rocky carry his dog Butkus up the steps? That's right, the giant Bull Mastiff was supposed to be in the iconic scene, but he proved too heavy to carry while running!
Location: 2600 Benjamin Franklin Pkwy.
2. Visit a Dog Park
Philly has an array of dog parks sprinkled throughout the city. Walk around any neighborhood and you'll see why: there are dogs everywhere! Our favorite, though, is Schuylkill River Dog Run.
right by the river, this dog park has k9 grass, a doggie fountain, and a separate area for small dogs.
Bonus: there's a bridge right above the park that gives you stunning views of both the waterfront and all of the dogs playing. It's like having a front row seat to all of the action.
Location: 300 S 25th St.
3. Eat at a Dog-Friendly Restaurant
Here are two of our favorites (but if you'd like more options, check out this list!).
Benna's Cafe
With free wifi, a bring-your-own-cup coffee deal, AND dogs allowed inside, what's not to love about Benna's Cafe?
This quirky spot has great handmade sandwiches, delicious bagels, and piping hot coffee. There are also plenty of gluten-free and vegan options worth trying.
Take a seat at the window and people watch with your pup, or sit at a cozy corner table. The baristas are friendly, and you'll meet lots of neighborhood pups stopping in to get their humans a snack.
Location: 1236 S 8th St.
OCF Coffee House
OCF Coffee House is an excellent coffee shop located in an old warehouse right across the street from Eastern State Penitentiary.
Come for the great coffee, but stay for their high quality food – they serve up everything from breakfast sandwiches, to fresh pastries, and quinoa bowls. There are plenty of vegan, vegetarian, and gluten-free options too.
We loved their friendly baristas and their ordering window, perfect for the many dog owners we saw coming by for iced coffee and scones.
Location: 2100 Fairmount Ave.
4. Take a Free Walking Tour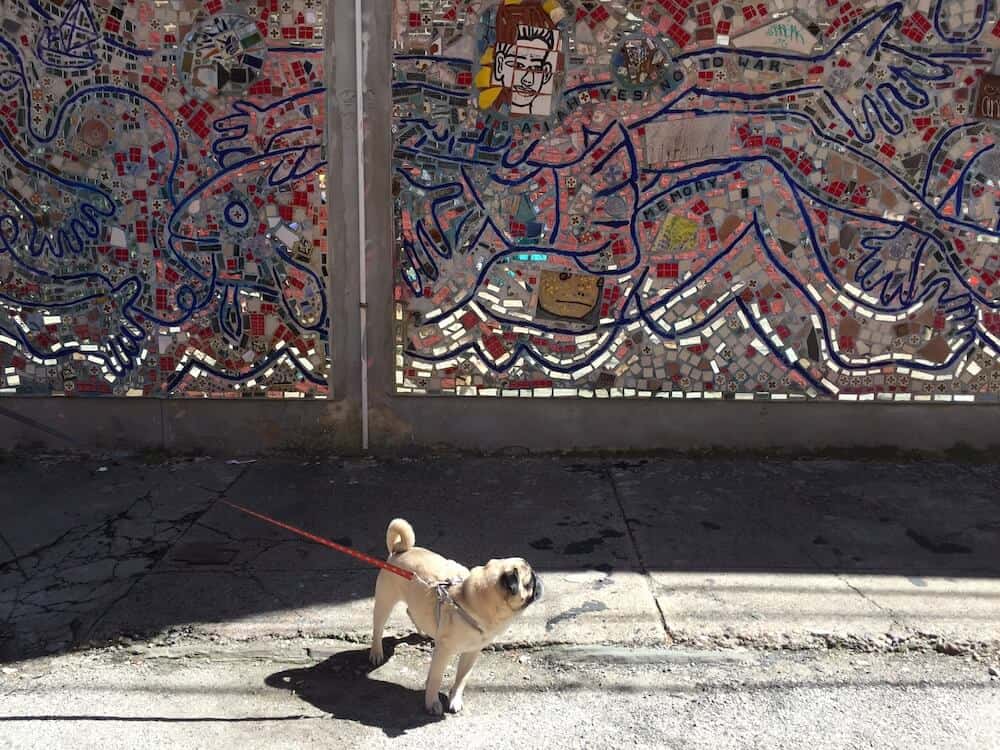 What's better than a tour of Philly? A free tour of Philly! Luckily, there are a few companies that provide free tours and let you bring your dog along.
Check out Free Tours By Foot or Free and Friendly Tours. Choose from historical tours, tours for foodies (ooh Philly cheesesteaks!), and even ghost tours. Be sure to send them a note when signing up that you plan to bring your dog along.
For those who'd rather go at their own speed, there are a few options. There's a self guided tour available, as well as signage Philadelphia has erected all throughout the city, with historical facts, insights, and people. They're a great (and free!) way to learn about the history of the area you're visiting.
5. Walk Along the River
Philadelphia is sandwiched between the Delaware River and the Schuylkill River, and both waterfronts are worth checking out.
Schuylkill River: The Schuylkill River Trail is a 30 mile scenic trail that runs along the Schuylkill River. Its wide paved road and grass shoulders are perfect for a jog, bike ride, or walk with your pup.
Check it out, and be sure to walk on to the adjoining Schuylkill Banks Boardwalk, a 2,000-foot-long pathway that includes four scenic overlooks. It's the perfect way to marvel at the Philadelphia skyline and get some exercise.
Delaware River: The Delaware Riverfront is peppered with parks, eateries, and great views of the water. Head to Penn's Landing, an area with restaurants, the Spruce Street Harbor Park, and stores. There's parking for those with a car, and easy access to the waterfront if you're on foot.
6. Visit the Magic Gardens
In 1991, artist Isaiah Zagar started working on a large vacant lot in the South Street area of Philadelphia. He used found objects to sculpt multi-layered walls and colorful mosaics.
Today, Philadelphia's Magic Gardens is a nonprofit art museum and gallery space that is open to the public. Take a guided tour, or wander around the outdoor sculpture garden solo. You're more than welcome to bring your pup to enjoy the art and to take frame worthy selfies.
You can buy tickets to the Magic Gardens here.
If you're unable to visit, you can still enjoy Isaiah's artwork. He was dedicated to beautifying the South Street neighborhood since as far back as the 1960's. Walk around the neighborhood and you'll find different areas decorated in his mosaic style.
Location: 1020 South Street.
7. Take a Stroll on Passyunk
Named one of Food and Wine's 10 Best Foodie Streets in America, Passyunk Avenue is lined with boutiques, bars, restaurants, and cafes.
Take a walk down the vibrant street with your pooch, and check out all of the sites and sounds of Philly. Be sure to stop by the singing fountain, located at the epicenter of the bustling street in Passyunk Square (yes, it does sing!), and order a Cheesesteak from either Pat's King of Steaks or Geno's Steaks.
There's always something happening on Passyunk – street fairs, discounts on the second Saturday of the month, and a farmer's market every Wednesday.
8. Hang Out at Doobies Bar
This classic dive bar opened in the 70's and was supposedly named after a love of….what else? Doobies.
While it may not look super appealing from the outside, there's an abundance of board games available, cheap beer, and a jukebox. Plus, the owners are big animal lovers, having saved hundreds of cats and raised money for rescue.
Bring your dog, they're not only allowed in the bar, they're allowed on the bar. (They really are super pet friendly!).
Location: 2201 Lombard S.
9. Shop at Doggie Style
This self proclaimed neighborhood watering dish is a locally owned pet store with eight locations in Philadelphia. They offer grooming, pet accessories and supplies, and run adoption events in store.
Walking in was like entering pet heaven. There's a variety of products and brands, and all at fair prices. It's a great place to pick up a few items, or to bring your dog for some pets.
Location: Various.
10. Get a Sweet Treat
After all of that activity, your dog deserves a treat.
Head to Amelie's Bark Shop, a natural pet boutique and bakery that sells homemade dog treats and eco friendly products. Pick up a dog cookie or cupcake!
Don't forget to check out their accessories, all made using sustainable and recycled materials, like bamboo food bowls and handmade toys.
Has your pup been an extra good dog? Get them their own decorated cake to enjoy with dog park friends.
Location: 1544 E Passyunk Ave.
11. Eat a Philly Cheesesteak
You can't visit Philly and not try their famous cheesesteaks! Unless you're a vegetarian or vegan, of course.
A Philly cheesesteak is a sandwich made from thinly sliced pieces of steak and melted cheese in a long hoagie roll.
While the exact story of the creation of the Philly cheesesteak has been debated, everyone pretty much agrees that its origin is in Philadelphia. The most widely held theory is that the sandwich was created by Philadelphians Pat and Harry Olivieri. The two owned a hot dog stand and one day in 1930, Pat decided to make a sandwich for himself using chopped beef and grilled onions. A cab driver saw him eating it, asked for one for himself, and loved it. Pat began making the cheesesteaks for their customers and the rest is history.
If you're going to try a cheesesteak, you have to head to South Philly, where you'll find Pat's King of Steaks and Gens's Steaks; two cheesesteak places that have been on opposite ends of the same corner for five decades. Ask any Philadelphian and they'll have a preference over which is better.
Both locations serve up piping hot cheesesteaks 24/7, along with other grub like cheese fries and cold soda. You order from an outside window, and there are benches available for dog-friendly outdoor seating. I decided to try Pat's, since they are credited as the inventors of the original Philly cheesesteak.
While it doesn't look particularly appetizing, the cheesesteak is packed with flavor! It's super messy to eat, but I enjoyed trying it. Go with an empty stomach because it's a big sandwich and very filling.
Pat's King of Steaks: 1237 E Passyunk Ave
Geno's Steaks: 1219 S 9th St.
12. Tour a Neighborhood
If the weather's nice, take a stroll around some of Philadelphia's colorful neighborhoods. Philly is a great walking city, and it's made up of many neighborhoods that are easily accessible on foot. Exploring them will give you a greater picture of the city of Brotherly love and all it has to offer!
Hit up Fishtown for a look into Phildelphia's haven of artistic, culinary and small business action. This working class neighborhood has recently emerged as Philly's epicenter of cool. There's insanely good food (check out Pizzeria Beddia for some of the best pizza I've ever had, but heads up – it's not dog-friendly so order to go!), ghe flagship location for La Colombe coffee (located in a giant warehouse!), and plenty of independently owned businesses.
Philadelphia's Chinatown is small, but mighty, with delicious food and plenty of bubble tea and taro options. Check out the Chinatown Friendship Gate at 10th and Arch Street, and don't miss the colorful murals that line sections of the street.
Stroll through Old City for a taste of history, complete with cobblestoned streets and 18th century charm. It's sandwiched between the water and Independence Mall, making it the perfect place to hang out while taking in all that Philly has to offer. If you're there on the first Friday of month, check out their art walks, where art lovers fill the streets and hop from gallery to gallery.
13. See the Liberty Bell
No visit to Philly would be complete without a bit of history. It is the he country's first World Heritage City and the birthplace of the United States, after all.
But your intro to the founding fathers doesn't have to be dog-less. There's plenty to do, see, and learn outdoors, where your dog can tag along.
Independence Hall, where the Declaration of Independence and U.S. Constitution were drafted and signed, the Liberty Bell, a symbol of abolitionist movement, along with many other historic attractions, are located in the Independence National Historical Park, a square mile of grass, history, and outdoor exhibits.
It's a great area to spend time on the lawns, that are beautifully maintained by the National Parks Service. You can even see the Liberty Bell from outside, through large windows.
While you won't be able to enter historic facilities with a dog, there's plenty to see outside. Be sure to check out The President's House, an open-air site open 24/7 that commemorates the lives of nine enslaved Africans at the nation's first executive mansion.
Visiting Philly with your dog? Check out our other dog-friendly Philadelphia tips.
---
Pin for later!