16 Dog-Friendly Places to Eat in Philadelphia
Whether you're just visiting Philly or a local, it's great to hang out and grab a bite to eat with your pup. Philadelphia is packed with outdoor restaurants and beer gardens that are welcoming to our four-legged friends. Grab your dog and head to these places. Here are 11 dog-friendly places to eat in Philadelphia.
Kensington Quarters
Kensington Quarters is a restaurant and butcher that serves American food sourced from local farms. They have happy hours, brunch, and BBQ! It's a great spot for meat lovers. Dogs are permitted on their back patio.
Location: 1310 Frankford Ave
Old City Beer Garden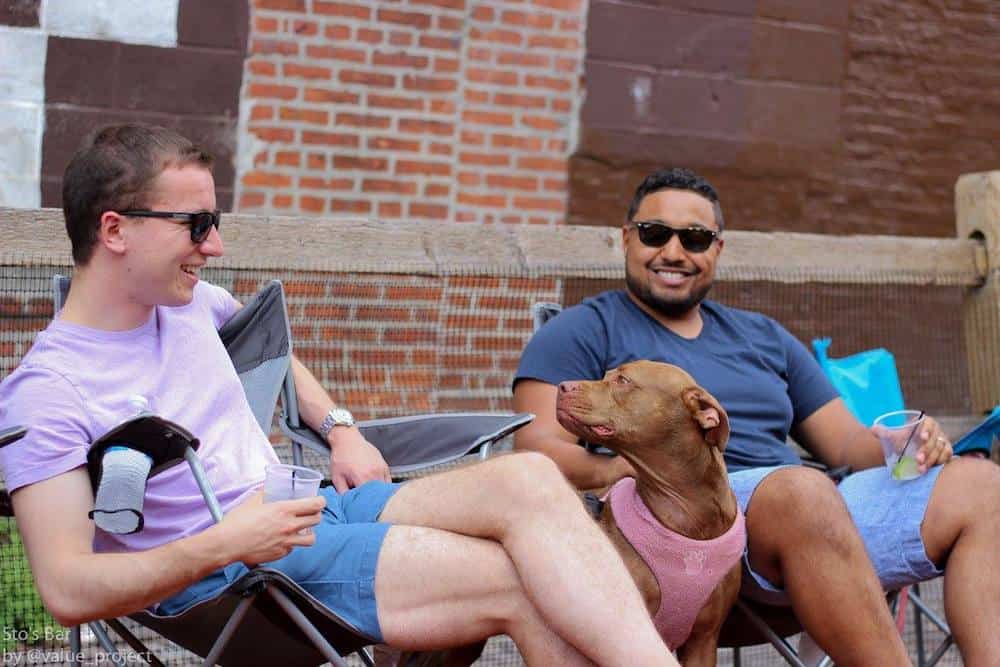 If you love to hang out with a beer and some good eats, then head to Old City Beer Garden. They have a huge outside area with wood chipped floor, fun games, and plenty of space. The laid back environment is perfect for chill dogs.
Location: 240 Market St.
Benna's
With free wifi, a bring-your-own-cup coffee deal, AND dogs allowed inside, what's not to love about Benna's Cafe? This quirky spot has great handmade sandwiches, delicious bagels, and piping hot coffee. There are also plenty of gluten-free and vegan options worth trying. Take a seat at the window and people watch with your pup, or sit at a cozy corner table. The baristas are friendly, and you'll meet lots of neighborhood pups stopping in to get their humans a snack.
Location: 1236 S 8th St.
Goose Island Brewhouse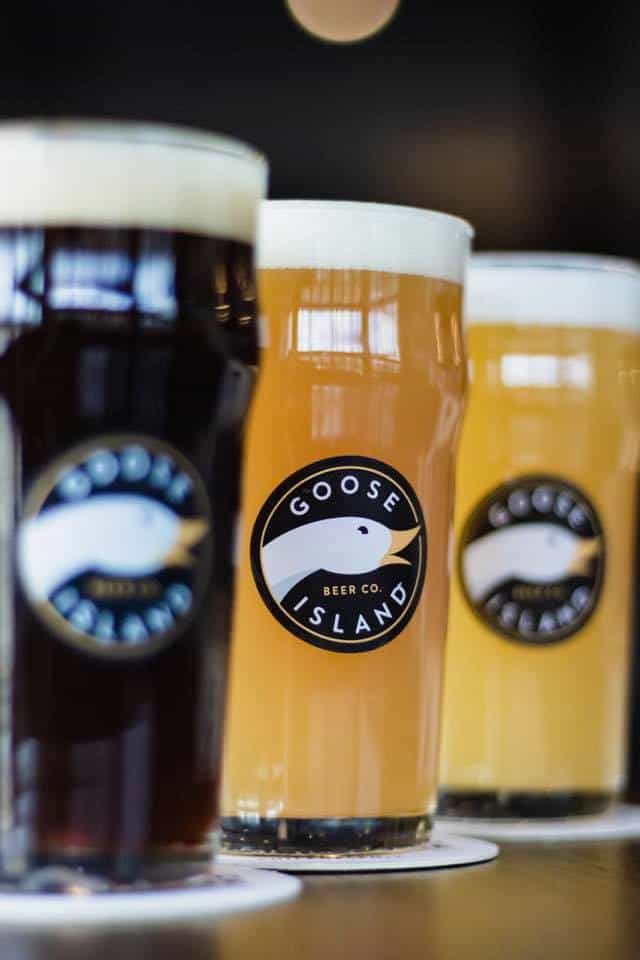 Now you can enjoy Goose Island favorites with your pup by your side. Get some cold Goose Island brews on tap and enjoy their varied food menu. You can't go wrong with items like parmesan truffle fries, or fish tacos. Plus, Goose Island is super dog-friendly! They hold a pints & pups event every Wednesday from 5pm – 11pm with $3 beers, and hold fundraisers for rescue.
Location: 1002 Canal St.
Rogue
This American bistro has juicy burgers and yummy cocktails. They have brunch on the weekend with espresso martinis, and happy hours with half-priced appetizers. There's park side sidewalk seating for dining and people watching. Grab a bite and then head to the park for some playtime.
Location: 205 S 18th St.
Federal Donuts
Famous Federal Donuts brags about their coffee, donuts, and fried chicken…what more could you ask for? They serve hot fresh donuts in delicious flavors, like Strawberry Lavender and Pineapple Brown Sugar. Order some piping hot coffee with a donut or two, and wash it down with a drumstick. There are six locations in Philly, but go to the ones with outdoor seating for you and your pup.
Locations: Center City (1632 Sansom St.), West Philly (3428 Sansom St), and North Philly (701 N. Seventh St.) and more.
Red Owl Tavern
If you're looking for a classic tavern experience in the heart of Philly, then Red Owl Tavern's the spot. They offer vegan, vegetarian and gluten-free menu options, so something for everyone. They're super dog-friendly, and host yappy hours for neighborhood pups on Wednesdays (check their Facebook page for event details). They're located right across the street from Independence Hall, adjacent to the Kimpton Monaco hotel.
Location: 433 Chestnut St.
Farmicia
Farmicia is a sophisticated eatery that serves a separate, rotating menu for breakfast, lunch, dinner, and brunch. Their emphasis is on local, seasonal ingredients. They have a great happy hour, and serve brunch on Saturdays and Sundays. Dogs are welcome at the tables out front.
Location: 15 S 3rd St.
Good Karma Cafe
Good Karma Cafe is a sustainable tea and coffee shop. They brew organic, fair-trade coffee and serve fresh foods, with vegan, gluten-free, and paleo options. Try their seasonal lattes, like Rose Mocha or the Honey Bee. They have four locations, but head to the ones with outdoor seating. Pets are also allowed inside briefly during orders.
Locations: Society Hill (928 Pine St.), Fitler Square (331 S. 22nd St.), Schuylkill Banks (this location only has benches outside – 2319 Walnut St.)
Spruce Street Harbor Park
The National Press named the Spruce Street Harbor Park one of the best places to visit in Philadelphia. This park features colorful hammocks, floating gardens, refreshing craft beer, and food from popular Philly restaurants. You can enjoy local beer and eats while swinging on a waterfront hammock with your pup. They're only open seasonally, from May until the end of September. Pets are allowed in the park, but not on the barges.
Location: 301 S Christopher Columbus Blvd
Franklin Fountain
I scream, you scream, we all scream for Franklin Fountain! This old fashioned ice cream parlor and soda shop is located in the heart of Old City Philly. There's old-timey decor, homemade ice cream, and vegan options. Expect a line on a hot day. Grab your ice cream to go, or sit at one of the few tables and chairs outside. Cash only.
Location: 116 Market St.
Metropolitan Bakery
Only a few steps from Rittenhouse Square, Metropolitan Bakery is a bakery and cafe that are right next door to each other.
They have a great selection of breakfast dishes, salads and sandwiches, as well as fresh and delicious pastries. Try their freshly made herb butter with bread. It's a great place to go for breakfast or a snack.
Dogs are welcome at the tables, chairs and benches outside. Check to see if they have their homemade dog bones in stock!
Location: 264 S 19th St
Pizzeria Vetri
It's always a good time for pizza. Pizzeria Vetri serves up authentic Neapolitan wood-fired pizza that was named one of the best Pizza Places in the US by Food & Wine Magazine. They have wine on tap (!) and local craft beer. Don't forget to order a cannoli for dessert. They have two locations in Philly, but I recommend the one close to Rittenhouse Square.
Location: 1615 Chancellor St
Morgan's Pier
Come for the views, stay for the yappy hour. Morgan's Pier is a dockside bar and restaurant that's right under the Ben Franklin bridge. Every season they have a different Chef-in-Residence who takes over the kitchen and feeds the masses with a backyard barbecue. Check out their calendar for all of the dog events they put on. Yappy Hours serve cold Bark N' Stormy's and raise money for animal rescue!
Location:221 N Columbus Blvd.
The Oval
Run by Philadelphia Parks & Recreation, The Oval is an outdoor hang out area full of fun. It's located across from the art museum and in the middle of the Fairmount Park area, with lots of space and greenery around. There are lounge chairs, free mini golf and table tennis, a bar and food trucks that sell a variety of eats. They also host events, like movie nights, live music and silent disco.
Location: Eakins Oval
Parks on Tap
Parks on Tap is a traveling beer garden that gives back. They've partnered with Philadelphia parks to bring a beer garden to various parks throughout the summer. They serve food, beer on tap, wine, snacks, and non-alcoholic beverages, and bring along comfortable chairs and hammocks for sitting. Not only are they regularly dog friendly, but every Thursday they put on Barks on Tap, a miniature version of their traveling beer garden that pops up at different dog parks around the city. Proceeds from their pop ups go to various organizations in Philly.
Location: Varied. Check out their website for a full schedule.
Visiting Philly with your dog? Check out our other dog-friendly Philadelphia tips.
Know of other dog-friendly places to eat in Philadelphia? Let us know in the comments!
---
Pin for later!