The Ultimate Guide to Hiking Dois Irmãos
Rio de Janeiro is home to amazing beaches, breathtaking views and the largest metropolitan rainforest in the world. If you're visiting, you would be crazy to miss out on some of the amazing nature experiences the city has to offer. And hiking Dois Irmãos is definitely up there with the best of them. It's one of my favorite things to do in Rio. Here is everything you need to know about hiking Dois Irmãos.
All about Dois Irmãos
Chances are, if you've seen an image of Rio, you've seen Dois Irmãos. Dois Irmãos means "two brothers," named for their two peaks that rest between the neighborhoods of São Conrado and Leblon. If you've been to the beaches of Ipanema or Leblon, you've seen them peaking out in the distance.
The trail at Dois Irmãos is officially called Trilhas de Morro Dois Irmãos. The trailhead is located in Vidigal, a favela at the base of the mountain.
You don't need climbing experience to climb Dois Irmãos – anyone can do it!
At the top, you'll get epic views of Lagoa Rodrigo de Freitas, Gávea, Cristo Redentor, Rocinha, São Conrado and the entire length of the beaches of Leblon, Ipanema and Copacabana.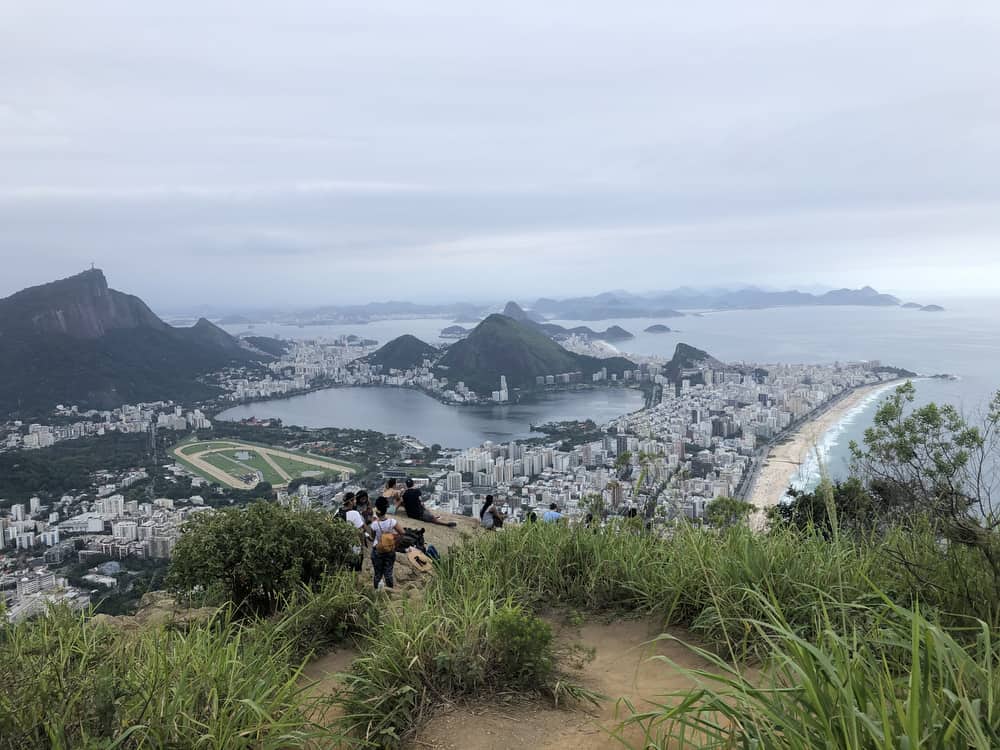 Morro Dois Irmãos Stats:
Location: Vidigal, Rio de Janeiro (Zona Sul)
Altitude: 533 meters above sea level
Trail: 1.5 km
Difficulty: Easy to Moderate
Fun facts: It's higher than Sugar Loaf, but shorter than Corcovado.
What to bring for the hike
Before you set off, make sure you have the following things with you:
Water  – It's important to stay hydrated, especially if you're hiking in the summer months. 
Sunscreen – The sun in Rio can be intense. Protect your skin with SPF on both your face and body. 
Sunglasses – Bring sunglasses so you don't have to squint all the time. 
Comfortable shoes and clothing – While I know people who have gone up in Havaianas, I wouldn't recommend it. Wear sneakers and comfortable clothes you won't mind sweating in, like a t-shirt or tank top, and shorts. 
Mosquito repellent –Just in case.
Money – You'll need cash to pay for the way up and down Vidigal, plus extra if you're planning to buy snacks or water. 
Camera – Did you really hike Dois Irmãos if you don't have the pictures to prove it? You'll definitely want to get epic shots of the view. 
Snacks – Just don't feed any snacks to the animals you might encounter along the way. 
Canga – Everyone uses cangas in Rio! Lighter and prettier than normal towels, they're also super useful. We brought one along to sit on at the summit. You can also use it to wipe up sweat or as an extra layer for the way down.
Lightweight bag or fanny pack –Over the shoulder bags are annoying while hiking, so I recommend a lightweight backpack or a fanny pack. 
If you're bringing your dog along, also include the following:
Poop bags – Leave the area as clean The poop bags can be used to hold your garbage and for, well…poop.
Leash and harness – I saw some unleashed dogs on the trail, and it was fine, but it's best to have a leash and harness just in case. Plus, Vidigal is super busy with motorcycles zipping to and fro, so keep your dog safe and close.
Treats – Your dog should have snacks too! Bonus: You can use treats to get your dog's attention for some epic photos.
Dog bag – Some parts of the climb can be a little steep, plus Boogie gets tired easily. We brought along a K9 Sport Sack to carry him for some of the way.
Getting to Vidigal
There are several ways to get to the entrance of Vidigal (known as Praça do Vidigal). Don't worry, it's impossible to miss the entrance to the favela. There's traffic going in and out and a huge, busy community in the backdrop. If I'm in the Leblon area, I always walk, otherwise I hop in an Uber. Here's a list of ways to get there:
Subway: Take the subway to the Antero de Quental stop and walk to the entrance of Vidigal from there. The walk will take about 25 minutes.
Bus: Certain bus routes, like TRO4/104, 2018 and 2334 stop at the entrance of Vidigal.
Van:There are vans that leave from Leblon and São Conrado and stop at Vidigal. Hop on one if you see it.
Uber: Uber is the most convenient way to get to the entrance of Vidigal. Have your Uber pull up right to the entrance.
Bike Itau: These are the bright orange buses you see in stations throughout the city. You can pay for a yearly, monthly, weekly or daily pass to be able to use these bikes. Grab one and cycle along the coastline until you get to Vidigal.
Beware: If you're climbing on a Sunday Avenida Atlantic will be closed for cars and open to pedestrians. That makes taking the bus or an Uber a bit harder. Walk or take a bike instead!
Going up Vidigal
You've got to go up Vidigal to reach the trailhead. There are three ways to go about this.
Moto-Taxi: The easiest way to get up Vidigal is by moto-taxi. At the entrance of Vidigal (Praça do Vidigal) you'll see a line of motorcycles. These are, literally, motorcycle taxis, known as moto-taxis, that transport people up and down the favela. The price for tourists to head up is R$5. Chances are, the driver will know where you're headed (Dois Irmãos is a popular destination), so just say trilha and hop on. And don't worry, they'll hand you a helmet for the ride (although it may not buckle).
Kombi: Kombis are old school VW vans that run up and down the favela. If you see a kombi, you can hop in and tell the driver where to drop you off, but be warned, sometimes they get full to the brim with passengers. Plus, they make multiple stops. A kombi up should cost a few reais.
Walk: While I don't recommend doing this, it is possible to walk up the favela. But why bother when you can grab a moto-taxi for a few reais? It's a long and steep road to walk, and you'll arrive at the trailhead sweaty and tired before the hike even begins.
The entrance to Dois Irmãos (trailhead)
Your moto-taxi will bring you to the entrance of the trail.
The official trail begins at the northwest corner of a gated soccer field at the Vila Olímpica do Vidigal (see below).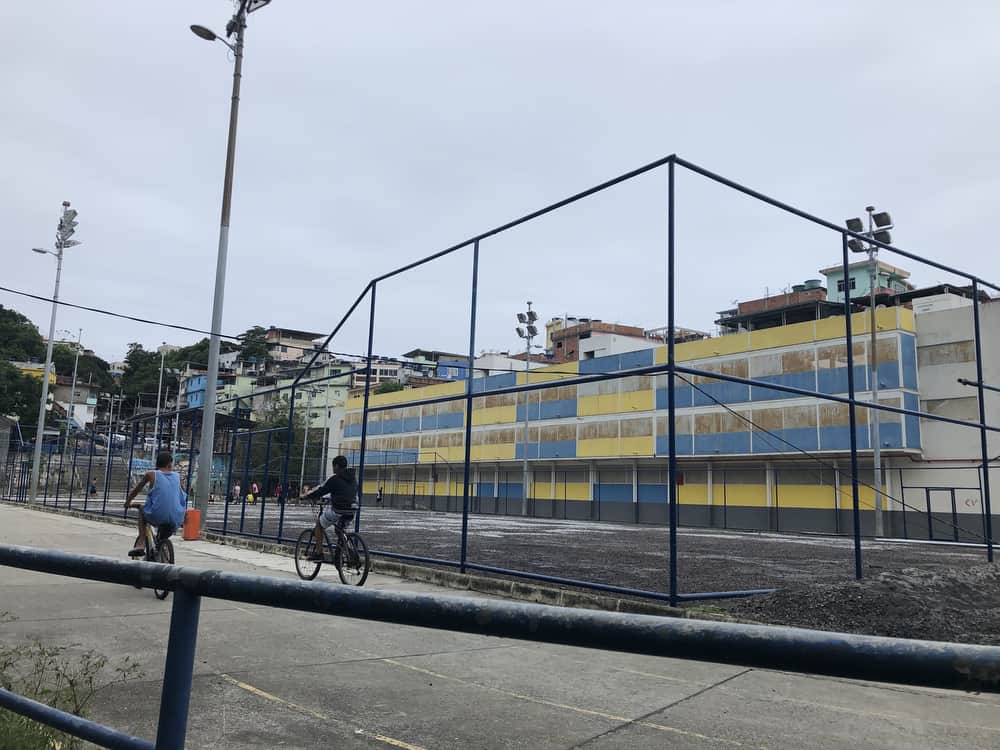 You'll be dropped off by a gate (see below). Enter, walk straight ahead and you'll see the soccer field to your right.
The entrance to the trail looks like this (see below).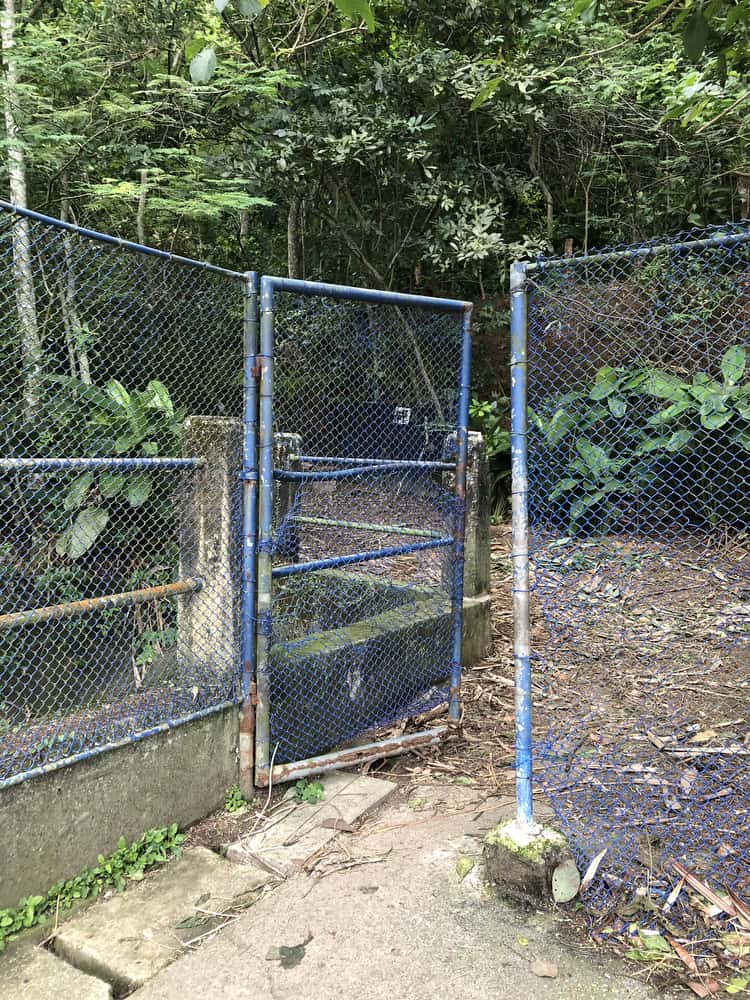 FYI: There are also unofficial trailheads that you can start from, but I recommend beginning at the soccer field, since most people will be starting from there. It's also where your moto-taxi will drop you off.
Climbing Dois Irmãos
The hike is easy to moderate. Most of the hike is not too steep, with a flat trail that's easy to walk on.
There are some areas that require a bit of climbing, but it's nothing worse than a steep staircase.
The trail is well defined, so there's no danger of getting lost. Just follow the trail and enjoy the hike. It's also well shaded, with dense vegetation for most of it. Besides monkeys, you'll most likely spot some awesome birds.
Most people will tell you that the climb up Dois Irmãos takes about 40 minutes. It took us a bit longer – over an hour – but keep in mind we had two dogs with us. We stopped for water breaks, to chat with fellow hikers and to take photos along the way. We even got in a bit of monkey watching. If you're lucky, you'll see or hear a few of these cuties on the trail.
There are two viewpoints before reaching the summit – but don't get too trigger happy – the peak is still best! From the first, you get views of Rocinha, the largest favela in Latin America, and Pedra da Gávea.
From the second, you can see Serra da Carioca, Gávea, Corcovado (with Christ the Redeemer) and Pedra Bonita.
The summit
Congratulations, you've made it to the top!
You'll know you've reached the top when you spot a stone pillar that has been graffitied by past visitors. Here's what it looks like:
Once there, walk a bit and you'll see an opening. You've made it! You'll be rewarded with epic views of Zona Sul, Corcovado, Pão de Açúcar and Lagoa. It's truly breathtaking.
Sit down, have a snack, recharge and enjoy the views. You'll get some epic shots.
Is climbing Dois Irmãos dog-friendly?
Absolutely!
We brought our own two dogs along, and they had a great time. We also saw other dogs on trail and at the summit. All of them were off leash and well behaved. Fellow hikers were friendly, and they loved interacting with the dogs.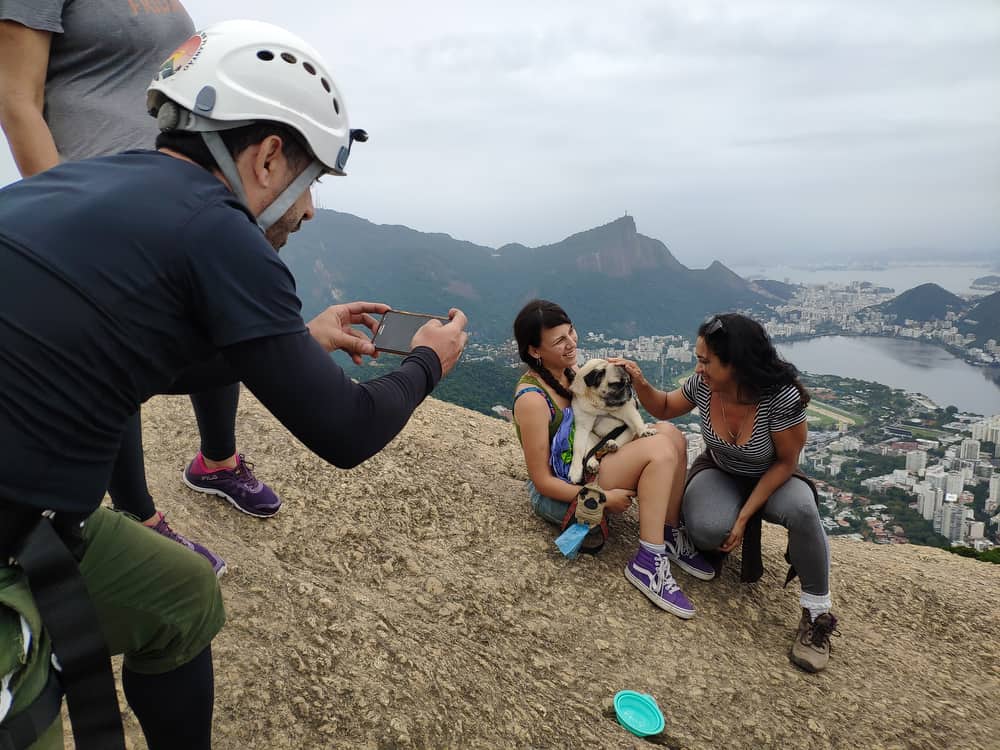 Keep in mind that if you bring a dog, you'll need a way to get up and down both Vidigal and the hike itself. We brought bags (a K9 Sport Sack for Boogie, and a small dog pouch for Marcelo). It was the best way to transport them on the moto-taxi and up the mountain when they got tired. 
Safety when climbing Dois Irmãos
Is it safe to climb Dois Irmãos? Absolutely!
I've done it several times with zero issues. Here are some tips to make sure your time is just as enjoyable:
Go during daylight, when you'll be able to see the trail clearly and have enough light for epic photos at the top. It's not worth climbing up or down in darkness, and you might be on your own (deserted trail = no bueno).
Don't take photographs while in Vidigal. I know, I know, I'm guilty of this (see a photo of Boogie on the moto-taxi at the top). But we asked our driver for permission, and waited for him to give us the green light of where and when it was ok. It's perfectly fine, and even expected, for you to take photos on the trail and at the top!
Bring enough water. Stay hydrated on the way up and down.
Coming down Dois Irmãos
Once you've had your fill of breathtaking views and photos, it's time to head back down.
My favorite things to do after coming down the mountain are to stop at a local bar for a cold drink, or head straight to the beach for a dip in the water.
If you're into the former, head to Bar 180° Alto Vidigal or Bar da Laje, two fun bars where you can enjoy cold drinks with even more epic views.
You can either walk down Vidigal or flag down a moto-taxi, to head back to the entrance of Vidigal.
What's your favorite hike in Rio? I'd love to hear in the comments!
Click here for more tips on Rio de Janeiro.
---
Pin for later!