The Best Dog Strollers for Pugs
We love to take our pug everywhere with us, but sometimes it's hard for him to keep up. So, we bring his K9 Sport Sack along. But let's be real, carrying a 18+ pound pug loaf on your back for long distances can get tiring. That's when a dog stroller comes into play.
A dog stroller is great to have for a myriad of reasons. Dog strollers are handy for long distances, senior pugs, multiple pugs or pugs recovering from illness or injury. But which one is best? We wanted to get some trusted information from fellow pug owners. So we asked our beloved pug friends what strollers they roll in. Here's what they had to say.
Scroll down to learn which one we ended up purchasing, and whether it lives up to the hype!
This post contains affiliate links that help keep boogiethepug.com running. To learn more, visit our Disclosure & Disclaimer page.
The ibiyaya Double Dog Stroller
Dog Stroller: ibiyaya Double Dog Stroller
Recommended by: Otis, Milo, Teddy, and Veruca of @Otisthepugwalsh
The pugs say: "We love the Ibiyaya stroller that the Pugdashians recommended to us from Amazon. It folds easily and doesn't take as much room in the trunk of your car like most heavy duty strollers, has great wheels, and is quite sturdy. It also has an easy to zip cover with mesh that can be closed facing the front or back so they can alternate their view. These guys love riding in it! There is also a compartment below to store their stuff and a drink holder for their water bottle. The only con is four fat pugs don't fit so well in it but you can easily get three pugs in there comfortably. We got it on Amazon last October and give it five stars!"
Stroller Stats
Weight Capacity: 77 lbs
Pet Cabin Dimensions: 13″ x 24.4″
Includes: Detachable cup holder.
Available Colors: Apple Green, Navy Blue, Brown/Pink.
Pros
Convertible and collapsible canopy with front-back dual entry.

Made of lightweight aluminum oval tubing.

Detachable inner pad for easy cleaning.
Ibiyaya Pet Stroller for Medium Dogs
Dog Stroller: ibiyaya Pet Stroller for Medium Dogs
Recommended by: Gus of @phillypugs
The pug says: "Gus, being Philadelphia Hottest Bachelor, likes to spend his time out and about in the city meeting as many friends as he can, and with the Ibiyaya Speedy Fold Pet Buggy, it makes it that much easier to cover ground and hit up all of the chicest spots around town.
Having lived with Pugs for 20+ years, I have owned several pug strollers and this one is by far my favorite. It weighs only 13lbs and folds easily with just the push of a button into the most compact position allowing us to quickly pop in and out of Ubers, and also takes up minimal storage space in my city apartment.
Being only 19 inches wide, it's much smaller than a human baby stroller, so for all those crazies out there who give us the side-eye when they see a "dog" taking up sidewalk space, I dare them to look at an infant that way!
All in all, because the Ibiyaya Speedy Fold Pet Buggy is so compact and easy to bring around Gus and I get to spend a majority of our time together which is a dream come true.
I have two wishes for the next model: incorporate a cup holder for my iced coffee and stronger wheels that can operate better on the beach or a woodsy walk through the forest.
Fortunately, we have the K9 Sport Sack for those activities. We'd also recommend purchasing a clip-on fan for the stroller like this one for hotter days."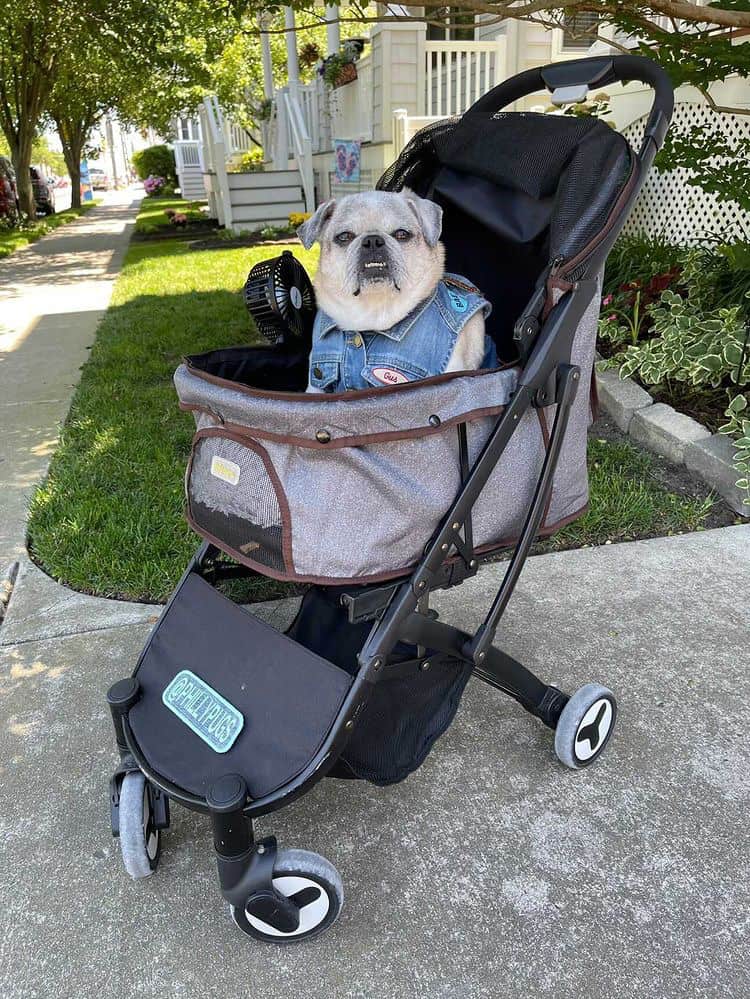 Stroller Stats
Weight Capacity: 44 lbs
Pet Cabin Dimensions: L22 W13 H20.9 (in)
Includes: Storage basket, 360 swivel wheels, and safety brakes.
Available Colors: Grey Denim, Camouflage, and Black.
Pros
Super lightweight – only 13 lbs.
Compact – it shrinks down to the size of a large handbag when folded.
Large enough for 1 medium pet or 2 small pets.
Pet Gear No-Zip Jogger Pet Stroller
Dog Stroller: Pet Gear No-Zip Jogger Pet Stroller
Recommended by: Mochi, Macho, and Marshmallow of @PugSmore
The pugs say: "We have the Pet Gear No Zip Jogger Pet Stroller. It's pricey but we needed a stroller that could hold the weight of three pugs. I would recommend it. One of the downsides of the stroller is its size (big!), but for long distances we like using it a lot."
Stroller Stats
Weight Capacity: 75 lbs
Pet Cabin Dimensions: 30″L x 13″W x 22″H
Includes: Air pump and parent tray.
Available Colors: Forrest Green, Midnight River, Rugged Red, Summit Gray.
Pros
One hand easy fold mechanism with an ergonomic handle.
Easy-locking, no-zip entry.
Quick-lock rear foot brake and rear wheel shock absorbers.
Pet Gear NO-ZIP Double Pet Stroller
Dog Stroller: Pet Gear NO-ZIP Double Pet Stroller
Recommended by: Esther, Carl, Addie, and Rufus of @bob_and_esther
The pugs say: "Our stroller is the Pet Gear Double Stroller. I've had it for three years. It fits all four pugs in it. Three would probably be more comfortable but they don't complain. It pushes very easy and the bottom basket is roomy.
It has a locking front wheel which if it's unlocked for better turning, it wobbles and shakes the pugs too much. I just keep it locked and have learned to turn. Also the pad that comes with it is thin so we stack a couple blankets in there. The seat is not level and hard board so you need something to pad it. The only other downside is it is really heavy to lift into the vehicle and probably would need a cargo area to store it. We have an extended vehicle so it fits nicely.
I purchased a baby double stroller drink carrier / storage attachment. It velcros on to the handle, it is a definite must have. The snap on cup holder they provided did not work at all.
It's held up pretty well mechanically, we have a hole in the back where Bob sat and has grown bigger but we make do. Baby Carl chewed the canopy but it still works. It has the one handed canopy closing feature which I like for safety reasons if bigger dogs come by. The latch falls off but I just stick it back on. Everything else is good for all the wear and tear we've put it through. "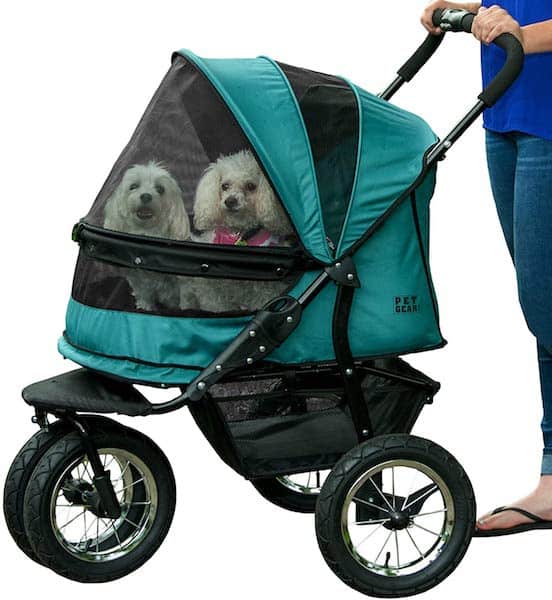 Stroller Stats
Weight Capacity: 90 lbs
Pet Cabin Dimensions: 27 " L x 20 " W x 23 " H
Includes: Bolster pad and weather cover.
Available Colors: Boysenberry, Pine Green.
Pros
Quick-locking rear foot brake.
Easy-Locking NO-ZIP entry.
Made out of 600 Denier water-resistant material.
Extra-wide carriage.
Dogger Stroller
Dog Stroller: Dogger Stroller
Recommended by: Hamilton and Rufus of @hamiltonpug
The pugs say: "We have the Dogger. We've been pretty happy with it, though in the last year or so the alignment got jacked so it pulls a little bit to one side. We just haven't gotten it fixed. We like that its big enough for two, but the downside is, well, that it's big!"
Stroller Stats
Weight Capacity: 60 lbs
Pet Cabin Dimensions: 27″L x 13.5″W x 20″H
Includes: Two year warranty, basket mat and rain cover.
Available Colors: Green, Orange, Tan.
Pros
12″ tires with 360 degree maneuverability.

Aluminum frame with adjustable handlebars.

Real rear suspension.
Which dog stroller did we get?
The inevitable happened and we needed a dog stroller ourselves. Boogie was about to turn 10 years old, and since we love to travel, we wanted him to be able to keep up.
After going over the options, we decided on the Pet Gear No-Zip NV Pet Stroller.
It folded up easily, had storage space on the bottom, and came with not one, but two cup holders for our iced coffees. It's also comfortable for him, and sturdy so we don't have to worry about parking it next to our table as we enjoy a meal in an outdoor restaurant.
But what really sealed the deal for us were the wheels. The 12″ gel-filled rubber tires have grooves in them, making it easy to roll the stroller on gravel, dirt, or pretty much any other surface, and ensures a smooth ride for Boogie.
Do you have a dog stroller that you recommend? Let us know in the comments!
Learn more about trusted dog gear here.
---
Pin for later!