The Best Harness For Pugs: The Pug Community Weighs In
If you're lucky enough to have a pug, then you'll soon learn that a harness is one of the most important items you'll own. The harness is used multiple times a day – on walks and for socializing – and it needs to be comfortable, durable and safe. While a collar is ok for displaying tags and pet information, you should always walk your pug using a harness.
Devoted pug parents know what works best for their pug, so we went directly to the source to find out what their favorite and most trusted harnesses are. We put out the question to our almost 30,000 followers on Instagram and got a lot of great answers. Here are the harnesses most pug parents swore by. 
Buddy Belts
We were given a Buddy Belt a few years ago and we haven't look back since. Both Boogie and Marcelo wear Buddy Belts, and it was one of the most mentioned brands on our Instagram.
It's incredibly easy to put on – there's no over the head maneuvering or neck girth involved. We jokingly refer to them as bras, because they go over your dog's chest and buckle in the back.
To put one on, your dog only needs to step through each hole. Plus, they come in a range of fun colors and patterns.
The only downside is the vegan leather can be quite stiff, especially when it's new.
Buy Buddy Belt HERE.
Personal note: the leather Buddy Belts stretch, so make sure you factor in enough free holes to tighten the buckle over time.
Puppia
Puppia is old faithful in the pug community!
They're soft, colorful and super durable. You can see them in action on famous pugs like Hamilton and Minnie & Max.
They go on over the head with an adjustable chest belt and quick-release buckle. They're also made with a mesh material that is both breathable and water repellent. They're very lightweight, and easy to wear and pack. Plus, they're cheap enough to buy one and a back up!
Buy Puppia HERE.
Wildebeest Laguna
It's no surprise that the Laguna harness was mentioned multiple times. This stylish piece is light, cool and super comfortable. It features double-layered fabric at the chest for extra support, and a weatherproof shell with fleece lining.
It also comes with reflective side tabs for night time safety. And if you're wondering if that's a v-neck you're seeing, then yes, yes it is.
Buy the Laguna HERE.
Lupine Pet Step-In Harness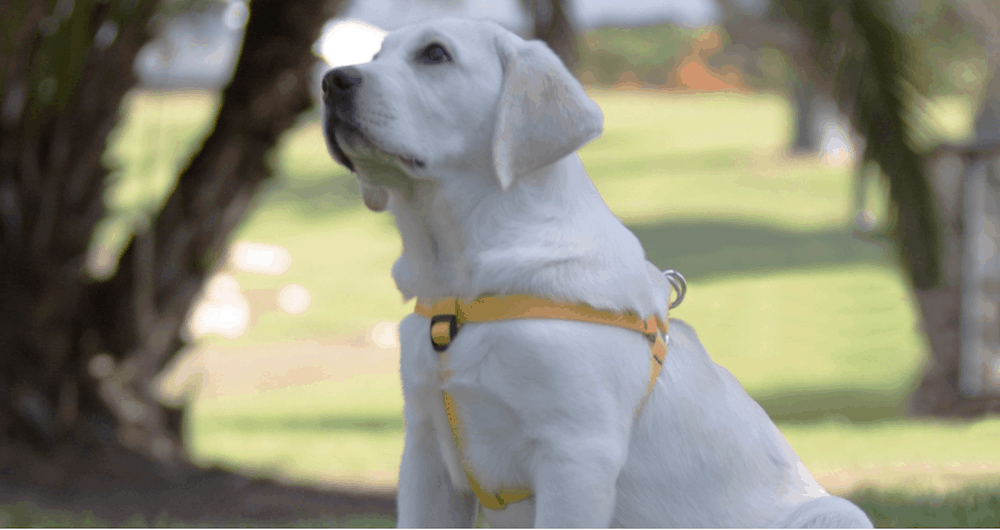 LupinePet's Step-In Harness features an easy-to-use wrap around design that keeps pressure off the throat, and is super easy to put on. Just a single buckle over the shoulders and you're done.
It's available in 3 widths, 6 size ranges, and an array of colors and patterns. Their classic version is made of nylon, and their eco-collection is made using recycled plastic bottles.
Buy the Lupine Step-In Harness HERE.
Mito Harness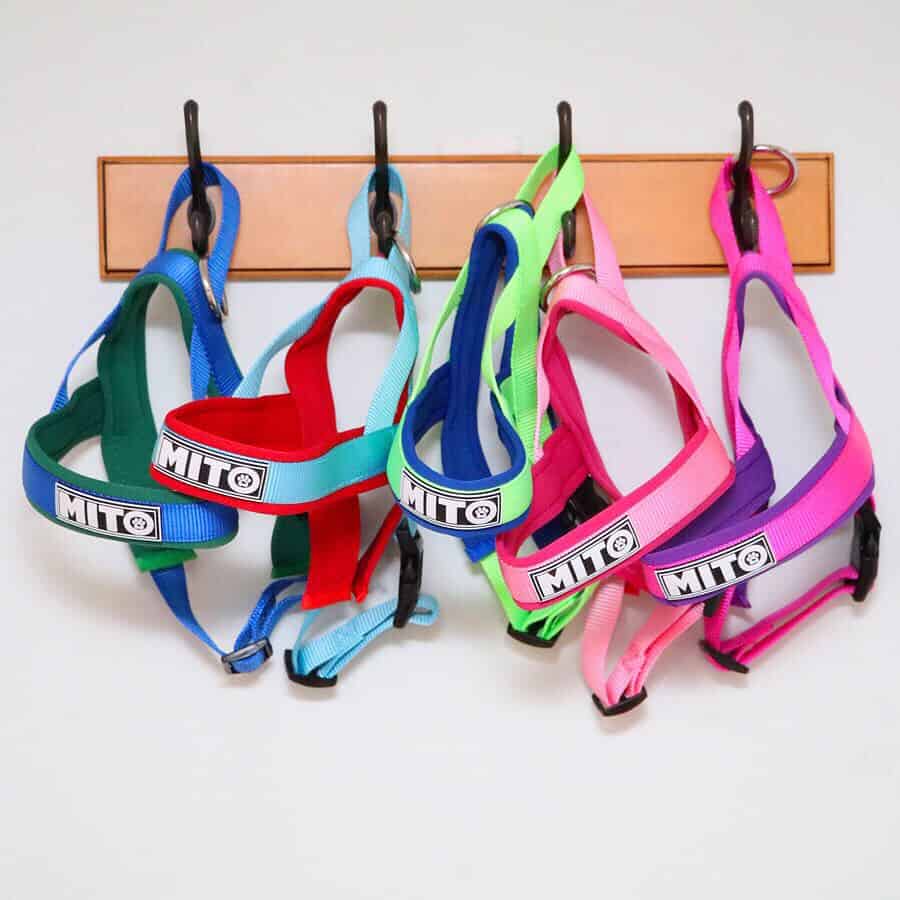 This new company is already making waves in the barrel chested community (pugs, frenchies and bulldogs, oh my!).
Mito (pronounced My-Toe) created their harness with a "lead with the chest" approach, since dogs should never be pulled by the neck. Just one click of the strap and it's on!
They're made in vibrant, eye-catching colors, so your dog is always visible.
Buy the Mito harness HERE.
Pawtitas
Pawtitas makes colorful and durable step-in harnesses that are adjustable and easy to put on. I love their range of colors, and you can't beat their reasonable pricing. They're made with high grade Nylon, and while their harnesses are durable, keep them away from chewers.
What's not to love? Plus, what pug doesn't want to sport a peace sign and a heart on their harness?
Buy the Pawtitas harness HERE.
Want more information on life with pugs? Click here.
This post contains affiliate links that help keep boogiethepug.com running. To learn more, visit our Disclosure & Disclaimer page.