Airlines That Allow Big Dogs in Cabin
If you're interested in flying with your dog, you should know that options for flying in cabin change drastically depending on your dog's weight and size. While the majority of airlines make allowances for small dogs weighing up to 20 pounds (including their pet carrier), that obviously excludes medium sized and large size dogs. Rules that require dogs to fit comfortably inside of a pet carrier also complicate travel with tall dogs. So, if your dog is skinny but long legged (think Italian Greyhounds), they're also out of luck.
All is not lost, however. There are in fact airlines that have more flexible allowances for dogs traveling in cabin. And let's face it, your dog is going to have a much more pleasant experience in the air if they're by your side, as opposed to flying in cargo.
Many of these airlines are semi-private, and their fares might cost you a bit more than commercial airlines. That said, you'll probably find that those extra bucks are worth it for the peace of mind of keeping your dog close.
Here's a list of airlines that allow big dogs to travel in cabin. Scroll down for answers to frequently asked questions about flying in cabin with big dogs.
JSX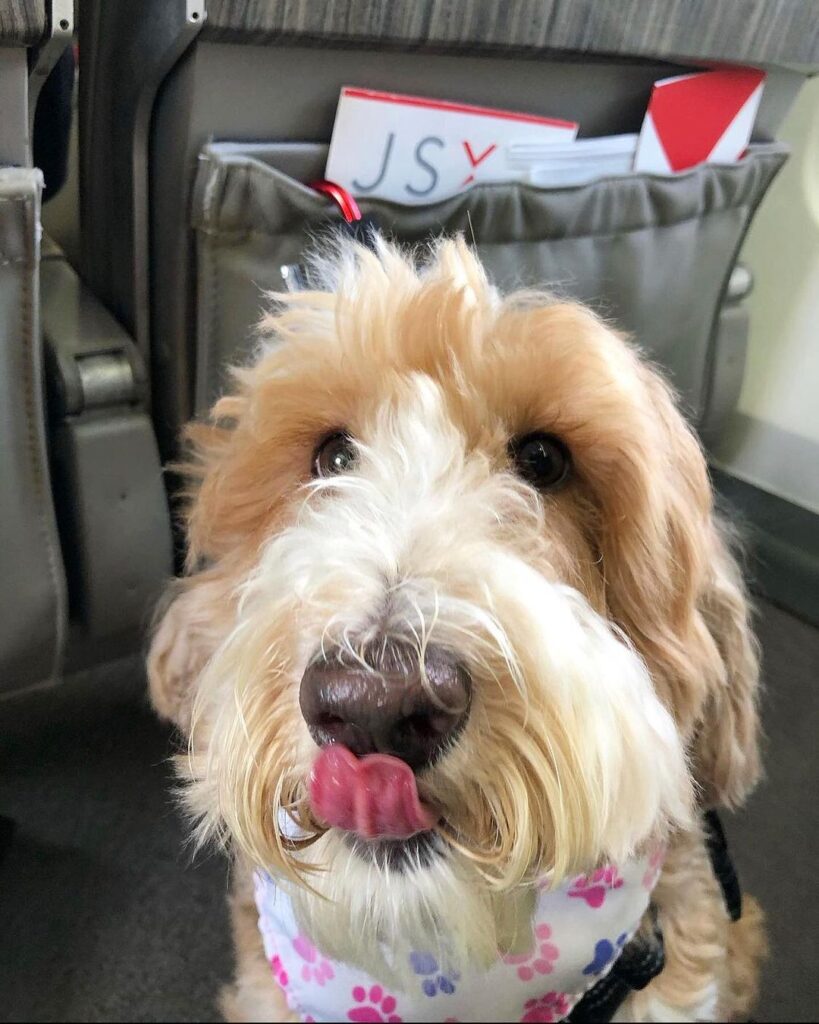 JSX is an independent air carrier in the United States. They describe themselves as a "hop-on jet service," with domestic flights concentrated in the southern region of the country, but with flights from east to west coasts. JSX flights also depart from private terminals, so you can avoid the traffic and airport madness.
Bonus: You only have to arrive 30 minutes before your flight is scheduled to take off!
Flights come equipped with Wi-Fi and have coffee, tea, water, and restrooms. Currently, there are flights to/from Arizona, California, Florida, Montana, Nevada, New York, Texas, Utah, and Washington.
JSX allows pets in cabin that are up to 65 pounds.
If you're flying with a small dog, you're in luck. JSX allows customers to transport cats and small dogs in-cabin free of charge as long as that pet is in a carrier. Small pets must fit comfortably in an approved carrier that is stowed underneath the seat in front of the owner for the duration of the flight.
If you have a medium or large dog, you're also in luck. You can purchase an extra seat, and your dog will be permitted to lay on the floor directly in front of the adjoining seat. As long as your dog is leashed, well-behaved, and the seats are adjacent window (C) and aisle seats (B), you're all good.
Pet owners must sign the JSX Pet Acceptance Liability Form before boarding.
Aero
Aero, like JSX, is a semi-private airline, although slightly elevated when it comes to the luxurious amenities. Their flights will set you back a pretty penny, but they're worth it. Their small airplanes come with leather seats that accommodate up to 16 passengers, and they have flights in Europe.
Like JSX, Aero departs from private terminals, with first class direct flights.
In the US, they are currently booking flights from L.A. to Aspen, Las Vegas, Jackson Hole and Sun Valley.
Small cats and dogs weighing up to 20 pounds can travel in a carrier with a pet care charge of $300. For medium and large pets between 20 and 65 pounds, you must purchase an additional seat at full price.
And although Aero has flights in Europe, they currently don't allow pets on them. Bummer.
Tradewind Aviation
Tradewind Aviation is an Oxford, Connecticut-based company that operates both on-demand and scheduled flights throughout the U.S. and Caribbean. They're a great option if you're looking to go on vacation!
Within the United States, they fly to places like Nantucket, Martha's Vineyard, Newport, Rhode Island and Stowe, Vermont, and to locations in the Caribbean such as San Juan, St Barthes, Anguilla, Antigua and St Thomas.
Pets of all sizes, including large-breed dogs, are welcome to fly in the spacious cabins of Tradewind Aviation's Citation CJ3s and Pilatus PC-12s. There's a limit of one party with pets per flight, and an additional seat must be purchased for dogs over 100 pounds. Otherwise, your pet is good to go.
Surf Air
Surf Air is a jet membership service that flies all across the United States. Similar to Tradewind Aviation, they include both scheduled semi-private flights and on-demand jet service. Memberships range from $199/month to access their inventory of scheduled flights to $3,000/month to unlock unlimited flight plans.
Surf Air is Los Angeles-based, with many hubs in California and Texas, as well as a few in other states. They have plans to expand to Europe in the near future.
Surf Air allows pets up to 100 pounds. Generally, Surf Operator flights limit one animal per flight, but subject to Operator's policies and consent, a second animal on the same flight may be permitted, by discretion. If Surf Air permits a second animal on the flight, the combined weight of both animals must not exceed one hundred pounds.
The dog must be at least four months old, weigh no more than one hundred pounds, and be clean, well-behaved, and up to date on current vaccinations. Passengers flying with dogs must notify Surf and purchase a separate, Single-Use Flight Pass for the animal at least two days before the flight.
BLADE
BLADE allows passengers to book by-the-seat on scheduled flights throughout the Northeast and West Coast, or charter or crowdsource a flight anywhere in the world. Besides semi-private flight services, they provide other means of transportation like helicopters, seaplanes, and turboprops.
They fly to locations like NYC, Hamptons, Nantucket, Los Angeles, San Francisco, Miami, Aspen, the Jersey Coast, and area airports.
Pets on BLADE Helicopters, Seaplanes and Turboprops
On by-the-seat flights, pets under 25 pounds can sit in a carrier on their owner's lap for a pet fee of $95. For dogs heavier than 25 pounds, the owner must purchase an additional seat.
There is a maximum of two pets per passenger. For a single passenger with more than one pet, an additional seat must be purchased for the second pet, regardless of the pet's weight.
If there are two, unrelated larger dogs boarding a flight, the pilot will request that the two dogs stand leashed on the tarmac prior to boarding to familiarize themselves with each other, as to not cause any in-flight issues.
On chartered flights, pets can fly at no additional cost.
Pets on BLADE Jets
On by-the-seat jet flights like BLADEone, each passenger is entitled to bring one dog under 35 pounds for an additional fee of $300. For a single passenger with more than one dog under 35 pounds, an additional seat must be purchased (maximum of two dogs under 35 pounds per additional seat purchased). An additional seat must be purchased for each dog over 35 pounds.
Dogs do not require a carrier, but must be on a leash.
On chartered land plane flights, pets can fly at no additional cost.
FAQ About Flying in Cabin with Big Dogs
Do any commercial airlines allow big dogs in cabin?
Unfortunately, the majority of commercial airlines only allow small dogs in cabin. However there are a few that allow more than the average 8kg/20lb threshold:
Spirit Airlines pet policy specifies that the combined weight of the pet and carrier may not exceed 40 pounds (18.14 kg).
La Compagnie, a French boutique airline, allows small dogs and cats (under 15 kg, or 33 lbs) who can travel with you in the cabin at a fee equal to 10% of your ticket fare. They offer all-business class flights between France and Newark Liberty International Airport.
You can read the in cabin policies for commercial airlines here.
What commercial airlines do not have a weight limit?
Great news for short, stumpy dogs! Yes, there are actually quite a few commercial airlines without a weigh limit. Instead, they specify that the dog must be able to fit in the kennel comfortably. By "fit," they usually mean the dog is able to sit, stand, and turn around comfortably. So, while the weight of the dog and carrier doesn't matter, the size and dimensions do.
Here are a few commercial airlines that don't have a weight limit:
American Airlines: Permitted kennel sizes are the following (this does not include first class, which has different regulations):

Mainline flights on American: 19 x 13 x 9 inches / 48 x 33 x 22 centimeters (length + width + height).
Regional flights on American Eagle: 16 x 12 x 8 inches / 40 x 30 x 20 centimeters (length + width + height).

Delta Airlines: Maximum carry-on kennel dimensions are determined by your flight as the space under seats vary by aircraft, but Delta recommend a soft-sided kennel with maximum dimensions of 18" x 11" x 11" since this fits most aircraft types.
Southwest Airlines: Southwest Airlines accepts pet carriers with the maximum dimensions of 18.5 inches long x 8.5 inches high x 13.5 inches wide.
United Airlines: United Airlines accepts pet carriers up to the following dimensions:

The maximum dimensions for hard-sided kennels are 17.5 inches long x 12 inches wide x 7.5 inches high (44 cm x 30 cm x 19 cm).
The recommended maximum dimensions for soft-sided kennels are 18 inches long x 11 inches wide x 11 inches high (46 cm x 28 cm x 28 cm). Soft-sided pet carriers can exceed these dimensions slightly because they are collapsible and able to fit underneath a seat without blocking the aisle.
You can read a full list of commercial airlines and their pet policies for traveling in cabin here.
Can large service dogs fly in cabin?
Yes, large service dogs can fly in cabin. The information in this post is about flying with dogs classified as pets, meaning non-service animals. Service animals do not have to adhere to the same rules as pets.
How do I prepare my large dog to fly in cabin?
There are many things you can do to help prepare your large dog to fly in cabin. It's better to be prepared than to wing it. Remember, these airlines, whether commercial or not, welcome well-behaved dogs on flights You don't want to risk being banned or not allowed to board the plane. Here are a few tips:
Click here to learn which commands your dog should learn before flying.
Always arrive early, with enough time to check in at the gate with your pet.
Here's what not to do when on a flight with your dog.
Give your dog ample time to exercise and use the restroom before the flight. A tired dog is a good dog.
Be sure your dog is clean and well groomed before flying.
Are there any other options for big dogs to fly?
Yes, there are other options for people flying with big dogs. As more people welcome pets into their families, the demand for pet travel is now greater than ever. Many pet parents have even banded together to organize private charters, doing all of the work themselves to organize, plan routes and dates, and split the cost of flights.
These flights are typically organized once a month and they fly to/from the United States and Europe. Tickets are not cheap – they'll set you back a few thousand dollars – but you'll be able to fly safely with other dog lovers, and your dog will be comfortable on the flight.
These flights are being organized primarily through Facebook, in groups like Chartered Air Travel with Pets and US/UK Dog & Pet Repatriation Private Charter Jet Group.
Have you ever flown with a large dog in cabin? We'd love to hear about the experience in the comments.
---
Pin for later!