A Complete List of Dog-Friendly Drive-In Theaters in LA
Nothing screams Americana like a good old drive-in movie. Drive-in theaters are a great place to watch a movie, relax, and have a bit of fun. Plus, no one will judge you when you roll up in pajamas or stuff your face with popcorn.
Drive-in theaters were incredibly popular in the United States during the 1950s and 1960s as a family friendly alternative to regular theaters. They made a great place for families to spend time together, and were also fun (and intimate) spots for date night.
Watching a movie at an LA drive-in is like nothing else. You get to watch a movie on the big screen in the very city where the movies are made! There's nothing more Hollywood than that.
Al fresco screenings usually start to pop up across the city in the late spring and continue into fall, although some are year-round. Luckily, there are a few dog-friendly drive-in theaters across Los Angeles. Here's a list of LA drive-in theaters that welcome your furry friend too.
Tips for taking your dog to a drive-in movie
Bringing your dog to a drive-in is a great idea, but there are certain things to keep in mind.
Be mindful of food. If you're planning to get snacks from the concession stand, or are bringing your own, consider bringing a treat or two for your dog to enjoy alongside you. If you really want to keep your dog occupied, bring a Kong or chew.
Walk your dog beforehand. Get all the pee and poop out before the movie starts, that way you can watch uninterrupted, free from potty breaks.
A tired dog is a good dog. Make sure your dog isn't overhyped and that they've gotten the wiggles out for the day. That way they can kick back and relax with you as you watch.
Bring water and a bowl. After a fun night out, your dog might be thirsty. Don't forget clean drinking water, and a bowl to drink out of too.
Cozy up. Whether you're with a dog or not, you want to be as comfortable as possible as you settle in to watch. Bring blankets, pillows, slippers, and anything else you think you might want to enjoy the experience.
Mind your manners. Be sure your dog does not disrupt other movie watchers during the screening. That means no barking, howling, or creating a ruckus.
Follow the rules. The majority of drive-ins welcome leashed, well-behaved dogs. Follow the rules, and keep your dog on a leash when on the premises.
Arrive early. You want to get a good spot! Drive-in parking is usually first come, first served.
Pop-Up Drive-Ins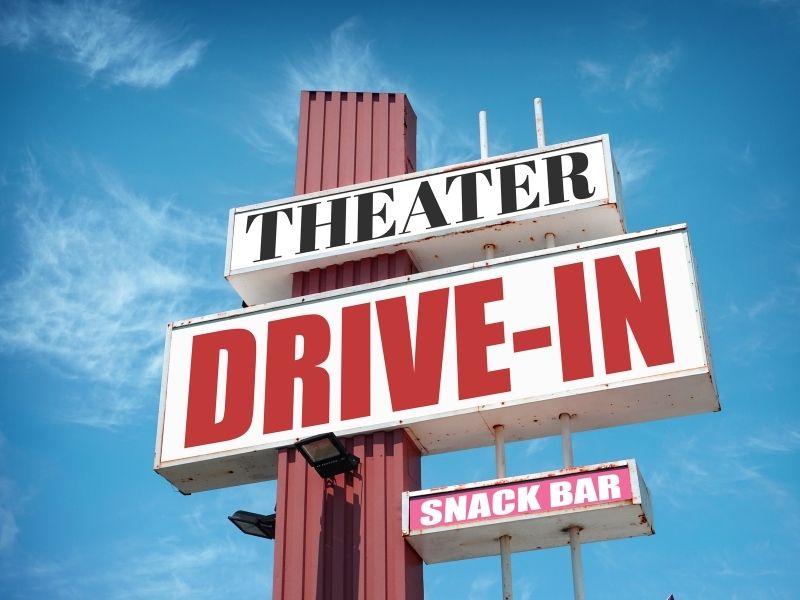 San Fernando Valley Halloween Drive-In
My Valley Pass organizes fun events in throughout the San Fernando Valley, including pop-up movie festivals. In the fall, they host the San Fernando Valley Halloween Drive-In, a Halloween-themed film series where they show classic horror films like Poltergeist and Pet Sematary.
Their Halloween Drive-In spectaculars are the best way to enjoy a horror film! Outside, in the dark, in the seat or trunk of your car, where anything is possible.
The Drive-In also offers a decent menu, and food items are delivered to your car window by friendly attendants.
Keep your eyes peeled because My Valley Pass also hosts Movies On The Roof at Westfield Fashion Square (Sherman Oaks), although these events tend to not be dog-friendly.
My Valley Pass says that for the most part, the drive-ins are pet-friendly. They are working on making their Movies On The Roof pet-friendly for the summer.
LOCATION
Lake Balboa
14006 Riverside Drive
Los Angeles, CA 91423
The Drive-Up at Santa Monica Airport
Santa Monica has the perfect place to put your car in park and watch a flick: the airport!
The Santa Monica Airport hosts Rooftop Cinema Club's the Drive-Up. They show multiple films a day until the end of October, with the option to either drive-in or drive-up and pitch a chair. With a huge assortment of films, themed nights, and delicious food trucks, they're not to be missed.
Their drive-in at the airport is always dog-friendly, whether you're driving or sitting. And don't miss the nearby dog park. We give them four paws up!
LOCATION
3233 Donald Douglas Loop S.
Rooftop Cinema Club El Segundo
Besides the Drive-Up at Santa Monica Airport, Rooftop Cinema Club also hosts events at two other locations: DTLA and El Segundo.
Rooftop Cinema Club started as a way to introduce moviegoers to urban skylines, sunsets, starlit evenings, awesome drinks, delicious food, and great movies on the big screen. They run events in a few different major cities in the United States, including Los Angeles.
Not all of their events are on rooftops – some are drive-ins, while others have picnic-style outdoor seating, so there's an assortment of outdoor movie screening types to choose from.
While their DTLA series is not dog-friendly, the El Segundo location currently offers designated pet-friendly "Wooftop" screenings in which your furry friends our welcome to join. Be on the lookout for the banner "Wooftop: Pet-Friendly Screening" on your venue's "Movies We're Showing" page. The banner will be featured on the film's image and there'll also be a puppy icon to the right of the "BUY TICKETS" button to identify the pet-friendly screenings.
LOCATIONS
El Segundo
1310 E Franklin Ave, El Segundo, CA 90245
Street Food Cinema
Street Food Cinema is the perfect place to frequent for film buffs and foodies. It's a combination of cool outdoor movies, tasty food trucks, good music, and interactive games.
It goes a little something like this: Street Food Cinema hosts drive-in or sit-in screenings at multiple venues around the region, offering both drive-in and picnic-style outdoor seating, and they invite an assortment of food trucks and sometimes even DJs to come and add to the fun.
Launched in 2012, they hoped to reinvent the traditional movie going experience – al fresco style. Every element is carefully curated to cultivate a unique atmosphere that keeps audiences wanting to come back again and again. They opened the drive-in feature in 2020, as an added bonus.
We recommend bringing blankets, pillows, hoodies, games, sunscreen, sunglasses and snacks. Although there are many food trucks and vendors with delicious food for purchase, outside food and beverages are also permitted, so you can opt to bring your own picnic.
Most Street Food Cinema events are dog-friendly – but not all! Check the event's webpage to double check before going.
Locations that do not allow dogs include: Syd Kronenthal Park in Culver City, Veteran's Park in Culver City, Grand Hope Park Downtown, Westdrift Golf Course, and King Gillette Ranch in Malibu.
LOCATIONS
Various!
PERMANENT DRIVE-IN THEATERS
Cinespia
Cinespia screens classic films all throughout the year – they're the first and longest running outdoor screening series in Los Angeles! With over 20 years in the movie biz, they host dazzling screenings under the stars at iconic venues including The Hollywood Forever Cemetery, The Greek Theatre, and Los Angeles Historic Park.
Their moving screenings are definitely an experience, with DJs spinning sets before the film and a concession stand with food and drinks.
Of their four locations, two are dog-friendly and welcome leashed dogs: the Greek Theatre and Los Angeles State Historic Park. The Greek Theatre offers a more classic drive-in scenario, where you stay in your car to enjoy the movie on the big screen. The State Park is a night under the stars, where moviegoers can sit on blankets and bring a picnic.
LOCATIONS
The Greek Theatre
2700 N Vermont Ave., Los Angeles 90027
Los Angeles State Historic Park
1245 N Spring St, Los Angeles, CA 90012
Electric Dusk Drive-In
Electric Dusk is LA's longest running pop up Drive-In and outdoor movie venue. Even though this retro-style drive-in theater refers to themselves as a pop up, they're open year round.
The Electric Dusk Drive-In is located in an old Sears parking lot, and they play movies starting in February. They're a classic Drive-In, showing lots of sci-fi hits, action blockbusters, and black-and-white films.
They offer prepackaged snacks and a wide variety of candy, popcorn, and beverages at their snack shack. You can bring outside food with you, but no alcohol or smoking is allowed on the premises.
LOCATION
236 N. Central Ave, Glendale, CA 91203
Vineland Drive-In
This historic drive-in has been open since 1955. They have four screens and feature a variety of movies for all ages, screening seven days a week, including holidays.
Pets are allowed at Vineland Drive-In as long as they are kept on a leash, cleaned up after, and are not brought inside the snack bar.
Check out their reasonably priced concession stand for snacks like popcorn, nachos, pretzels and churros. They even offer family meals like cheeseburgers and pizza.
LOCATION
443 N. Vineland Ave, City of Industry, CA
Drive-In Theaters in LA that are NOT Dog-Friendly
Unfortunately, the following drive-in theaters in Los Angeles do not allow pets:
Melrose Rooftop Theatre
Mission Tiki Drive-In Theatre, Montclair
Paramount Drive-In Theater, Paramount
The Roadium, Torrance
Rooftop Cinema Club DTLA
Rubidoux Swap Meet and Drive-In, Riverside
Van Buren Drive-In Theater, Riverside
Click here to learn more about dog-friendly Los Angeles.
---
Pin for later!