10 Dog-Friendly Places to Grab a Drink in NYC
Just because your dog can't drink, doesn't mean he won't enjoy a trip to the local watering hole. Besides, the hair of the dog is always better with a dog in tow. Here are 8 dog-friendly places to grab a drink in NYC. Don't forget to drink responsibly!!
Related: Dog-Friendly Breweries In NYC
1. Tom & Jerry's
This laid back neighborhood bar has a solid beer list and plenty of delicious cocktails. Dogs are allowed inside, so stop by either rain or shine. There's free wifi, seasonal drinks, and a happy hour. It's cash only, but there's an ATM at the door.
Location: 288 Elizabeth St, Manhattan
2. Boris & Horton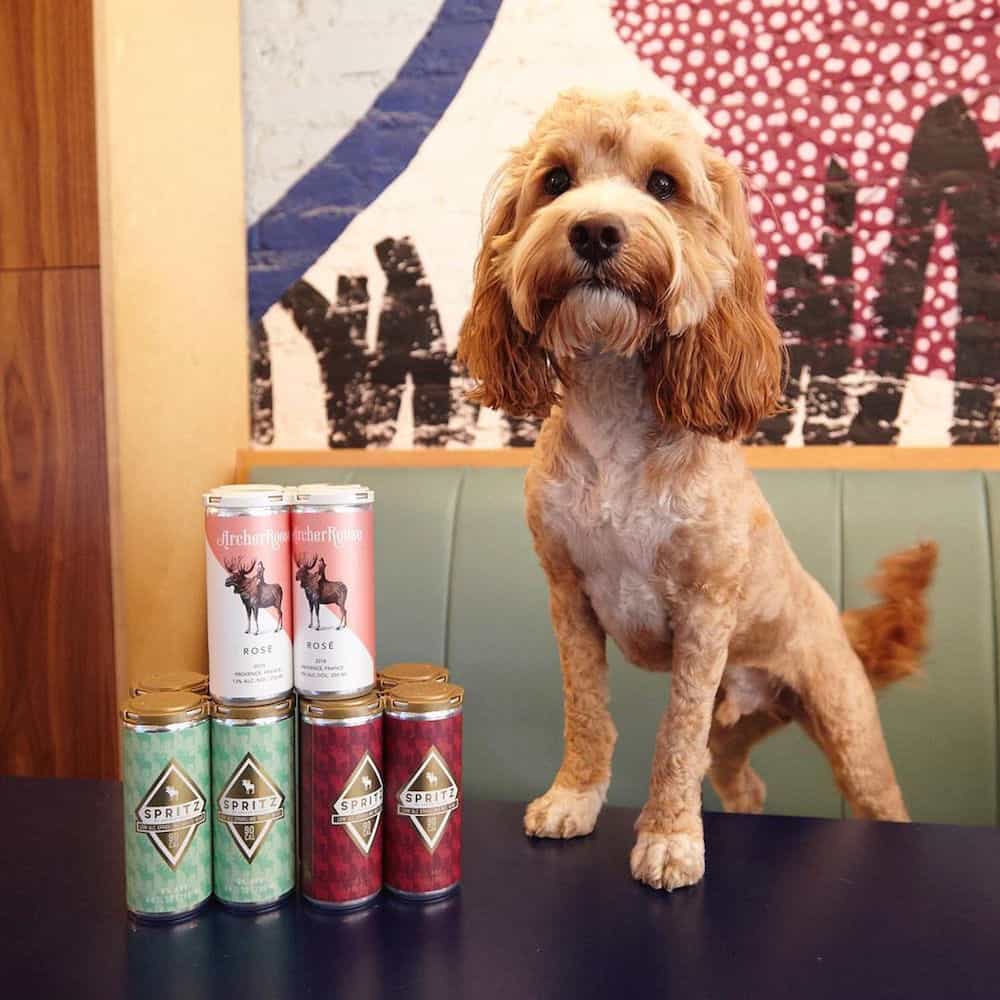 Boris and Horton is NYC's first dog-friendly cafe, but don't let their coffeeshop exterior fool you; besides coffee and snacks, this joint has a great selection of drinks. Order some wine (sparkling, red, or white) or ice-cold craft beer. Our favorite? Their hard kombucha!
Location: 195 Avenue A, Manhattan
3. Nowadays
This outdoor gathering space is an oasis for dogs and families. There's a food tent and food trucks with plenty of eating options, and reasonably priced drinks. It's a great big space to stretch out, play some games (there's ping pong!), and even dance. Plus, they frequently put on fun events. Go there for the atmosphere, and stay for the dancing.
Location: 56-06 Cooper Ave, Ridgewood, NY 11385
4. d.b.a
d.b.a. is what happens when a beer lover and a dog lover birth a bar baby. They're known to host dog parties, and have great happy hours. With a patio, a selection of over 100 beers, and dogs allowed both inside and out, this place can't be missed.
Location: 41 1st Ave., Manhattan
5. Luckydog
This dive bar's feelings on dogs is all in the name. Dogs rule the roost at this Brooklyn joint, and are allowed off leash in the back patio. There's plenty of room to sit, free shuffleboard, and happy hour lasts from 12pm – 7pm (with $3 well drinks!). It doesn't get better than that.
Location: 303 Bedford Ave, Brooklyn, NY 11211
6. Mission Dolores
This lively bar is half indoor and half outdoor, with a patio where dogs can hang out. They have a rotating draft list, and you can BYOF: bring your own food! With a super laid back atmosphere, it's a great place to hang out and enjoy a cold drink. Pro tip: try the Wasabi Bloody Mary. 
Location: 249 4th Ave, Brooklyn, NY 11215
7. Franklin Park
This beer garden has a spacious courtyard where dogs can hang out while you treat yourself to mouth watering burgers and cold drinks. It's a popular destination, so we recommend arriving early and spending the day there. Also, there's a bouncer who checks ID's at the entrance, so leave the kiddies at home.
Location: 618 St John's Pl, Crown Heights, Brooklyn
8. Lucky
There's a Lucky's on Avenue B, that's not to be confused with Luckydog in Brooklyn. This dive bar steps things up a notch. They have a great outdoor patio and a full bar. Order a bucket of beer or go crazy with a wine slushie or frozen lemonade.
Pro tip: sign in on Yelp and get a free shot of whiskey. They offer up A1 Steak Sauce chasers with it, if you dare.
Location: 168 Ave B, Manhattan
9. Tipsy Dog's Bar
Tipsy Dog's Bar is a local hangout in Bushwick, Brooklyn that sells delicious burgers and booze. With a name like Tipsy Dog's Bar, of course they're dog-friendly! They've got both indoor and outdoor seating, and a great brunch and happy hour. Try the Paloma or their fresh Watermelon margaritas.
Location: 400 Troutman St, Brooklyn.
10. The Tradesman
This Bushwick bar has a great indoor space, and a great big backyard area too! They make great cocktails, and offer food pop-ups for those who come hungry. They're cash only, so make sure your wallet's full. Happy Hour lasts until 9pm.
Be sure to say hello to The Tradesman's mascot! A beautiful female dog named Lupe. She's usually hanging out in the bar.
Location: 222 Bushwick Ave, Brooklyn, NY 11206.
Do you and your pup have a favorite watering hole in NYC? Let us know in the comments!
You can find more fun stuff to do with your dog in NYC here.
---
Pin for later!