The Day Dogs Took Over Manhattan
Meet the Breeds
This year, we went to the eighth annual Meet the Breeds® event in New York City. The jam packed day is heaven for dog and cat lovers – attendees have the opportunity to meet and play with nearly 200 different breeds of dogs and cats. It's a chance to see your favorites up close, and to learn about breeds you've never seen before. Each breed has their own booth where dogs wait for pets and where experts are ready to answer questions.
Besides being super fun, Meet the Breeds is a great way for animal lovers to learn about responsible pet ownership, and to discover which breed best fits their home and lifestyle. All have evolved from wolves, but each of these 100+ dog breeds are different and unique.
It's also an amazing place to pick up a few new dog facts! Did you know there are two different kinds of Corgi, the Pembroke Welsh Corgi and the Cardigan Welsh Corgi? They're easy to tell apart: the Pembroke has a docked tail and the Cardigan doesn't.
All of the booths were in alphabetical order, so the Shiba Inus were right next to the Shih-tzus, and the Chihuahuas right next to the Chow Chows. Everywhere you turned there was a dog!
The booths were decorated with breed information and some sort of theme, like fun elements from the breed's country of origin or background. Experts relied on themes to both educate and show off major breed pride. The Pomeranians showed off their circus skills.
And the Pharaoh Hounds showcased their history.
There were playful pups…
and sleepy pups.
Dogs with amazing locks…
and dogs with crazy hair.
Small dogs…
and large dogs.
We got to see dog photographer The Dogist in action with a Great Dane.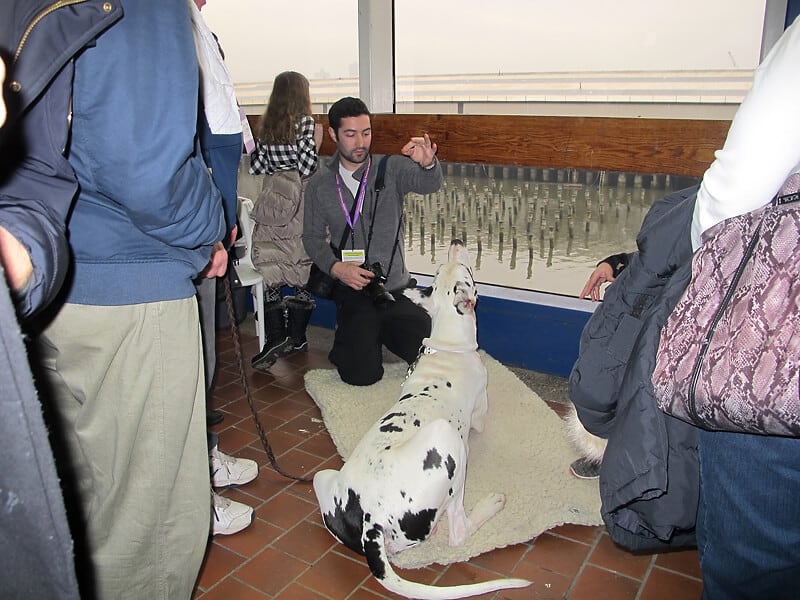 And we ran into the famous Pugdashians at the Pug Booth!
The International Cat Association® (TICA®) was also there, with 35-40 different cat breeds representing the species.
Meet the Breeds was so much fun. All of the dog and cat experts were incredibly nice and happy to answer any questions. Their love for their breeds was contagious. It was an animal lover's paradise.
The Meet the Breeds event is run by the American Kennel Club (AKC), and sponsored by Purina® Pro Plan®, AKC Pet Insurance, and Motel 6, among others. In addition to breed booths, they also feature dozens of vendors and an agility competition for both cats and dogs.
Here are more photos, with some dog facts sprinkled in, if you'd like to see. Enjoy!
Grooming session.
Major hair goals.
The Singapura. Like Singapore + Purr put together. 
The Staffies had a kissing booth! #swoon
Wrinkles for days.
The Rottweiler booth was all about how Rotties can do it all. Here's Wonder Woman Rottie proving it.
See? Check out this list!! (Second from the bottom is my favorite).
The Rhodesian Ridgebacks showed off some African pride in their booth. Many asked, but yes, this mane is faux!
Spice up your life with a cute handkerchief. 
Vogue was there doing photoshoots with each of the breeds. It was every dog's time to shine, and shine they did. 
We can't forget the felines. 
Major Abyssinian pride.  
Keep your paws clean, use hand sanitizer!
Always match your dog.
He's ready for his close up. 
Regal.
Shih-tzus have long gorgeous hair that has to be wrapped every single day in order to keep it beautiful, clean, and knot free. 
Mustache goals.
We can't wait until next year. See you at Meet the Breeds 2019!