25 Road Trip Hacks when Traveling with Dogs in Cars
Road trips are one of the easiest and funnest ways to travel. Plus, they're a great option for dog owners, since dogs of all shapes and sizes can ride in a car. Whether your trip is hours long or days long, there are things you can do to make life on the road a little bit easier for both you and your dog. Check out these 25 road trip hacks for when you're riding with your dog.
1. Get Astroturf
If you're traveling with dogs, and you want to protect your car from hair and dirt, consider Astroturf.
Astroturf is a synthetic material that looks like fake grass. It's usually found on sports fields or walkways.
But it works great for dogs and cars too! Purchase a cheap roll of Astroturf at your local hardware store, measure your space, and cut it to fit.
The Astroturf provides your dogs with something to grip on, so they won't slide around in the back. It's great for traction, and it's easy to put on and remove.
It'll also catch all the debris – like dirt, fur or gravel – that your dog will inevitably track in. It's just a matter of shaking it off to clean it, or giving it a quick spray of water. And remember, it's a synthetic material, so it'll dry super quick.
Get Astroturf here.
Bonus: if you're into messy outdoor activities – hiking, camping, going to the beach, etc. – it'll be great for you and your gear too!
2. Use a spill-proof bowl
You have to stay hydrated while on the road.
Ideally, you'll want to stop for water breaks, and drink al fresco. But if you're staying in the car, either due to time constraints, bad weather, or because it's dark out, you'll want to serve up that fresh H2O in a spill proof bowl.
Spill proof bowls ensure your dog won't get water everywhere or drench your car in dog drool.
Keep one on hand for mess free feedings, so your dog stays hydrated while your car stays clean.
Get the no spill bowl here. 
3. Keep all your dog's important documents in a waterproof, sealable Ziploc bag
When you're traveling with your dog, it's important to keep vital documents, like medical records, extra copies, and ID information, on hand, especially if you're crossing state lines.
And when there are muddy paws, dirty shoes, and the potential for spills, you'll want to be sure these documents stay clean and dry.
Keep them safe in a waterproof and sealable ziplock bag. This is easy to throw it in a backpack or the glove compartment, and means you won't have to worry about keeping them readable.
4. Use seat covers or a blanket
Dog hair and seat scratches are easily preventable by keeping seat covers or a blanket on hand. They both protect your car and make it easy to shake off loose fur and debris.
They're especially useful if you're renting a car. Who doesn't love an easy clean up?
Bonus: get waterproof seat covers to make your ride even smoother – there'll be no need to worry about wet dogs!
Get seat covers here.
5. A crate, car seat, and/or seatbelt are necessary
Safety is important when you're on the road. If you stop short, slam on the brakes, or get into an accident, your dog can get seriously hurt.
To protect your dog, make sure to secure them while in the vehicle.
For medium to large dogs, try a crate or dog seatbelt. For smaller dogs, check out car seats.
Consider collapsible travel crates, no matter your dog's size, which double as in-car restraint systems and a dog suite in your hotel room or campsite. 
6. Use a pet ramp for easy access
Some dogs, like older pets or dogs with mobility issues, might have trouble getting in and out of the car. Carrying them isn't really an option if they're big, or if your hands are full.
A pet ramp is a great option to help with easy load ins and outs.
This one is adjustable, works with all sizes of vehicle, and can withstand up to 400 pounds. Its high traction surface prevents slips and falls. Plus, the ramp is easy to carry – it's only 13 pounds – and easy to store. 
7. Use up to date dog tags
Up to date dog tags are important in your dog's daily life, and especially while traveling.
They signify to others that your pet has a home. They'll protect your pet from being mistaken as a stray, and make it easy for people to contact you should anything happen.
My dog's tags have their name, my email address, and my phone number. Some might choose to include their home address as well.
Be sure your pet is microchipped too!
8. Use a travel pet food container
Throwing some kibble in a Ziploc bag sounds easy, but if you turn your back for a few minutes, your dog will sniff it out and rip right through it.
This kibble carrier keeps meals fresh and can hold up to five pounds of food. I love that it rolls down and clips securely, making it malleable so it changes size depending on how much food I pack.
This travel container is also great, especially on camping trips and long car rides. It includes two detachable bowls to serve food and water, and features an easy to carry handle.
9. Pack the right clean up tools
A road trip converts your car into a make shift home; you'll be using it to eat, sleep and hang out. With all of that extra time in your vehicle, it won't be smelling too fresh by the end of the day. Add one or two dogs, dirt and mud from outdoor excursions, and plenty of spills, and you've got yourself a locker room on wheels.
But who wants to travel in a dirty car? Not me! Especially if it's a rental, and fees are involved. Keep your car clean and pack the right tools to help you.
This hair-removing silicone brush is great at loosening pet fur lodged in your car's carpets and seats. It's also small enough to keep in your glove compartment or to throw in a bag.
For a more thorough clean up, consider a vacuum. This handheld cordless vacuum will suck up all of the fur, sand and dirt tracked in from your dog, plus it comes in an easy to store bag.
It's lightweight and portable, so perfect for road trips.
10. Stay shady
Driving on a hot day? Sunlight will heat up the interior of your car and turn your vehicle into an oven. It'll dehydrate you and your dog, and make car rides uncomfortable.
Keep your car, whether on the road or parked, cool and stay shady.
This car window sun shade blocks over 97% of harmful UV Rays. It fits most car windows. 
If your dog sits in the back (they should!), try these rear seat air fans. They plug into your cars' cigarette lighter and help keep your pet cool on even the hottest of days. 
11. Stay hydrated
Long hours on the road, especially on a hot day, can lead to dehydration.
While you'll want to take frequent water breaks, sometimes, due to weather or time of day, you won't be able to stop the car.
This dog water bottle fits right in the car cupholder, and dispenses water with a squeeze. It'll make grabbing a quick lick easy while on the road. 
12. Pet First Aid kits are a must
Every car needs a dog first aid kit to use in case of emergency.
You'll be prepared for injuries and be able to treat cuts, scrapes, sprains and strains, no matter where you are. It's always better to be safe than sorry.
This useful K9 First aid Kit is compact, sells for a reasonable price, and has all of the essentials. It includes scissors, tweezers, a pet brush, a pair of rubber gloves, antiseptic cleaning wipes, and more.
Or, save money and make your own with a few items from around the house.
Grab a container – a ziplock, drawstring bag or Tupperware works – and throw in the following:
Hydrogen peroxide
Antibiotic ointment
Gauze
Scissors
Tape
Rubber Gloves
Wet or Grooming Wipes
13. Be organized
Throwing things in your car feels great until you've created a mountain of mess and can't find something. Avoid this problem entirely by getting organized from the get go.
This strap in collapsible trunk organizer helps you neatly store all of your gear into sturdy, yet flexible compartments. Use it in half mode or open mode, depending on how much stuff you have. 
I'm also digging this trunk divider that attaches with velcro and fits into even the most weirdly-shaped nooks of your car. It's an easy way to secure loose clutter in the back.
14. Keep a packing list
Planning a road trip can be daunting, but you won't have to worry about leaving things behind if you've got a good packing list to refer to.
This packing list works at the beginning of a trip, when you're packing your bag, and throughout, to make sure you don't leave anything behind.
Check out our dog travel checklist, and print out a copy for yourself. 
15. Map out dog-friendly places to stop along the way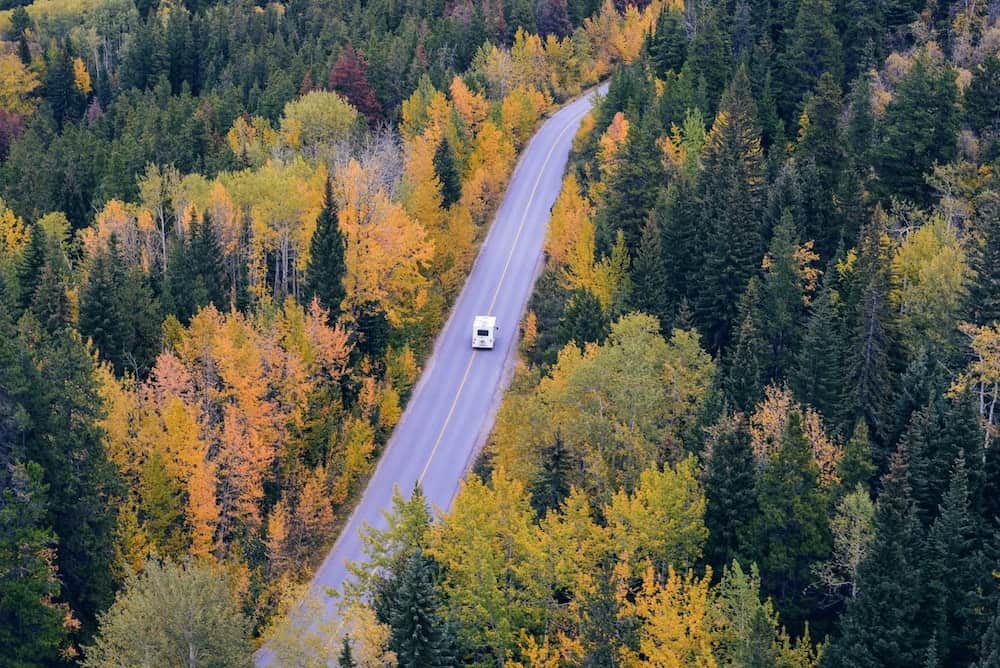 What's a road trip without fun stops along the way? But with a dog in tow, not every location will be welcoming.
Before heading out, map out dog-friendly stops along your route, so you're not totally clueless when it comes to breaks. It'll make potty breaks or activities along the way easier and better.
Plus, doing a bit of research before the trip will help you discover dog-friendly places you never even knew existed.
Here are some helpful places where you and your dog will be welcome:
16. Soothe nervous dogs
If your dog is nervous in the car, help soothe them so that they can rest and get comfortable.
Here are some tips for road tripping with a nervous dog:
Bring along your dog's favorite items, so they have familiar objects around from home. A favorite toy, dog bed or blanket with your scent.
Put your dog in a thunder jacket; they apply constant pressure on a dog's torso, similar to a parent swaddling a child.
Experiment with CBD oil or CBD treats to help your dog remain calm.
Make sure the car is comfortable and cool – crank the air conditioning and make their crate or the backseat nice and comfy.
Do shorter rides with a great reward at the end before embarking on a longer trip.
17. Get rid of that wet dog smell
If you're planning outdoor adventures like hiking or swimming, your dog is guaranteed to get wet and muddy. While that wet dog must is ok around the campfire, it's not great once it infiltrates your car.
This bamboo charcoal car air freshener naturally absorbs odor like a stink sponge. It's long lasting and fragrance free, and totally safe for your pets. 
18. Keep supplies on hand for dirty paws
Just as you should wipe off or remove your dirty hiking boots after a trek, do the same for your dog. Dog paws can track in dirt, sand, mud and water that'll get all over your car.
Keep some supplies on hand to prevent too much mess. A quick dry towel or grooming wipes should do the trick. 
Or, make your dog wear dog boots! They'll keep your dog's paws clean and you can take them off before getting in the car. 
19. Download helpful apps
There are plenty of apps that can help when on the road with your dog. It's gotten a lot easier than when I used to travel the world sans iPhone.
BringFido: This app (and website!) helps you locate pet-friendly hotels, restaurants, parks and activities.
DogTrekker: DogTrekkers lists dog-friendly places to stay, eat, hike, swim and have fun throughout the state of California. 
USA Rest Stops: This app helps you find the nearest rest stop. It's great for water and potty breaks. 
Roadtrippers: Roadtrippers offers planning, maps and travel guides for road trips. It's especially great if you're camping – you can book campgrounds directly in the app. 
Sniffspot: Sniffspot showcases safe and private dog parks and off leash areas hosted by locals. It was made for reactive dogs, but any dog can use it. Find locations that work for you and book for some play time. 
If you're looking for more, check out this list of the best dog apps available for iOs and Android! We've also got a list of our favorite dog podcasts.
20. Plan ahead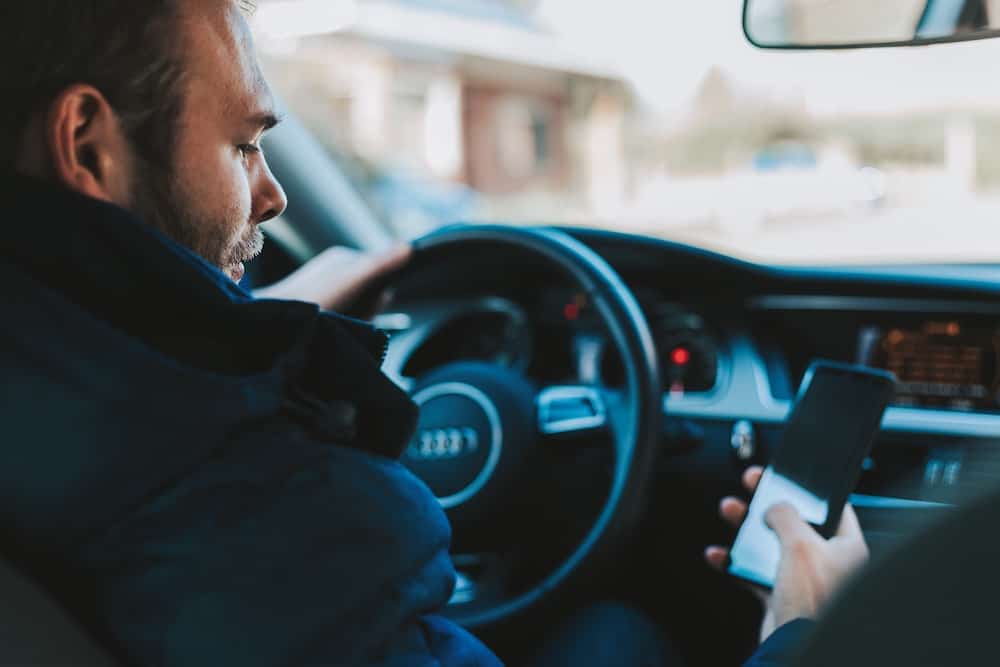 Jumping in a car and driving wherever the wind takes you sounds romantic, but it's not really very practical. You don't want to be stuck with no place to stay.
Plan ahead! It's an especially good idea if you prefer the comforts of a hotel or motel, rather than a campsite. Some places don't allow dogs, while others have weight limits, breed restrictions or big fat pet fees.
Here's a list of questions to ask dog-friendly hotels, and here's another with the best dog-friendly places to stay on a road trip. 
21. Keep fleas away
If you're planning to hike or spend time in the woods, you'll want to be certain your dog has flea, tick and heart worm medication. It would be terrible to pick up fleas, and get them in your car! Plus, they can be dangerous and cause health issues like lime disease.
We tend to pick up organic flea collars before going on a trip. They're great to have in handy and safer than alternatives. Earth Animal also sells a flea and tick internal powder that comes highly recommended.
22. Reward your dog with a treat along the way!
Road trips are fun, and your dog should be in on it. The car is a happy place! It's taking you to new places, and on new adventures.
Remind your dog of this with positive reinforcement and treats.
When you're on the road, stop at chains like Dairy Queen and Starbucks; both offer dog treats that you can pick up at the drive through. Dairy Queen has pup cups, and Starbucks has puppucinos. 
23. Tired dogs are the best travelers
This is my number one piece of travel advice, whether you're flying, road tripping or on a train.
Zoomies and a case of the wiggles are best left for wide open spaces. Confined spaces, like a car, mean your dog won't be able to stretch their legs.
Make sure your dog gets a lot of exercise before doing a long stretch in the car, or stop along the way so they can run around. It'll make your dog feel better, and make for a much more comfortable trip, for both you and your pup.
24. Use bottled water if you're crossing state lines
This is a trick I learned from show dogs who have to travel to compete.
Tap water is different in every place, especially when you cross state lines. The change in levels of things like chlorine can upset your dog's digestion and cause diarrhea.
Take your own water from home, or buy bottled water.
If you bring your own water, gradually add some of the new water to the water from home, or just stick to bottled water the entire time to be safe. 
We bought jugs of water at Costco and Walmart and just always kept extras in our trunk. Problem solved!
25. Bring a headlamp to pick up poop in the dark
Let's be real, picking up dog poop in the dark is a drag.
Sure, you can use your cell phone as a flashlight, but that means you'll have to do the one handed poop pick up, while you also hold a dog leash and bend over. What a mess!
The chances of falling, tripping or dropping your phone into some fresh poop are high.
And if you're in a wooded area with grass? Even worse. Camouflaged poop is extra hard to find.
Free up your hands and be prepared with a headlamp! That way you can easily spot the fresh turds all while using both hands. Plus, you can use it for other stuff while in the dark. Stuff that hopefully doesn't involve poo. 
Here are some rechargeable headlamps that come highly rated.
Related:
What other tips do you have for dog-friendly road trips? Let us know in the comments.
---
Pin for later!