Homemade Dog Food: What Boogie Ate
For us, a healthy diet for our dogs is super important. It keeps them fit, healthy, and happy, and saves on extra visits to the vet. We have a basic homemade dog food recipe that we make every two weeks, but we also like to switch things up a bit. A little variety is good for their tummies, and can help if we've run out of food or are traveling. Here are a few DIY dog food meals that we've fed Boogie, our pug, and a list of ingredients.
What Boogie Ate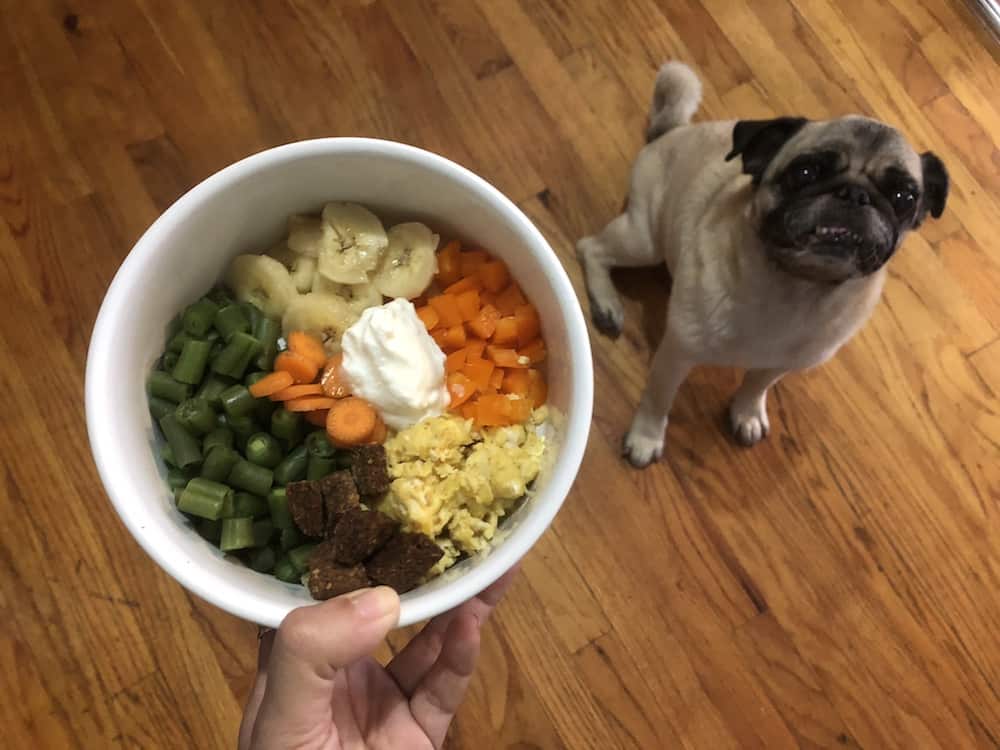 String Beans
Carrots
Bell Pepper
Scrambled Eggs
Organic Greek Yogurt
Wild Salmon & Superfruit Dried Bits
Bananas
Apples
Blueberries
Organic Greek Yogurt
Homemade Dog Food
Dehydrated Turkey Liver
Halo Skin and Coat Support
Strawberries
Coconut Oil Peanut Butter Treats
Organic Greek Yogurt
Homemade Dog Food
Dehydrated Turkey Liver
Nupro Supplement
Carrots
Sweet Potatoes
Ground Chicken
Blueberries
NuPro Supplement
Organic Ground Turkey
Strawberries
Golden Paste
Sweet Potatoes
Nupro Supplement
Here is the same dinner, but in a different portion for Marcelo the chihuahua:
Do you feed your dog a variety of foods? We'd love to hear about them in the comments!
This post contains affiliate links that help keep boogiethepug.com running. To learn more, visit our Disclosure & Disclaimer page.