Family Halloween Costume Ideas That Include Your Dog!
It's the spookiest time of year, Halloween! It's time to plan your costume. There's nothing more fun than a group costume. We've rounded up the best family costume ideas, and all of them include the furriest member of the pack – your dog! Let us know which one is your favorite in the comments.
This post contains affiliate links that help keep boogiethepug.com running. To learn more, visit our Disclosure & Disclaimer page.
Toy Story
With the release of the fourth film, Toy Story pretty much solidified itself as one of the greatest animated films of all time. Pay homage and go as some of the fun characters. There are plenty to choose from.
You'll be the hit of the party, to infinity and beyond!
Dog Costumes
Woody
Buzz
Human Costumes
Jessie
Woody
Mr. Potato Head
Martian
Where's Waldo?
Dress as Waldo and his faithful dog Woof this Halloween! Have a party greater than two? Not to worry, they can go as Waldo's friends and family: Wendy, Wizard Whitebeard, Odlaw or Wenda.
This costume makes for a great photo op. Hide around the neighborhood and snap photos to make your own Where's Waldo!
Fun fact: Waldo is known as Wally in many countries!
Dog Costumes
Waldo
Human Costumes
Waldo
Wenda
Young Waldo
Baby Waldo
Grease
What's hotter than Danny Zuko? Danny Zuko with fur.
Say "you're the one that I want" to this Grease group costume, complete with Pink Ladies, T-Birds, beauty school drop outs and Rydell High cheerleaders.
Dog Costumes
T-Bird
Pink Lady
Human Costumes
T-Bird
Sexy Sandy
Cheerleader
Pink Lady
Young Cheerleader
Beauty School Dropout
Shark
This shark costume is not only fun, but versatile: go as a lifeguard, surfer or shark victim. You choose if your pup is more of the Jaws or the Baby Shark doo doo doo type of great white.
Dog Costumes
Shark
Shark Fin
Shark Hat
Human Costumes
Retro Lifeguard
Lifeguard
Surfer Dude
Shark Victim
SpongeBob
Who lives in a pineapple under the sea? Not you and your dog, but you can pretend to this Halloween in these Spongebob Squarepants costumes.
Hack: want to take the costume up a notch? Write out funny text and carry it around to turn yourselves into a walking meme.
Dog Costumes
SpongeBob
Human Costumes
SpongeBob
Patrick
Squidward
Plankton
Fast Food
Wet your appetite by dressing as one of these fast food combos. Your pup will look delicious!
Dog Costumes
Hamburger
Hamburger Hat
Hotdog
Human Costumes
Mustard
French Fries
Hamburger Hat
Hotdog
Ketchup
Server
Female Server
The Little Mermaid
Look at this stuff.
Isn't it neat?
It's The Little Mermaid in costume!
Have more than one wannabe mermaid in your party? Not to worry. Go as Ursula or one of Ariel's sisters (Aquata, Andrina, Arista, Attina, Adella or Alana).
Dog Costumes
Ariel
Sebastian
Human Costumes
Ariel
Ursula
Sebastian
Prince Eric
King Triton
Scooby Doo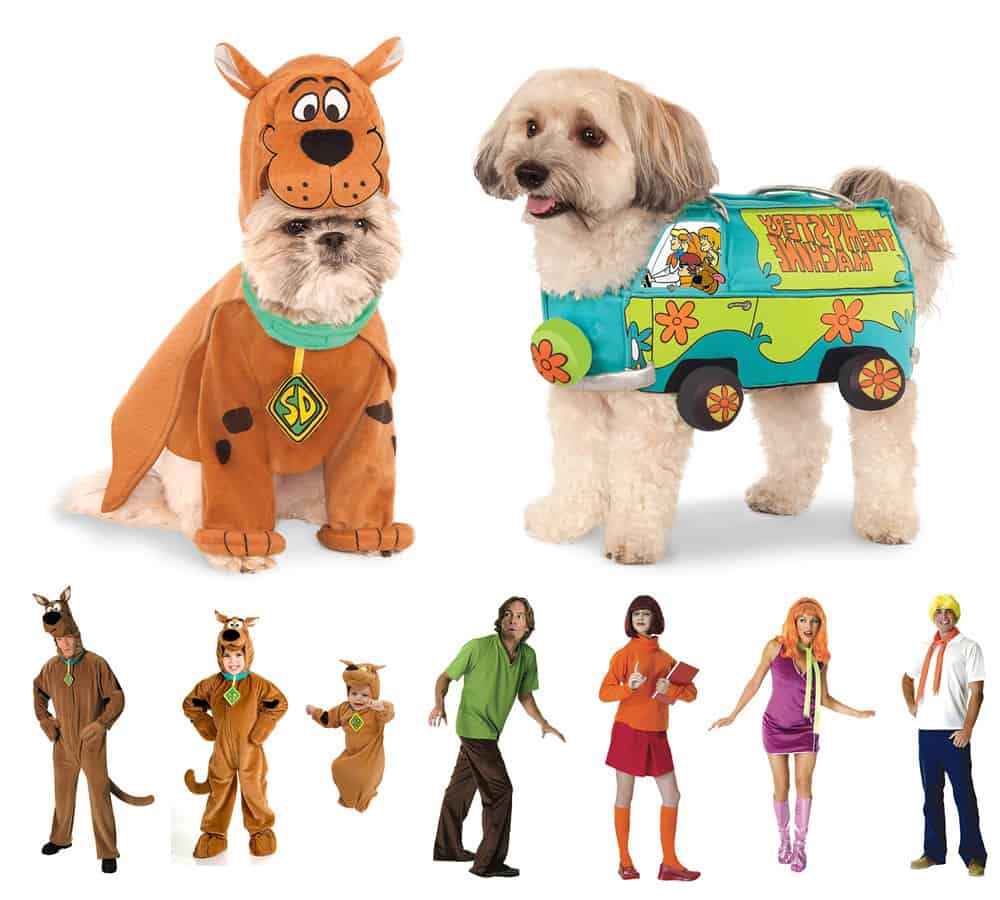 Jeepers! It's Scooby and the gang.
This zany group are super fun and easy to copy. Pick two characters and go with just your dog, or get a whole group together to play each character.
Dog hack: if your dog's a Scooby lookalike, skip the costume and just slap on a blue collar with a homemade SD tag.
Ruh roh!
Dog Costumes
Scooby Doo
The Mystery Machine
Human Costumes
Scooby Doo
Shaggy
Daphne
Velma
Fred
Scooby Doo Kid
Scooby Doo Baby
Aladdin
You ain't never had a friend like your pup. Commemorate your bond and go as the Genie and Aladdin. Grab your friends and family and include the rest of the Agrabah crew.
Dog Costumes
Genie
Jasmine
Human Costumes
Jasmine
Aladdin
Iago
Raja
Abu
Click here for more Halloween fun!
Have more Halloween group costume ideas? Tell us below!
---
Pin for later!