The 10 Best Dog Halloween Costumes on Amazon
There are always two routes to take when it comes to your pet's Halloween costume: spend hours making an amazing get up by hand, or, after a quick scan and the click of a button, get one delivered to your door. I praise all of the hard working pet parents who have the time and energy to craft all night, but let's face it, you don't always have an extra few hours and the creative juices to deliver every year. Sometimes you just gotta turn to the pre-made costume experts. And where better to turn than Amazon? You can't beat their selection, prices or the joys of free 2-day shipping. Without further ado, here are our favorite ten dog halloween costumes on Amazon (and they're all available on Prime!).
This post contains affiliate links that help keep boogiethepug.com running. To learn more, visit our Disclosure & Disclaimer page.
1. Zoo Snoods Dog Costume
Zoo Snoods are great because they're simple, easy to wear, and they come in handy during the winter (no need for a winter hat!). Plus, they come in a variety of fun animal styles. My favorites include dinosaur (pictured above), rabbit and fox.
[amazon_link asins='B01L82N442,B01L82N7SU,B01L82N00K,B01L82NCA8,B01L82N7JO,B01L82N0WI,B01L82NF3M,B074QVXKSY,B01L82N3RA' template='CopyOf-ProductCarousel' store='boogietheplugin-20′ marketplace='US' link_id='0e8c9242-1d86-4d30-a05a-cfa330087e94′]
2. Mermaid Dog Costume
This mermaid costume is a step up from your regular norm core mermaid. It has a little pizazz, with rhinestones on the headband and a shimmering tail.
If you're more into a classic The Little Mermaid look, check out this more appropriate Ariel dog costume.
Buy Here
3. Alligator Dog Costume
There's no need to be afraid of a scary scaly reptile when there's a cute furry doggo underneath. This alligator costume is more cute than scary, and it's super warm for those chilly October nights.
Plus, this costume feels a bit luxurious since parts of it are made of velvet!
Buy Here
4. Turtle Dog Costume
Animals dressing as other animals is always cute. This turtle costume is perfect for a senior pup who likes to take things slow.
Bonus: the turtle shell doubles as a backpack, for storing candy and poop bags.
Buy Here
5. Buzz Lightyear Dog Costume
Not only is this costume cute, but it's timely, since Toy Story 4 just came out. There's bound to be a lot of other Toy Story characters out trick or treating who you can take photos with or give a nod to. Toy Story fans know what's up (it's a great movie!).
Buy Here
6. Where's Waldo Dog Costume
Everyone loves Where's Waldo? Dress your pup as this sneaky explorer, and take photos of them hiding in different spots. It's Where's Waldo? come to life!
Fun fact: did you know that Waldo is known as "Wally" in many countries? True story.
Buy Here
7. Penguin Dog Costume
Nothing's cuter than a penguin, except for a dog dressed as a penguin. This penguin costume is cute as a button. Plus, it comes with a bowtie!
Buy Here
8. Vampire Dog Costume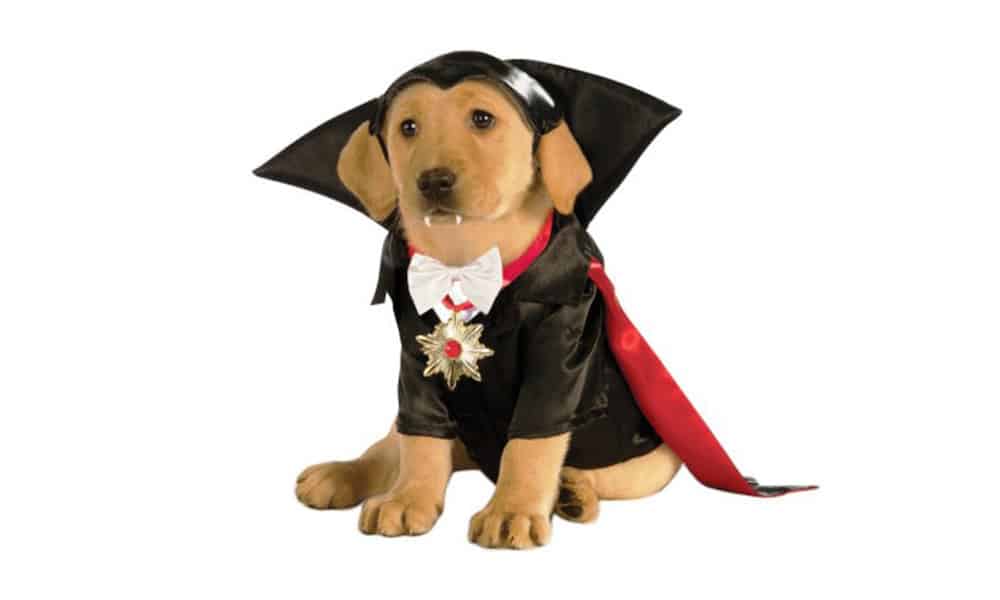 Make Sleeping with the Vampire a reality by putting your bed-hogging dog in this vampire costume.
Psst this is a really good costume if your dog's a biter!
Buy Here
9. Squirrel Dog Costume
Why not dress your dog as their biggest foe?
Do a loop around the park and watch as your pup blends in while wearing this squirrel costume.
Buy Here
10. Sushi Dog Costume
If you are what you eat then I wouldn't mind being a delicious sashimi, just like this dog. Dress your dog as a cute piece of sushi and watch mouths water.
Bonus: dress as soy sauce and be the ultimate sidekick.
Buy Here
Want more dog Halloween fun? Click here.
This post contains affiliate links that help keep boogiethepug.com running. To learn more, visit our Disclosure & Disclaimer page.
---
Pin for later!