Dog-Friendly Glamping Within Driving Distance of New York City
For those pampered New York City dogs who turn their nose up at camping, there's a solution: glamping! Glamping combines the joys of nature with the convenience of home. That means campfires, s'mores, and the great outdoors, but no tiny tents, musty sleeping bags, or sore backs in the morning. Escape the hustle and bustle of the big city and head to one of these dog-friendly glamping sites near NYC.
Eastwind Hotel & Bar
This Scandinavian-inspired property is nestled in the Catskill mountains. Their 220 square foot, cozy A-frame glamping spots each come with a queen-sized bed, Pendelton robes, sauna access, and even wifi. They also feature glass windows that face Windham Mountain. Private bathrooms are located right outside the cabin.
For those who want to upgrade, Eastwind has a lot more to offer on the property. There's a freestanding cabin, complete with a private deck and outdoor shower, guest rooms, and even a writer's studio.
There's a $50/night pet fee, so be prepared to pay a little extra.
Distance from NYC: approximately 2.5 hours.
Eastwind Hotel & Bar, 5088 NY-23, Windham, NY 12496
Gather Greene
Gather Greene offers seventeen cabins, each with an outside deck, a king size bed, bathroom, closet with large mirror, mini fridge, and caffeine fix. Twelve of the cabins look out over the ridge towards the Berkshires, and five cabins are nestled into the woods slightly further apart.
Each cabin also has a wall-sized window, with epic views of nature. You'll be able to enjoy the great outdoors, but still indulge in air conditioning, heating, and warm showers.
Well-behaved pets under 50 pounds are welcome in pet-friendly cabins, but pets left unattended must be crated. There is a limit of one pet per pet-friendly cabin, and a $50/night pet fee. An additional $150 cleaning fee will be added for any pet "accidents."
Distance from NYC: approximately 2 hours.
Gather Greene, 176 Levett Road, Coxsackie, NY 12051.
Hemlock Falls Camping
This charming campsite in the Catskills is home to four safari tents, 40 acres of forest, three waterfalls and two shallow swimming holes. You'll be glamping in the wild, but still have the comforts of home with queen sized beds and covered decks.
Make sure your bring boots – you'll need to take a short 5-10 minute hike to reach your campsite.
Pets are welcome for an extra fee.
Distance from NYC: approximately 1 hour and 50 minutes.
Hemlock Falls Camping, Parksville, New York.
Private Yurt on a Horse Farm
This spacious yurt (700+ square feet) is located on a hill behind a horse field on a 27 acre farm. It features a skylight, a bedroom and loft, and a full kitchen and bath. There's a fire pit and deck area, with a charcoal BBQ and a wood fired pizza oven.
The farm has walking trails and a creek, and guests are free to roam the landscape, which is also home to horses, chickens, bunnies, dogs, cats, and other farm animals.
Dogs, cats and horses are welcome for an additional fee of $20 per night.
Distance from NYC: approximately 1 hour and 45 minutes.
Private Yurt on a Horse Farm, Accord, New York.
Gatherwild Ranch
Gatherwild Ranch is home to seven beautiful and unique accommodations spread across 15 acres of a former apple orchard. This farmstead experience offers guests a place to reconnect with nature, making it the perfect opportunity to unplug and recharge.
Accommodations are comfortable and feature queen sized beds and plush towels. That said, you're still roughing it a bit, as there is no electricity or running water.
Solar lighting, battery powered lanterns, and the stars illuminate the area at night, and a solar outdoor shower keeps you clean. Each tent comes with a picnic table, chairs, a cooler, and a private fire pit.
The farm features walking trails, farm animals you can visit, a covered barn lounge area with games, a small vintage shop, and tons of space. Take advantage of their cruiser bikes, available to borrow for trips to the market.
Dogs are welcome for an additional $20 non-refundable pet deposit.
Distance from NYC: approximately 2 hours.
Gatherwild Ranch, Germantown, New York.
Firelight Camps
Located in Ithaca, New York, Firelight Camps offers elevated camping on their glampground. They offer two styles of luxury safari tents: King Tents and Double Queen Bed Tents, that sleep up to three and four guests, respectively.
Each furnished tent is outfitted with hardwood floors, plush king or double queen beds, a private tented porch with rocking chairs, battery-powered lanterns, and a writer's desk and chair.
Your stay also includes a locally sourced continental breakfast, beverages, and games and communal activities (like bocce ball and corn hole). The campground also offers access to Upper Buttermilk Falls hiking trails.
There's also a small bar with wine, beer, spirits, hot chocolate, and mulled cider for purchase. They also have locally made snacks and kits with everything you need for making s'mores!
Well-behaved dogs are allowed for an additional $25/night charge.
Distance from NYC: approximately 3 hours and 45 minutes.
Firelight Camps, 1150 Danby Rd, Ithaca, NY 14850
The Mountain Dale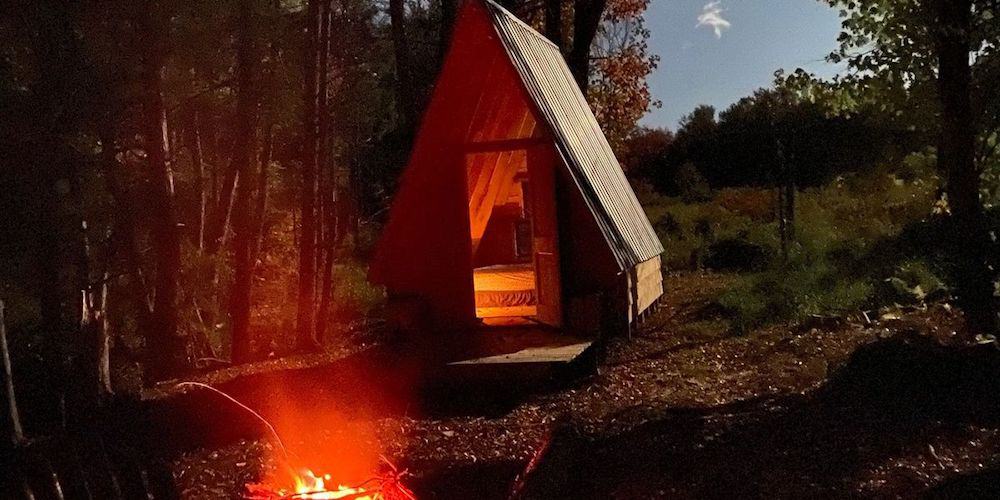 The Magestic Farm is an organic apple orchard located in the Catskills, and the Mountain Dale is their crown jewel. They offer four types of lodging, each located in a different private nook of the farm. The Mountain Dale consists of three tiny houses and one camp site, for those who want to go full rugged.
Each site comes equipped with a fire pit and picnic table, but you must bring your own bedding (don't worry, the tiny houses all have full sized mattresses). Guests have access to a private but shared outdoor shower, outhouse, wash sink, outdoor kitchen with potable water and a spot you can plug in to charge.
Since this spot is an active farm, you'll enjoy animal visits and have access to the apple orchard. Guests are welcome to walk the orchard and eat apples during their stay, and they get to go home with a free bag of apples when they're ripe!
During the week the orchard is closed to the community, so guests camping on weeknights have the entire orchard to themselves where they can pick in private.
The tiny houses aren't heated, so bring extra blankets on cold nights.
Distance from NYC: approximately 1 hour and 40 minutes.
The Mountain Dale, 134 Majestic Road, Mountain Dale, NY 12763.
The Rabbit Hole White Lake
Less than two hours from Manhattan you'll find The Rabbit Hole, a serene spot located in historic Bethel, New York, home of the Woodstock Festival of '69. Despite the area's boisterous history, The Rabbit Hole is a peaceful escape. It's tucked away in the wilderness of the Catskills, and features eight canvas tent campsites.
Enjoy nature, wildlife, and a private waterfront, where you can swim, canoe, or fish to your heart's content. There's a pond in the center of the property, and hiking trails for those who'd rather be on foot.
Amenities include a fire pit, a campfire grill, camp tables and benches, private decks, and a queen sized bed.
Distance from NYC: just under 2 hours.
The Rabbit Hole, Bethel, New York.
Glamping is great, but if you're looking for an even more luxurious stay, consider these dog-friendly getaways near New York City.
---
Pin for later!