Dog-Friendly Santa Monica: What to Do, See and Eat
No visit to the City of Angels is complete without time spent in Santa Monica. With palm lined pathways, a beautiful Pacific coastline, and nearly perfect year round weather, it's no wonder tourists and locals alike flock to the area. Plus, Santa Monica is a walkable 8.3 square miles, the perfect size to explore on foot and with your dog at your heel. Check out these dog-friendly things to do in Santa Monica.
Get coffee at Dogtown Coffee
If you check out Dogtown Coffee on Google maps or Yelp, you'll be inundated with positive reviews alongside photos of cute pups and coffee – the perfect combo! So imagine my surprise when I walked in and was greeted by walls of skateboards and long-haired surfers. Dogtown actually has nothing to do with dogs (but don't worry, they're still dog-friendly)!
This coffeeshop pays homage to American skateboarding and surfing history. Santa Monica became known as "Dogtown" to the teenage surf and skate community that helped shape the sport in the 1970s. Dogtown coffee is a nostalgic nod to them, and the surfing and skateboarding communities that still exist in the area.
Go for the coffee, but stay for their breakfast burritos. Dogtown serves fun and rustic all-day breakfast and lunch, with gluten-free and vegan options and artisan baked treats. Their organic, locally micro-roasted coffee is delicious, and make sure to try the DTC signature drink, a Sweet 'n Salty Caramel Iced Coffee! For those who aren't down with a cup of Joe there's also a wide selection of organic, loose leaf teas available.
There are two locations in Santa Monica, but we highly recommend visiting their main store, located in the landmark Jeff Ho Surfboards and Zephyr Productions space on the corner of Main & Bay Street. The walls are plastered with pictures of chill surfers and skateboarders that'll transport you straight back to the '70s. There's a small courtyard so you can enjoy your coffee outdoors, or take it to go and walk down to the beach.
Location: 2003 Main St.
Visit the original Muscle Beach
When people think of Muscle Beach, they usually think of the one located on Venice Beach. But the original Muscle Beach is in, you guessed it – Santa Monica.
18 years before Muscle Beach Venice ever existed, there was the OG Muscle Beach. It was the birthplace of the United States physical fitness boom, which started in 1934 with a slew of gymnastics activities on the south side of the Santa Monica Pier.
Today, Muscle Beach still serves as a site for gymnastics and acrobats, located right on the sandy beach. It's not just bodybuilding and muscles, as the name suggests. You'll see everything from weightlifting, to gymnastics rings, to slack line.
People of all ages and abilities use the area to work out, hang out, and have fun. Even if you're not down to try it out, it's still a great place to hang out and people watch.
Location: Ocean Front Walk.
Stroll along Palisades Park
This oceanside park is nestled between the beach and Ocean Avenue. It runs the length of Santa Monica's northern coast, and includes 1.6 miles of grass covered lawns, palm and eucalyptus lined paths, and incredible ocean and mountain views.
Walking the length of the park is a must when visiting the area. You'll not only get those epic postcard worthy views, but you can enjoy what else the park has to offer: public art, a rose garden, and historic structures, as well as benches, picnic areas, pétanque courts, restrooms and the historic Santa Monica Camera Obscura.
It's usually buzzing with activity, with vendors selling bubble wands and cut mangoes shaped like flowers. Don't miss the stately concrete sculpture at Wilshire and the colorful totem pole at San Vicente.
Location: Ocean Ave. between Colorado Ave. and Adelaide Drive.
Play at Tongva Park
If you had visited this 6.2 acre ocean-adjacent lot just a few years ago, you'd have found a boring old parking lot. Luckily, the Santa Monica community came together to transform asphalt into grass, and today, Tongva Park is truly an urban oasis.
Named for the indigenous Tongva people, who lived in the Los Angeles area for thousands of years, Tongva Park features an amphitheater, playground, garden, fountains, picnic areas, and restrooms.
There are rolling hills and braided paths that give the well-designed park depth, and make it seem way larger than it actually is. Don't miss the shell-like wireframe lookout to the Pacific – it's the perfect spot to soak in views and relax.
Location: 1615 Ocean Ave.
Visit the Santa Monica Pier
With a carousel, an arcade, an amusement park, a trapeze school, restaurants and a summer outdoor concert series, the Santa Monica Pier offers a wide range of activities for the whole family. The Santa Monica Pier celebrated its Centennial on September 9, 2009, making it one of California's oldest pleasure piers.
Perched over the Pacific, the 110-year-old Santa Monica Pier – featuring the world's only solar-powered Ferris wheel, the century-old Looff Hippodrome and the aquarium – attracts families, couples and friends to revel in a delectable slice of West Coast nostalgia.
Considered the focal point of Santa Monica Beach, the Santa Monica Pier includes Pacific Park, a traditional set-up stocked with a ferris wheel, aquarium, fairground games and cotton candy stands.
On warm weekends, the stretch is busy with families, beach bums and gym bunnies, who work out in public at the original Muscle Beach just south of the pier. Lately, the Pier has also played host to a number of outdoor film and music events, bringing a hipper clientele to the boardwalk.
Location: 200 Santa Monica Pier.
Window shop on the 3rd Street Promenade
Walk east of the Santa Monica Pier, and you'll stumble onto the 3rd Street Promenade: an open-air, car-free pedestrian esplanade that houses over 80 retailers and numerous restaurants and bars. It's a shopping paradise!
The 3rd Street Promenade is always alive with the movement of street performers, tourists, locals, diners, and more. There are sculptures and murals for art lovers, as well as beautiful running fountains and dinosaur topiaries.
The Promenade's roots date all the way back to the1960s, and today, it continues to thrive as a central location in Downtown Santa Monica.
For those using public transportation, the promenade is the terminus of the Metro Expo Line, the light rail between Santa Monica and Downtown Los Angeles.
Eat delicious Caribbean food
If you're walking around Santa Monica there's no chance you'll miss the brightly colored, eye-popping Cha Cha Chicken. This Caribbean food and Latin fusion haven serves up no fuss delicious food in a relaxed, open-air setting. The vibe is always right there, with reggae music and island themes. Plus, the beach is just a block away!
Cha Cha Chicken isn't just a great place for locals – they were featured on the Food Networks "The Best Thing I Ever Ate." I love that they're family owned and that they bottle their own Spicy Jerk Sauce – try it!
Don't miss their great drink options, like their cold banana milkshakes or coconut pineapple lemonade. My favorite is their Coconut Fried Chicken and sweet plantains. Delicious!
Location: 1906 Ocean Ave.
Walk to Venice Beach
I grew up California Dreamin' with scenes of Zack, Kelly, Slater and the gang spending the summer at the beach club, and Brenda and Donna sunbathing at the beach. Sadly, real life isn't a 90s sitcom dream come true, but Venice beach gets you close!
The walk from Santa Monica to Venice beach is lined with sky high palm trees, sandy beaches, and plenty of action, from street performers, to vendors, and other beachgoers. The two are neighbors, although with incredible distinct vibes. There's also a long bike path that's perfect to wind through on a sunny day.
Plus, you'll pass through some notable areas: the Santa Monica Pier, both muscle beaches, funky Venice beach souvenir shops, and more. It's like sampling two very different, yet iconic, bits of Los Angeles. Don't miss it!
Go to a Drive In Movie
Nothing screams old school Americana like a classic drive-in movie! And what's not to like? You get to watch a movie on the big screen in the very city where movies are made and spend more time outdoors. Plus, no one will judge you when you roll up in pajamas and stuff your face with popcorn.
Al fresco screenings usually start to pop up across the city in the late spring and continue into the fall, and luckily, Santa Monica has the perfect place to put your car in park and watch a flick: the airport!
The Santa Monica Airport hosts Rooftop Cinema Club's the Drive-Up. They show multiple films a day until the end of October, with the option to either drive-in or drive-up and pitch a chair. With a huge assortment of films, themed nights, and delicious food trucks, they're not to be missed.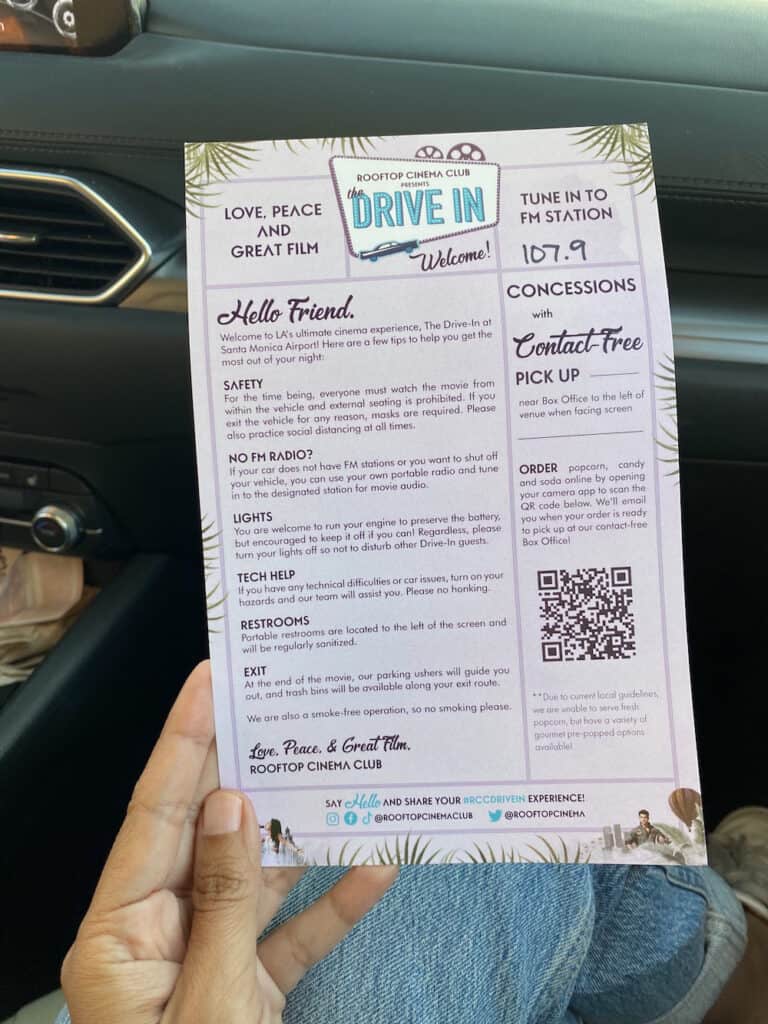 Their drive-in at the airport is always dog-friendly, whether you're driving or sitting, so we give them four paws up!
Location: 3233 Donald Douglas Loop S.
Visit the Farmers' Market
The Santa Monica Farmers' Market is famous throughout Los Angeles for their top-notch selection and amazing vendors. You can find everything there, from fresh fruits, to meat and dairy, and plants and flowers. It's a great way to sample fresh, local California produce direct from the source – you get to buy produce directly from the farm where it was grown!
Even though the Farmers' Market is open three days a week, I'm told it's best to go on Wednesday mornings – this is when chefs go to grocery shop!
They're open rain or shine, year-round.
Wednesday – Downtown Santa Monica
Address: Arizona Ave. (between 4th & Ocean)
Time: 8:00am – 1:00pm
Saturday – Downtown Santa Monica
Address: Arizona Ave. (between 2nd & 4th)
Time: 8:00am – 1:00pm
Saturday – Pico Pico Blvd.
Address: Pico Blvd. & Cloverfield Blvd.
Time: 8:00am – 1:00pm
Sunday – Main St.
Address: 2640 Main St. (In The Victorian Parking Lot)
Time: 8:30am – 1:30pm
Shop at the Mall
One of the coolest things about California are the malls – they're what American dreams are made of! There's plenty of shopping to be done and fun to be had.
Santa Monica is home to a great outdoor mall, that welcomes both you and your furry friend. The Santa Monica place has over 80 stores and restaurants, including Nordstrom, Nike, and an indoor/outdoor food court.
They're a one stop shop for dog-friendly socializing, eating, and shopping.
Location: 395 Santa Monica Place.
What's your favorite part of Santa Monica? Click here for more dog-friendly California tips!