Dog-Friendly Breweries in NYC
One of life's greatest combinations is booze and barks!
Breweries are a great place to spend an afternoon sampling delicious beers and playing games. What New York lacks in space, it makes up for in fun, dog-friendly establishments. There are plenty of new breweries popping up, especially in the outer boroughs, and many are welcoming to booze-guzzling dog lovers. So grab your pup and head to one of these local breweries for a pint.
Here's a list of dog-friendly breweries in NYC, in alphabetical order.
Big aLICe Brewing
Big aLICe Brewing has a brewery in Queens and a taproom in Brooklyn. They're a licensed New York State farm brewery, meaning they support local and state agriculture.
Both their brewery and taproom are known to host events like book clubs, music get togethers, corporate gatherings and even dog birthdays and parties.
Check out their Crowler Club – joining gets you discounts, two free crowlers a month, and other perks.
Location: Queens Brewery & Taproom (8-08 43rd Road, Long Island City) and Brooklyn Taproom (52 34th Street, Brooklyn)
Bridge and Tunnel Brewery
This DIY, self Built, and family owned micro brewery in Ridgewood makes beer, cider, and kombucha. Their very cozy tap room serves up unique styles and flavors, like milk and oatmeal stout, habanero IPA, coffee cream ale.
The host comedy shows on the weekend that are dog-friendly and very fun. Check our dog-friendly calendar for dates.
Location: 15-35 Decatur St, Ridgewood
Brooklyn Brewery
This Brooklyn staple is known for their classic Brooklyn brews, like their Brooklyn Lager, Bel Air Sour, and Brooklyn Summer Ale.
They have a massive warehouse space with plenty of seating, and besides beer, there's wine and cider on tap.
They offer basic snacks (think pickles and potato chips), and on Fridays through Sundays there are food trucks parked just outside.
All dogs are welcome as long as they are leashed and well-behaved.
Location: 79 N 11th St, Brooklyn
Circa Brewing
Circa is a great spot to grab some booze and brunch!
All of their drafts are brewed on site. Choose from beers like their Peach IPA, Piña Colada Porter, and the Lovelythebeer Strawberry Sour.
Their kitchen serves up delicious pizzas, and appetizers for snacking like rosemary fries, and crispy brussel sprouts. Try their AYCD brunch with all you can drink Circa draft beers for just $25! Available Saturday and Sunday from 11am – 4pm.
Dogs are allowed on the outdoor patio area, part of which is covered for when it rains.
Location: 141 Lawrence St, Brooklyn
Coney Island Brewery
If you're walking the Coney Island boardwalk or going to a Bark in the Park at the Brooklyn Cyclones, pop into Coney Island Brewery afterwards for some tasty brews.
Choose from a pint, a flight, merchandise or a couple growlers to-go. They have eight house-brewed beers on tap that rotate regularly, including limited release specialty ales like Cotton Candy Kölsch and Snow Coney.
There are games, umbrellas for shade and plenty of Coney Island fun to go around.
Location: 1904 Surf Ave, b/t 19th St & 20th St, Brooklyn
Evil Twin Brewing NYC
Evil Twin Brewing NYC is like a brewery, coffeeshop, and greenhouse all-in-one. They have a great selection of IPAs and Sours, and around 20 lines of their own beer, collaborations, and guest drafts.
For those not in the mood for beer, there's Evil Twin Water, their line of hard seltzer, and coffee and snacks.
Go for their cool beers, like "Our Marshmallow, Raspberry, Cherry, Vanilla Slush Pop" or "Wild Banana Split Stout", and stay for the super chill and cozy vibe.
Location: 1616 George St, Ridgewood
Fifth Hammer Brewing Company
Fifth Hammer Brewing Company is a very dog-friendly 15-barrel brewery located in the heart of Long Island City.
Choose from unique beers on tap like Coconut Creme Regime, a creamy coconut stout said to taste like an almond joy in a cup, and Leisure Dog Wheat, which has notes of banana, clove and a touch of vanilla.
The industrial space has a table full of games and a wall-sized chalkboard in the back if you feel like doodling a picture of your pup.
You can order food from your favorite local delivery spot or from food trucks outside.
Also check out their list of fun events, like their Annual Dog Pageant and Dog Halloween Costume Contest.
Location: 10-28 46th Ave, Long Island City, NY (Queens)
Finback Brewery
This spot is located in a large garage space in a residential Queens neighborhood.
They offer $2-3 mini glasses so you can sample a variety of brews.
There are large picnic tables, an indoor bike rack to park your wheels and board games. Canned beers and growlers are also available.
Location: 78-01 77th Ave, Glendale, NY (Queens)
Five Boroughs Brewing Co
Five Boroughs is located in an industrial space in Sunset Park. Their taproom is open Thursday through Sunday, with house-made, year round regulars as well as taproom special releases.
They're known for their cheeky small batch brews, like the MTA inspired "Insufficient Fare" beer, a Northeast Pale Ale.
The well-lit and airy space is BYOF (bring your own food), and with a great selection of take out places in the area, you definitely won't go hungry.
Location: 215 47th St, Brooklyn, NY
Flagship Brewery
This Staten Island haunt is just a ferry ride away, and they're not only dog friendly, they're dog welcoming. Flagship has a dog club, with dog centric speakers and $5 beers, and they host events like yappy hour and pints for pups.
They have a great beer selection, with season favorites like the Pumpkin Spice Latte ale, and their White Peach Summer ale.
Plus, they're real Staten Island locals – their owners grew up as neighbors right on the island.
Location: 40 Minthorne St, Staten Island, NY
Folksbier
This quaint Carroll Gardens brewery serves up delicious saisons and sours, like their Cucumber-Lime Glow Up, and their Morning Dew.
It's located in a former garage space that has a laid back, relaxed vibe, with dogs hanging out and friendly, knowledgable staff. It's a great spot for a small group.
Location: 101 Luquer Street, Brooklyn, NY
Grimm Artisanal Ales
Grimm Artisanal Ales is a Brooklyn-based brewery founded in 2013 by husband and wife team Joe and Lauren Grimm. They specialize in super fresh sour and hoppy styles, brewed on site right in Brooklyn.
The brewery has a lot to offer, with ample seating, really cool restrooms, reasonable prices, and killer customer service. Plus, their beers always have fun names and creative, colorful labels.
Bonus: they sell delicious Mediterranean food by Samesa and sometimes there's a DJ. What's not to love?
Location: 990 Metropolitan Ave, Brooklyn, NY
ICONYC Brewery & Biergarten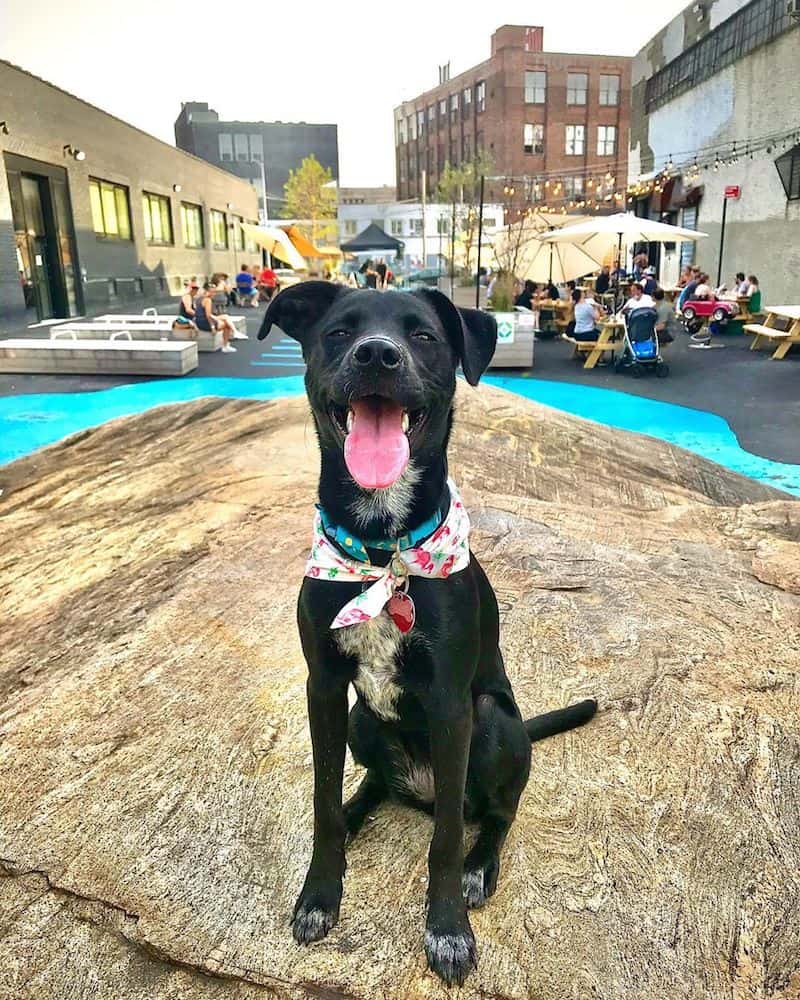 This fun Long Island City brewery has a great selection of creative beers on tap, with fruity beers, IPAs, and even beers with spice! Try the Hollapeno Saison or the Cucumber Saison. I'm hoping to go back to give the Green Tea brew a taste, as well as their Mango IPA.
If you're hungry, they sell chips and pretzels, and there are food stands right next door. Check out their crowlers (canned growlers) if you want to take some beer home with you.
Bonus: pet Dutchie the brewery dog! He's pictured above.
Location: 43-63 11th St, Long Island City, NY
Kings County Brewers Collective
This Brooklyn spot is a collective of three local brewers. As part of their collective approach, they designated one of their twelve draft lines to feature the brew of a friends and/or neighbor in the beer world, dubbed the "Local Talent Tap."
The brewery is located in a 5,000 square foot warehouse in Bushwick. There are local vendors who sell food inside, and food trucks outside. The taproom is open seven days a week.
If it's available, try the passion fruit sour beer.
Location: 381 Troutman St, Brooklyn, NY
Other Half Brewing Company
Located in Carroll Gardens, Other Half Brewing Company opened in 2014.
You can choose from beers of all sizes; most 4 oz pours are $4 and most 8 oz pours are $8. There's a make your own flight option, a beer to go line, and kombucha and cider for non beer drinkers.
They're open seven days a week and only two blocks from the Smith-9th subway station. The place can get crowded, so avoid peak hours.
Location: 195 Centre St, Brooklyn, NY
Strong Rope Brewery
This family-run Gowanus brew house is a must visit.
For dedicated beer drinkers, they have the mug club, where you get exclusive use of a personalized glass mug while in the taproom, plus free beer, discounts, parties and more.
They host great events, like food pop-ups and beer themed panel discussions, as well as the ultimate dog-friendly party: Strong Rope Unleashed, where your dog can run around off leash with friends while you drink beer. It's a great, warm place to get together during cold New York winters.
Try their weekend $10 deal – a pint of pale ale and a glass of whiskey from a local distillery.
Psst…you can pick up one of their dog bandanas for only $5.
Location: 574A President Street, Brooklyn, NY
Transmitter Brewing
This laid back, no frills brewery has quality beers and friendly service. Their tucked away location in the Brooklyn Navy Yard means you won't find huge crowds, and there'll always be a seat available.
They host regular events, like Trivia Nights and Beer Runs, and are always down to host a dog friendly bash.
Get there via subway or take the ferry from Queens, Brooklyn, or Manhattan.
Location: 141 Flushing Ave building 77, Brooklyn, NY
Click here for more dog-friendly NYC.
---
Pin for later!