Mack the adventure pug has been one of our favorite dogs on Instagram ever since we came across his account. This 10 year old pug and his human Nate love to go on adventures together, camping and hiking all across the United States. Their photos give us major wanderlust, and remind us that small dogs can do anything the big ones can! We spoke to them about the gear they use, how Nate takes those awesome photos, and what's left on Mack's bucket list.
What inspired you to hike with your dog?
Mack has always been very high energy and hyper – I knew pugs weren't typically thought of as athletic, but Mack didn't seem typical, so I figured I'd bring him along on some beach jogs. He'd do well on them (as long as it was in the evening/cool) and was always excited to come places with me, so when he was one year old, I figured we'd try a hike with him and if it was too much for him, I could always just toss him in my backpack for a ride. His first hike was Mount Tallac near South Lake Tahoe – he made it to the summit (almost 10,000 feet!) and fell asleep in my backpack on the trip back down. He became my main hiking partner in med school, when it was hard to find friends that were willing to sacrifice sleep for outdoor adventures (e.g., hiking in the dark for a summit sunrise) – Mack has been a willing and enthusiastic partner on all of my trips every since.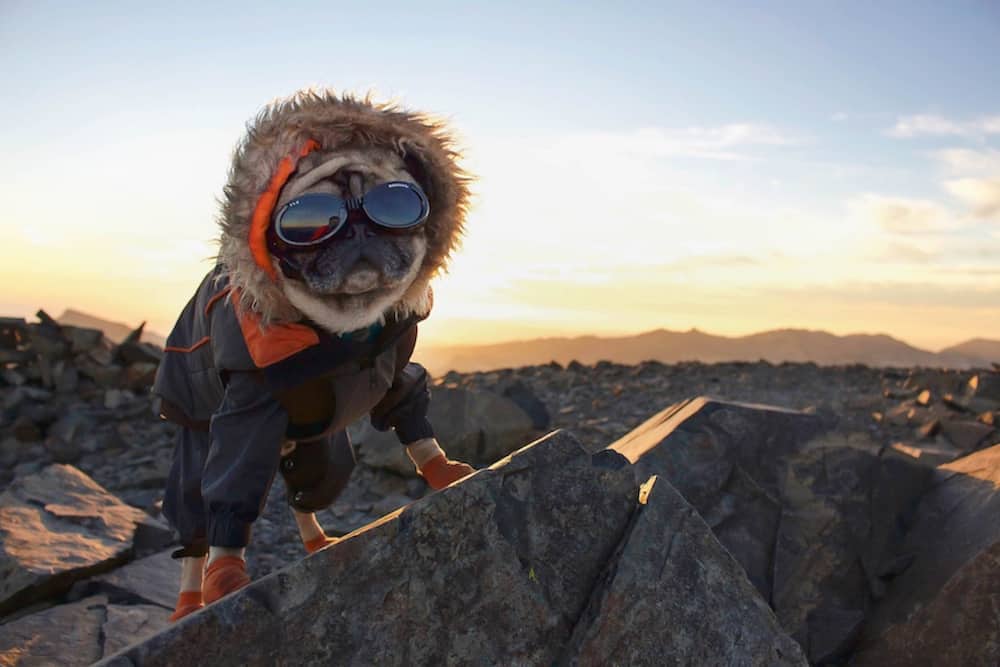 How did you prepare Mack for a life of adventure?
I've had to move a lot for education, and Mack has tagged along each step of the way – that's definitely helped him adjust more to traveling. In terms of fitness, getting him to exercise early was important, as well as keeping him on a regular diet of low calorie food since pugs can pack on pounds so easily (we're not stingy with treats on hikes, however, since he ends up doing a lot of work on those trips!).
What's the best part about going on adventures with Mack?