Pug Muzzles: The Best Muzzles for Flat Faced Dogs
When you picture a dog wearing a muzzle, you're probably envisioning a canine with an elongated snout. The idea of a pug, with their wrinkles and flat faces, wearing a muzzle is so far-fetched, it's almost comical!
But there are many reasons why your pug might need to wear a muzzle at some point, and yes, there are muzzles on the market made that will fit their face. Companies have specially designed dog muzzles for brachycephalic – i.e. flat faced – dogs, so you can always have a pug muzzle on hand for certain situations. Here's the low down on pug muzzles.
Pug Muzzles: The Low Down
Dog muzzles can be handy in a variety of situations. Muzzles can be used as a safety precaution in new social settings, offer bark control, bite prevention, or protect from excessive chewing, and they are helpful in many other negative mouth-associated situations.
Choosing the right muzzle for your pug is important, and it's complicated by the fact that pugs have flat faces. Their exaggerated features, like those adorable, big round eyes and squished faces, can cause health issues and make it challenging to find a muzzle. You'll want to make sure their breathing isn't further compromised and that they're comfortable when wearing the muzzle.
Fortunately, innovations in pet products have come a long way, and there are some great, top-rated pug muzzles on the market.
Things to Keep in Mind When Choosing a Muzzle
A muzzle is a momentary fix, not a solution to the problem. If your pug has behavioral issues, address the issue head on and hire a professional trainer.
Pugs are sensitive and they often have breathing issues. Be sure that your muzzle of choice fits correctly. It shouldn't be too tight, and should only be worn for short intervals of time. Be especially mindful of duration and fit.
Accurate sizing will correlate directly to effectiveness. Be sure the muzzle fits, or else it won't work!
Besides the size, there are other aspects of a muzzle to take into consideration before purchasing: fit, function, price, and material are just a few things to look out for!
Pug Muzzle Styles
When it comes to muzzles for brachycephalic breeds, there are three styles available:
Soft Muzzle
Soft muzzles are the most popular type of muzzle for pugs. They are typically soft (hence the name) and cover the lower part of your pug's face.
Soft muzzles can stop your pug from biting or barking, and won't obstruct their breathing. One that fits correctly also won't obstruct your pug's vision or cover their sensitive eyes.
This style is great for grooming trips, vet visits, and social settings.
Basket Muzzle
Basket muzzles are often regarded as the most humane style of muzzle. Their cage-like design might look intimidating, but it only encloses the lower part of your dog's face, meaning your pug is still be able to pant, drink water, and even eat treats handed to them.
The basket muzzle does not stop your dog from barking, however, so it's not an option if you're dealing with a vocal pug.
This style is ideal for obedience training, issues with aggression, outdoor use, and lunging issues.
Short Snout Mesh Muzzle
Mesh muzzles are usually designed specifically for flat-faced dogs. They typically cover your pug's entire face, but leave openings for your pug's eyes and nose so they can see and breathe.
Soft muzzles and mesh muzzles are similar, their biggest difference being the material they're made of. Mesh muzzles often use nylon mesh, a breathable material that's better for pugs who often have temperature control issues.
This style offers a precise fit for flat faces!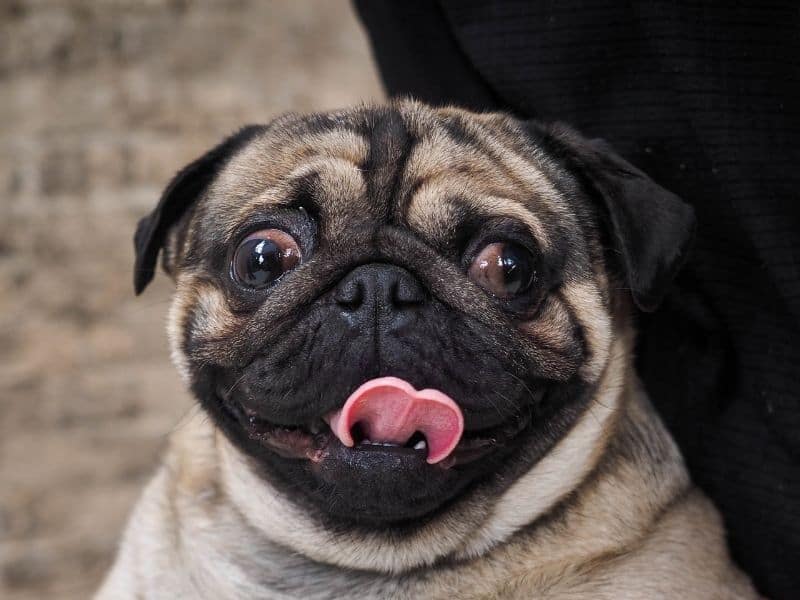 When Should Your Pug Wear a Muzzle?
When people think of dog muzzles, they usually picture a dog who bites, lunges, or is otherwise out of control. Muzzles are great for dogs with behavioral issues, but there are plenty of other situations when a muzzle might be useful. Here are a few examples:
Vet Visits or Grooming Sessions
Every dog owner knows that a trip to the vet or groomers can be a bit of a challenge. They often involve shots, poking and prodding, and body examinations from a stranger. It's hard to feel at ease with all of that going on! Your pug may resort to nipping or biting, so it's better to use a muzzle as a precaution for your vet or groomer's protection.
In Crowded or Busy Areas
A walk through a crowded area involves lots of strangers, noises, and sudden movements. It can be hard to be in full control with so many people around. If your pug tends to lash out, then a muzzle can help prevent any unwanted confrontations, like hands reaching out to pet your dog or other dogs who lunge forward.
New Social Interactions
If your pug is unpredictable in social situations, it's best to be prepared. Meeting new people or new animals can be stressful for some dogs, and you want to ensure that both parties stay safe. A muzzle is great to protect others, especially if children are involved.
After Surgery or an Injury
If your pug has recently had surgery or some sort of medical procedure, or if they're recovering from an injury, a muzzle can help in a few ways. It will prevent them from irritating the problem areas, and also prevent them from snapping, since some dogs will snap if they're injured or hurting and feeling vulnerable.
Feeling Anxious or Stressed
No one likes feeling anxious or stressed, including your pug. There might be a variety of things that can cause your pug to feel this way – fireworks, certain social situations, being in a vulnerable position, etc. If your pug responds to anxiety or stress by lashing out, a muzzle can help.
Destruction Prevention
If you've ever been around a pug puppy, you're probably familiar with their tiny shark teeth. Puppies love to chew! They can be destructive, and you have to keep your eyes on them at all times. A muzzle can help prevent damage to your belongings if you have to leave the room for a moment or two. Remember though, it's only a temporary solution!
On Public Transporation
Sometimes whether your dog wears a muzzle or not is not up to you. Certain forms of public transportation, like the Staten Island Ferry for example, require dogs to be muzzled, no matter their size or temperament. Having a muzzle handy for these journeys will ensure a smooth ride.
How to Introduce a Muzzle to Your Pug
Once you've chosen the appropriate muzzle for your pug, it's time to introduce them to it. You don't want your pug to fear the muzzle or see it as a punishment, so the new item's first impression is important.
Place the muzzle near your pug and give them a few hours to familiarize themselves with it. Let them discover the muzzle on their own, and give them a treat every time they smell it.
Begin to associate the muzzle with positive things. As long as the material can handle it, swab peanut butter on the muzzle or hide treats in it. Your pug will become interested in the muzzle and will begin to feel comfortable putting their face near it.
Hide treats in the muzzle so your pug's face touches the muzzle. Practice keeping your pug's head inside the muzzle for short periods of time. You can do this over time, or practice a few times throughout the day.
Once your pug is comfortable, practice strapping your pug into the muzzle. Only leave the muzzle on for a few moments. Be prepared to give your pug plenty of praise and treats! Gradually increase the time you keep the muzzle on.
Practice keeping the muzzle on your pug in different situations. Remember to associate the muzzle with positive memories and situations – go to your pug's favorite areas and give them their favorite treats.
Dog Muzzles Do's and Don'ts
Remember: A muzzle is not a permanent solution for bad behavior. It is a temporary solution. If your pug has an issue, whether it be excessive barking, biting, chewing, or lunging, seek professional help.
---
The Best Muzzles For Pugs
Luckily, there are many options available if you're in the market for a pug muzzle. Choose the dog muzzle that best serves you and your pug's needs! Here are a few that we recommend.
JYHY Short Snout Muzzle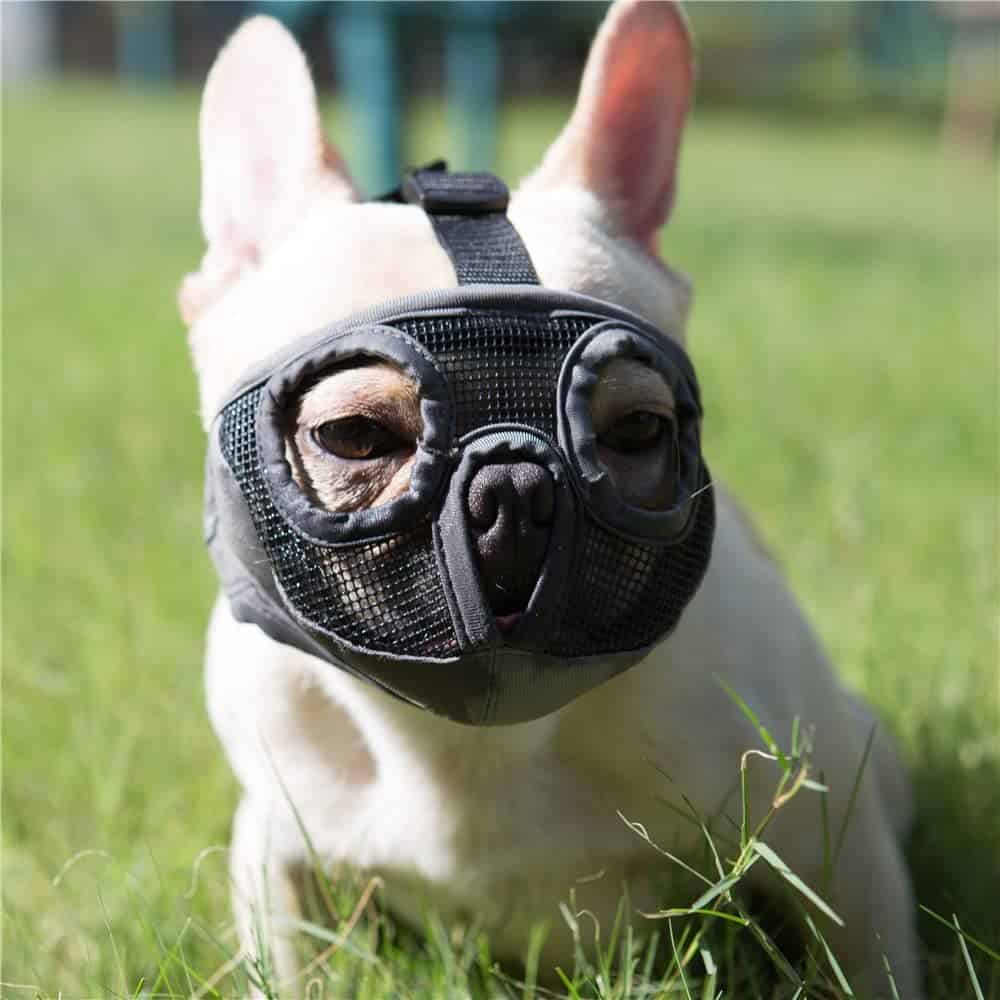 Ok, so it might be weird to see your pug turn into Hannibal Lecter, but this short snout dog muzzle has high ratings, and with good reason. It's made of breathable mesh and durable nylon, and has adjustable nylon straps for a good fit.
The muzzle has holes for your pug's nose and eyes, so they'll remain comfortable. They'll also be able to eat, drink, and pant while wearing it.
It's a great, durable muzzle, and perfect for pugs who have issues with chewing or biting.
Ultra Dog Muzzle
This basket muzzle may look super tough and durable (it is), but it's also soft and lightweight. It's made of a malleable thermal plastic rubber that can be heated and shaped for a personalized tailored fit around your dog's snout. It also has a soft, neoprene lining for added comfort and cushioned padding on face straps.
The muzzle prevents biting, but still allows eating, drinking, and panting. There are fully adjustable neck and head straps with pre-holed webbing for a quick and secure fit, and two attachment points using an attachment loop designed to connect with your dog's regular collar.
This is a great muzzle choice for dogs with behavior or aggression issues, but it doesn't prevent barking, so keep that in mind.
TANDD Short Snout Dog Muzzle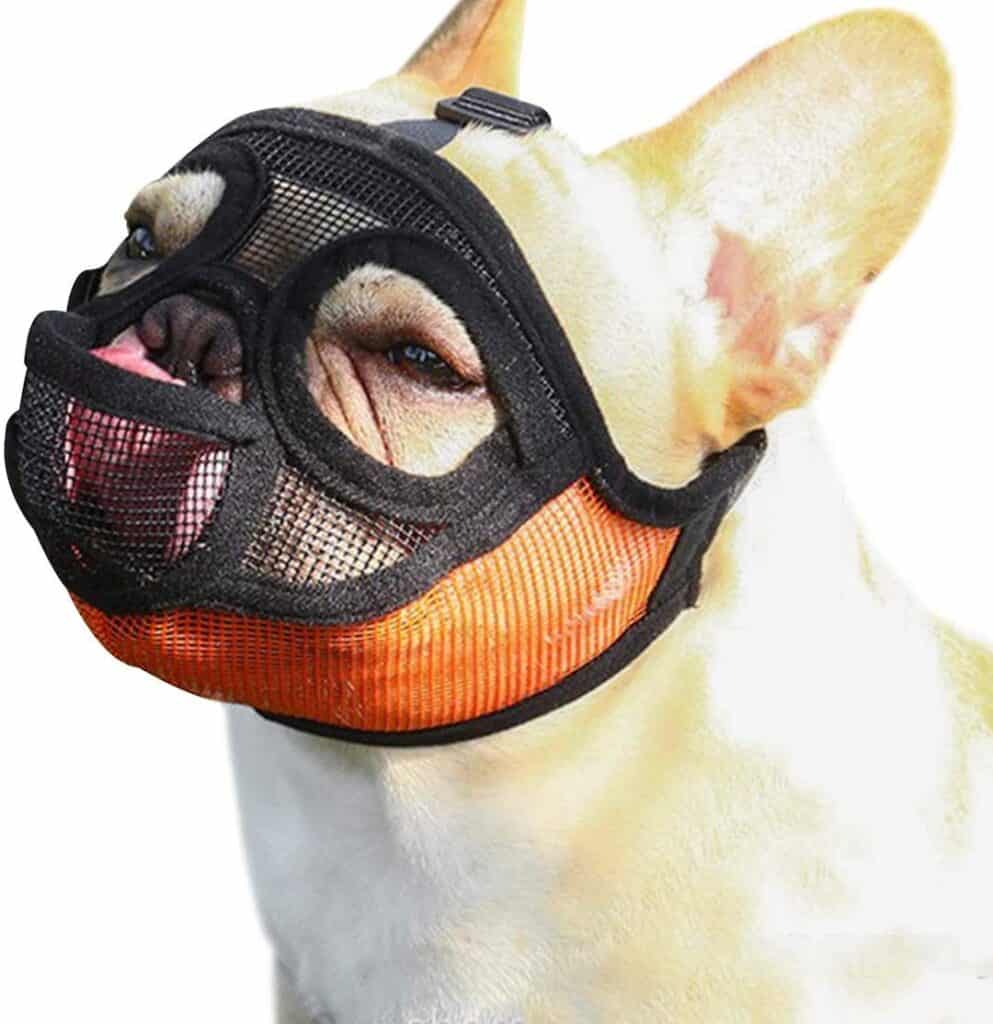 This short snout muzzle's three-hole design doesn't obstruct your pug's vision or breathing. It's made of breathable and comfortable, environmentally-friendly PVC material, with soft fabric and mesh that won't irritate your pug's skin. The extra room in the mouth area allows your pug's tongue to be completely extended, so they can pant and breathe easily.
This muzzle can prevent biting and chewing, but it's not great for barking prevention.
Barkless Soft Silicone Muzzle
This ergonomically designed muzzle helps prevent your dog from biting, chewing, and licking wounds. The porous design is made out of a soft and natural non-toxic rubber that gives mouth protection, and won't bruise your dog's mouth or eyes, or hurt their skin. The large openings allow for airflow and ventilation, so your dog won't overheat.
There's an adjustable nylon neck strap with buckles, with an anti-slip design and large eye holes. Your dog will be able to pant and drink water, and even accept a treat.
This muzzle can prevent biting and chewing, but it won't work for barking prevention.
---
FAQs About Pug Muzzles
Can my pug breathe with a muzzle on?
Yes, your pug can breathe while wearing a muzzle. Be sure that the muzzle isn't too tight and that your pug's airflow is not restricted.
How long should my pug wear a muzzle?
It depends on the type of muzzle you're using.
If the muzzle doesn't provide the space for panting, then you'll want to use it for only 15 minutes at a time.
If the muzzle doesn't restrict panting, and allows your pug to drink water, you can leave it on for longer.
Is it cruel to use a muzzle on my pug?
No, it's not cruel to use a muzzle on a pug, or any dog, as long as the muzzle fits properly, allows for easy breathing, and is only used for short periods of time.
Be mindful of the situations you're in before using a muzzle. If it's a hot day and your muzzle doesn't allow your pug to pant freely, don't use it.
Will a muzzle make my pug more aggressive?
No, a muzzle will not make your pug any more aggressive than they already are.
What activities can a pug do while wearing a muzzle?
It depends on the type of muzzle you're using. If the muzzle fits properly and allows for easy breathing and airflow, your pug should still be able to do many activities, like walking, socializing, and interacting with others.
If your muzzle prevents your pug from panting, eating, or drinking, then their options are obviously more limited.
Click here to read more about pug stuff.