This 10 Year Old Mutt Is On a Two Year Trip Around the World
Eight months ago, Polish couple Izabella and Piotr Miklaszewski abandoned their normal lives and set off on a two year adventure with their rescue dog Snupi. Snupi, a 10 year old mutt that the couple adopted seven years ago, is no stranger to travel. The pup has traveled to 21 countries, been on four continents, sailed more then 3000 nautical miles across the Atlantic, and hitchhiked from Morocco to Brazil. Here Izabella and Piotr share how they do it, their love of spontaneous travel, and how having a traveling dog doesn't ever slow them down.
What inspired you to travel with your dog?
Nothing, just dog the himself! Before Snupi showed up, walks and elements of an active lifestyle were already present in our lives. However with the dog, our walks started getting longer, and taking us farther from home. Eventually we got into a headspace where a day without at least one long walk felt somehow incomplete, like a "hard" day. Thanks to Snupi we started spending more time out in the fresh air and among nature. Getting bored with already explored territory, we started to think about bigger travels. We traveled first by train, and later with a friend's car. During this time we met a guy who had hitchhiked from Poland to India. That's when we decided that hitchhiking was the best option for traveling with a dog. Three weeks later we were on our first hitchhiking trip. Within a month and a half we had traveled 12,000 km, visiting Turkey, Armenia, Georgia and coming all the way back.
How did you prepare your dog for the journey?
We gave him a haircut, because short hair makes it so much easier to stay clean in the rain, mud, and dirt. We switched his collar for a harness and fixed all of his formal documentation and vaccines.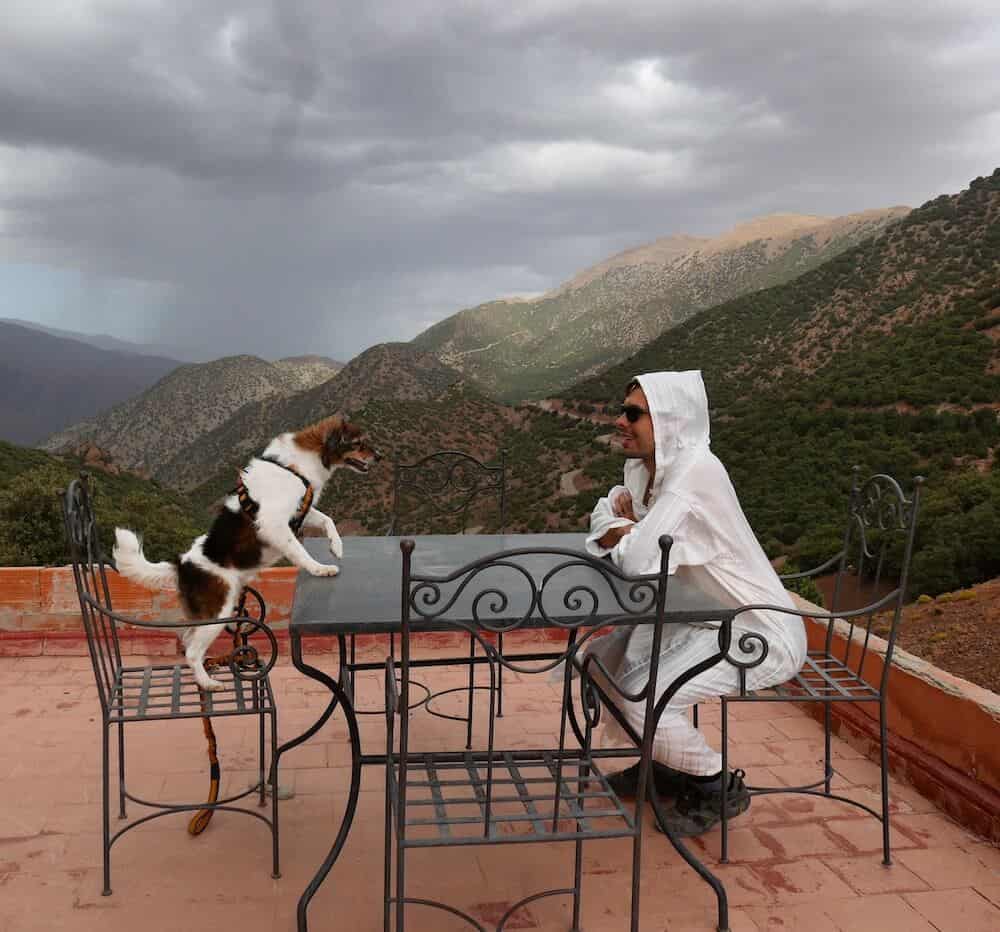 What is the hardest part about traveling with your dog?
Carrying his food in the backpack. Does the dog create limitations? Sure, but in our minds they're not significant.
What's the best part about traveling with a dog?
A dog is alway happy and ready for action. When we have bad travel days, get scared, tired, sad, or lack motivation, one look at Snupi's happy face is enough to get some positive energy back. We realized that all problems are only temporary, and that the most important thing is that we have each other. There is nothing that we can't overcome. What's more actually is that he makes us safer, because thieves are less likely to attack someone with a dog, even though he looks super cute. A dog helps us blend in as locals, because no one expects tourists to have a dog. A dog is also a great bridge in interpersonal relationships. When people see us, a lot of normal language, cultural, and shyness barriers break down. There's also a social component to it – people without a lot of money approach us to talk about the dog, just as people who look like they're millionaires do.
How did your style of travel change, now that your dog is with you?
We skip big cities, which in fact we never liked to visit in the first place. We prefer beautiful, natural landscapes. We meet way more people on the way, because they want to interact with Snupi. So we make more friendships <3. Having a dog also makes us more recognizable, which is mostly good. With a dog we also present as much more trustworthy hitchhikers, making it easier to get rides.
How are you finding accommodation on your journey?
We spend many nights in a tent. But every three to four days we try to find a place where we can take a shower and refresh. We're often invited into people's homes, but if we need a hotel we usually use a website like booking.com since it has a dog friendly filter. Since we often don't know where we'll end up, we usually go from one hotel to another and ask. We have never had to walk more than three blocks, same with restaurants. Finding a dog friendly hotel or restaurant is not so hard, and people are usually pretty accommodating. There is no need to organize everything by internet in advance.
What were some essential items that you packed for your dog?
A travel bag. It's useful, because the dog thinks of it as a refuge and safe place to rest, protecting him from the sun, rain, flies, etc. A rubber leash, some cream for his paws, a good comb to brush his fur, a silicon folding bowl for water and food. Food by itself, since it's not always possible to buy good dog food. Spot-on for insects, and tablets for worms, a collar with an LED or small bicycle lamp for better visibility in the dark and on the street. For crossing the ocean we also had a life jacket (which could also serve as a good harness) for him to which we attached a special lamp that starts working when it gets wet.
What surprised you the most about traveling with a dog?
That it's so easy. When you are tourist with a dog, local people are much friendlier. In Morocco, a Muslim country, random children would come up to Snupi and kiss him. Out of the more than 500 cars and trucks that we encountered while hitchhiking, only one person refused us to take us because of Snupi (he isn't big, so some people don't see him immediately, especially if he's in his bag). When people see us walking with Snupi, they start to smile, and often approach us to start a conversation. It's very heartwarming. Even if we don't speak the same language, they always talk to Snupi and he seems to understand everything :D. One surprise was that we only had to show Snupi's documents once at the border, when we were crossing from Turkey into Georgia. People often worry about quarantine and other difficulties, but we never experienced them. There are so many countries in the world that don't require quarantine that you can choose from, and in fact many countries have very few extra regulations at all.
Do you plan to travel with your dog in the future?
Always! That's the idea! When Snupi dies, which we hope won't be for at least another 7 or 8 years, we'll adopt another dog. We still don't know "when" or "if" our trip will ever stop. We may never go back to a "normal" lifestyle.
What advice do you have for people who want to travel with their dog, but are nervous to do so?
Don't stress before you even start (cross that bridge when you come to it – this is how you say it in English?). Problems and worries are only in our heads. The hardest part is the first step. When you make it, the fear will go away. After, it's just the joy and satisfaction of moving forward. We can't predict or control everything, because what happens to us does not depend only on us, but often on the decisions of others. Therefore, if something doesn't work out, then we can't blame ourselves too much. With failure, you can't break down and feel sorry for yourself. Instead, we have to do our part and, as they say, "after falling down, get up and move forward." How can we be sure that this isn't simply setting us on a new, maybe even better path?
Any other thoughts?
We want to show that you do not need a husky, a wolfdog, or a border collie to be active with your dog. Almost every dog ​​is in better physical shape than us, with maybe the only exception being bulldogs or pugs. If somebody thinks that their dog prefers a couch to a long walk, it's only because the dog has adapted to the owner's lifestyle. Our Snupi, a 8.5 kg mutt, easily made it up Toubkal, the highest peak in Morocco, the Atlas Mountains and all of North Africa, 4,167 m above sea level. He also climbed over three thousand meters in the Alps and the Caucus mountains. He resisted -30 ° C without any major problems in the Polish Stołowe Mountains, as well as 45 ° C in the Sahara.
By traveling with him, we also want to show that a dog is not an obstacle to everyday activities and more complex plans.
Also, in many places in the world we have seen dogs in terrible conditions and poorly treated, but haven't done anything about it; it overwhelms us. But a lot of people, upon seeing our dog, i.e. clean, well raised, responsive, and friendly, changed the way of look at dogs. This includes people who did not like or were afraid of dogs. We believe that by showing their intelligence, their ability to improve us as people, we are starting to create more respect and love for dogs.
Thank you so much Izabella, Piotr, and Snupi! If you'd like to follow them on their travels, you can visit them on Instagram HERE. Visit our Pet Travel Tips to get more information on traveling with your dog.