10 Tips For Staying in a Pet-Friendly Airbnb
When traveling, there are usually a good number of pet-friendly hotels from which to choose. Yet still, more and more pet travelers are turning to Airbnb to find comfortable accommodation, especially for longer stays. Airbnb rentals offer comforts for both you and your dog that many hotels just don't have. These include things like more space, kitchens, and less foot traffic.
But dog-friendly Airbnb rentals can be tough to navigate. Since you're dealing with different hosts, policies differ from location to location. This means there is never just one set of rules to learn and follow. We've compiled the best tips for staying in a pet-friendly Airbnb to ensure that you're the optimal guest. Enjoy!
New to Airbnb? Sign up here and get $40 off your first booking. 
1. Know how to look for a pet-friendly Airbnb
You're probably thinking, this is easy right? Just click add the number of pets you're traveling with to your search and scan your options. That's true, but it's not always so simple.
The truth is, the majority of Airbnb rentals I've stayed in were not listed as pet-friendly.
That's because when searching for a place to stay, I like to look at listings that are both pet-friendly and not pet-friendly.
Why? For starters, there are typically fewer pet-friendly options available. Depending on your destination, there may be just a fraction of the number of regular listings that you have to choose from once you click the pet-friendly filter.
Plus, sometimes you find the perfect spot and it just so happens it's not listed as pet-friendly. You want to find a place that both you, your dog, and your wallet will be happy with.
Don't limit yourself to pet-friendly listings.
While we check those first, we also search all available listing to find the space that best fits our needs, and we contact them regardless of their policy. We send a message explaining who we are, who our dogs are, and why we'd be respectful guests.
While some politely decline, others have allowed us to book a stay. That's even how we found the house that we stayed in while in Rio de Janeiro for six months!
It helps to have positive reviews, especially ones that mention your well-behaved dogs.
Things to keep in mind when looking for a place to stay:
Some listings have pets in residence, meaning animals live on the property. This should be noted in the listing (see photo below). Keep this in mind, especially if your pet isn't social.
Take note of things like number of stairs or if the home is located on a hill, especially if your dog is a senior.
Avoid staying in a private or shared room, and instead look for listings where you have the entire place to yourself. It will be more comfortable for yourself, for your dog, and for the other guests.
2. Follow the rules
Airbnb listings should always list their rules, and if you're bringing pets, they may have more house rules that are unpublished – always message before booking to find out! These rules range from simple things like clean up after yourself and your pet, to stricter rules, like no pets on the furniture or bed.
Be clear on the rules before booking, and always make sure to comply. Broken rules may result in, at best, a bad review, and at worst, being fined or asked to leave. It's not worth the hassle.
If the rules are simply too strict for you, don't book. I once inquired about staying in a house in Maine, only to learn that pets were not allowed on the furniture and could not be left unattended. That wasn't going to work for me, since I had a wedding to attend, so I simply looked elsewhere.The risk of breaking the rules and getting caught just wasn't worth it.
Airbnb Tip: Hosts should always inform you of any pet rules before the booking. That way, you have enough time to assess whether the site is a good fit for you.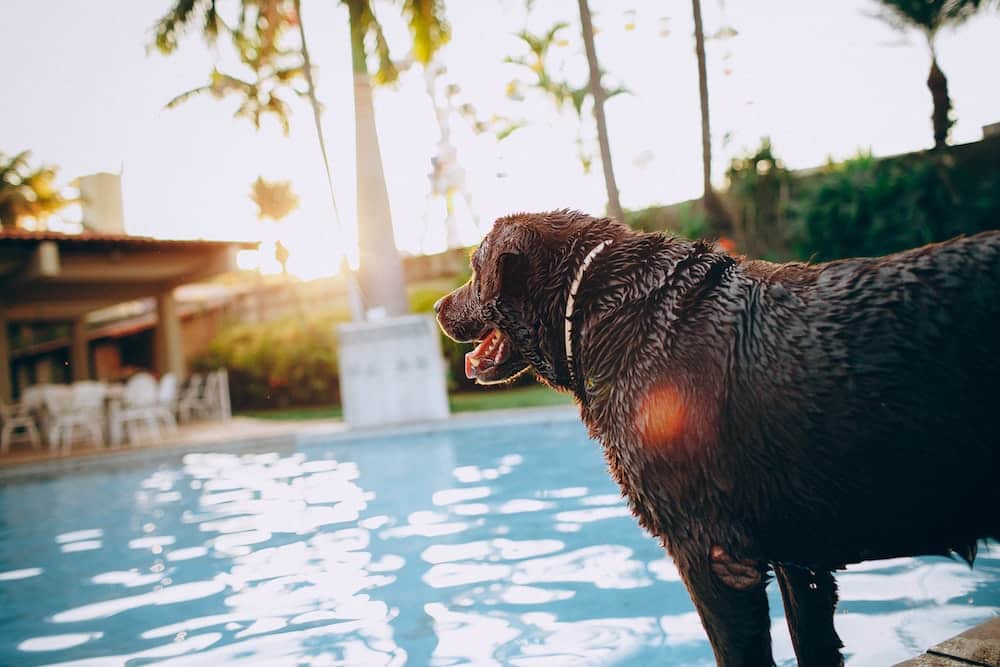 3. Clean up after yourself and your pet
This one is a no brainer, and it's really a rule for wherever you go, Airbnb or not.
Pets can be messy, especially if you're doing a lot of outdoor activities like hiking and swimming. Take precautions to make sure you clean up after yourself and your dog, so your host has no reason to be upset.
I like to bring a small bottle of cleaner and some paper towels, as well as a small towel and grooming wipes, in case I need to clean up any accidents or dirt. Bringing a ziploc bag full of these essentials will save you time and worry, in the event that the Airbnb does not provide them.
4. Keep the noise to a minimum
This is another rule that applies whether you have a dog or not. But let's be honest, dogs can be pretty noisy.
Teach your dogs good manners, and don't make an excess amount of noise that might bother other guests or residents.
If your dog is noisy, that doesn't mean you can never go anywhere, it just means you have to be more selective. For example, if your dog is a barker, stay in a secluded cabin far from other residences. If your dog makes noise if left alone, plan an itinerary where you can bring them along everywhere you go.
There's more. If you're staying in an apartment, don't let your 70 pound labrador run laps from room to room, disrupting the downstairs neighbors. Stay on the ground floor or in a house with no one under you. If your chihuahua is a barker, be sure to bring toys or treats to distract them and end the barks sooner rather than later. Where there's a will, there's a way.
5. Come prepared
When traveling, no matter where you go, it's best to come prepared with any supplies your dog might need. We have thought this through and offer a travel checklist. It's full of the basics: your dog's food, treats, medication, leash, harness, poop bags, sweater, and more.
You know your dog best and you'll know what you need on a daily basis. Don't plan on buying things at your destination if you can help it; you never know what will be available, if stores will be closed, or if you'll be in a time crunch and won't be able to make a trip to the store.
Pack a bag for your dog and come prepared.
6. Be polite and punctual
When traveling, especially if my dogs are with me, I like to always put my best foot forward. I don't want to give hosts any reason to leave me a negative review. A big part of this is being polite, in person and via Airbnb messaging, and being punctual and communicative.
Bad reviews not only look bad, but they might deter future hosts from allowing you to stay with your dogs. Plus, a positive experience means you might be able to return to that Airbnb location in the future, if it was great.
7. Pet proof the space
Pet proofing a space is similar to what parents have to do when they enter a new place with their baby – go around and make sure there's nothing that will harm the baby, or in turn, that the baby will destroy, that's within reach.
Does your dog like to eat or dig through potted plants? Put the plants on a higher surface. Is there a bathroom rug that your dog might be tempted to pee on? Roll it up and put it away until you leave. There are many ways to pet proof a space, depending on what habits your dog has.
I like to make sure nothing edible is within reach, like no little chocolates on the coffee table for example, or else I know my pug will go for them.
8. Bring a pet bed or crate
Traveling with a pet bed or crate will help you out two-fold: for starters, your dog will have a familiar item with them, where they can rest and relax. It will also help keep your furry friend off the furniture, minimizing the need to clean or wipe down different areas.
Crates are a bonus, because you'll be able to close them when gone to ensure that your pet doesn't get into any sticky situations.
Since much of my travel is international, a crate is difficult to bring, but I can still roll up a lightweight travel pet bed in my suitcase. It's always comforting for my dogs, since it's an object from home with their scent already on it. It's been especially helpful when staying in places where dogs are not allowed on the furniture.
9. When in doubt, ask
It's better to know than to assume, especially when it comes to your accommodation. Have a list of questions at the ready and make sure things are clear.
These queries should be asked up front, before booking. Even if it's listed as pet-friendly, never book an Airbnb before speaking to the host. It's best to get all questions out of the way before you click confirm and charge your credit card.
10. Rack up positive Airbnb reviews
As a frequent traveler, I often use Airbnb, especially if I'm traveling with my dogs. It's true that you don't always get the same luxuries that hotels provide, but I like being able to choose what kind of accommodation best suits my needs (you can stay in tree houses or houseboats!) and the extra space that often comes with it.
Along the way, I've been diligent about racking up positive Airbnb reviews. Why? No, it's not because they just make me happy. It's because these reviews are super useful down the line.
I often search for places to stay, and sometimes select a location that's not listed as pet-friendly. In fact, I'd say that most of the Airbnbs that I've stayed in over the years were not pet-friendly locations. But they fit my lifestyle, and the host let me book since my positive reviews backed up all of my claims about my dogs.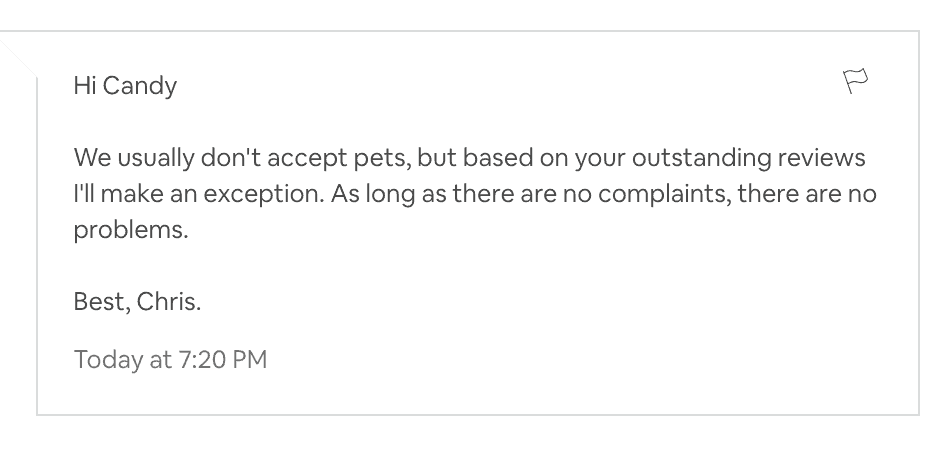 To be fair, this only works if you're honest. If you lie about your dog or the situation, expect a sticky outcome. And sometimes, even when you're honest, the host will still say no. That's ok! It's still worth a shot. You can always use those positive reviews to your advantage next time.