The Best Vegan Dog Products on the Market
Being a responsible pet parent means considering the impact that our pets have on the environment around us. Taking this into account in our daily lives means doing things like picking up dog poop, not allowing our dogs to disturb wildlife, and ensuring our dog doesn't damage gardens or grassy areas. But there are other things you can do too, like buying vegan dog products.
In 2018, the United Nations identified animal agriculture and meat production as among the most urgent problems in the world. They encouraged people to adopt a greener lifestyle, which would certainly include going vegan.
The animal agriculture industry is the main driver behind our planet's environmental crisis, which results in harmful things like greenhouse gas emissions, deforestation, species extinction and water pollution. And by animal, I mean meat, fish, and dairy production – they are seriously impacting our planet's resources and ecosystems.
Luckily, you can purchase and support vegan products without totally changing your lifestyle. Every little bit counts!
Click here to read 12 Tips For Eco-Friendly Pet Travel.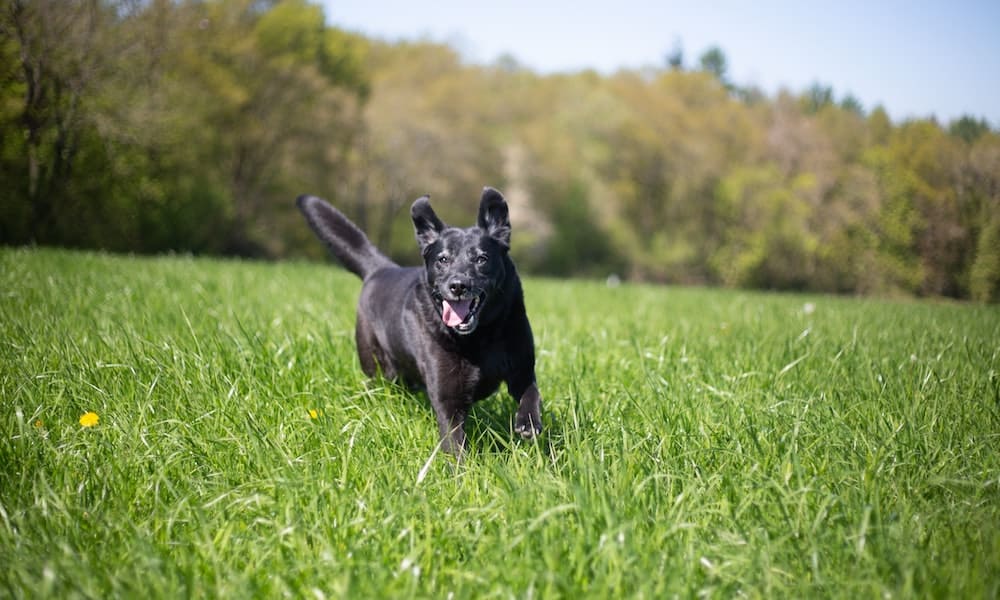 Why is buying vegan dog products worth it?
Why, you might ask, should you bother purchasing vegan dog products? Well, there are many reasons!
Adopting a vegan lifestyle may not be possible or particularly easy for some, but that doesn't mean you can't purchase vegan goods and support the movement when possible.
I myself am not vegan, but I prioritize buying vegan products for a myriad of reasons:
Save water: Plant based products require way less water to produce compared to animal products. It takes 100 to 200 times more water to raise a pound of beef than it does to raise a pound of plant foods.
Cutting greenhouse gas emissions: Greenhouse gasses are a type of gas released into the atmosphere that contributes to global warming and climate change. Animal agriculture generate over 14% of global emissions – that's more than all transportation emissions combined!
Keeping the soil clean: Animal agriculture weakens and depletes fertile soils, making it unsuitable for new plants to grow.
Less waste: Breeding, raising, and slaughtering billions of animals generates massive amounts of waste.
Preserving species and habitats: The deforestation caused by clearing forests for cattle doesn't just destroy trees, it also removes habitats for the thousands of species that call the forests home.
There are plenty of other reasons too – this is just the tip of the iceberg.
Here's a list of vegan dog products, and companies, that are worth checking out.
Chippin Dog Treats
Chippin is all about people and their dogs "chipping in" to help save the planet. They make high-quality, drool-worthy products that use 80%+ fewer resources. Their food toppers and treats are made using planet-friendly proteins and ingredients, like spirulina, kale, and pumpkin.
Plus, their items are sold using eco-friendly packaging. Their packaging contains 28% post consumer recycled materials (things like milk cartons and yogurt containers), meaning those items don't end up in landfills.
For those looking for dog food, they have non-vegan options available, made either using eco-friendly cricket protein (it takes just one gallon of water to produce a pound of cricket protein, compared to 2,000 gallons of water needed to produce just one single pound of beef protein!) and omega-3 rich silver carp.
V-Dog Breath Bones
V-Dog is a vegan dog food company that makes plant-powered food that's gentle on the earth's resources. They're the first vegan dog food company in the United States and they remain a family owned, vegan business to this very day.
Their breath bones are 100% vegan dog chew treats made with sweet potato, chia seed, and other yummy superfoods. They're great for making sure your dog has clean teeth and fresh breath.
V-Dog products are made in the United States, cruelty-free, and corn, soy, and wheat free. Their breath bones come in two sizes: regular and mini.
Ethique Bow Wow Dog Shampoo Bar
Ethique is on a mission to rid the world of plastic waste. They make 100% sustainable, ethically sourced products, and their dog shampoo bar is no exception. It's made using a combination of neem, teatree, oatmeal and coconut oil. It's pH balanced to help with skin problems, fungal infections, and fleas.
The shampoo bar is equivalent to three bottles of liquid dog shampoo, so you're not only saving plastic, but also money!
Pro tip: buy their in shower containers, made with bamboo and cornstarch. They're compostable and last up to five years in your shower or bathroom. Plus, they'll help your bars last longer.
Earth Rated Compostable Dog Poop Bags
These BPI-Certified (ASTM D6400) compostable bags are made with vegetable-starch based (i.e., plant-based) materials, they're non-GMO, and they're cruelty-free. Even the roll cores and packaging are recyclable. Each bag measures 9 x 13 inches, is leak proof and perforated, so it's easy to separate bags.
They're made by Earth Rated, a Canadian company that works closely with animal shelters and rescues across North America.
Just Fred Weekend Tote
The Just Fred Weekend Tote is the perfect casual-chic tote. It comes with a mesh enclosure and a padded chin rest for optimal comfort. The tote's interior is crafted with water repellent fabric and includes a machine-washable removable pillow and a built-in waste bag dispenser on the backside.
The base is made using vegan leather with black zinc alloy feet, so it's sturdy and durable, but also stylish. Choose from three colors – black, navy, or grey.
Gone to the Dogs Fuji Rope Leash
When founders Jennifer and Santos started Gone to the Dogs, they set out to counter the lack of transparency and responsibility in the process of producing pet goods. They work with makers from low-income and immigrant communities in the local NYC area, as well as marginalized communities in the Global South, to create handmade dog goods.
Their ethically sourced, hand-crafted products include the Fuji Rope Leash, their signature rope leash. Handmade with reclaimed climbing rope courtesy of MetroRock Brooklyn and Central Rock Gym Manhattan, the leashes feature polished brass hardware and come in a variety of colors and patterns. Every one piece is individually handcrafted so no two pieces are exactly alike!
Earth Rated Dog Wipes
These plant-based lavender wipes are USDA-Certified 99% bio-based. They're made using all natural shea butter, aloe, and chamomile, and are free of sulfates and alcohol, so they're mild enough for daily use.
They're great for washing your dog's face, paws, feet, and butt without leaving wet residue or funky smells, and sensitive enough for puppies to use too. Their compact packaging makes them easy to take on the go, and to use in any situation.
Eye of the Dog Vegan Leather Moto Vest
This imitation leather Moto Vest is only for the coolest dogs. It will definitely give your four-legged friend street cred when they go for their daily walk, and you won't have to feel guilty about it, since it's faux! The fabric is a light imitation leather that has a slight stretch across the grain. Get your dog one ASAP, you'd be a lot cooler if you did!
What's your favorite vegan dog product? Let us know in the comments.
---
Pin for later!