The Ultimate NYC Fall Bucket List for Dog Lovers
Goodbye summer, hello fall! Fall is arguably one of the best seasons in New York City. The air crisps up, sweaters come out, and your dog has a much better time spending time outdoors when the oppressive NYC heat subsides. Luckily, there's plenty to keep you both occupied and happy before the dreadful New York winter rolls in. Here are the best dog-friendly things to do in New York City this fall.
There's nothing like autumn in New York!
If you're not in New York, no worries! Check out our guide to celebrating fall with your dog, no matter where you are.
Go Apple Picking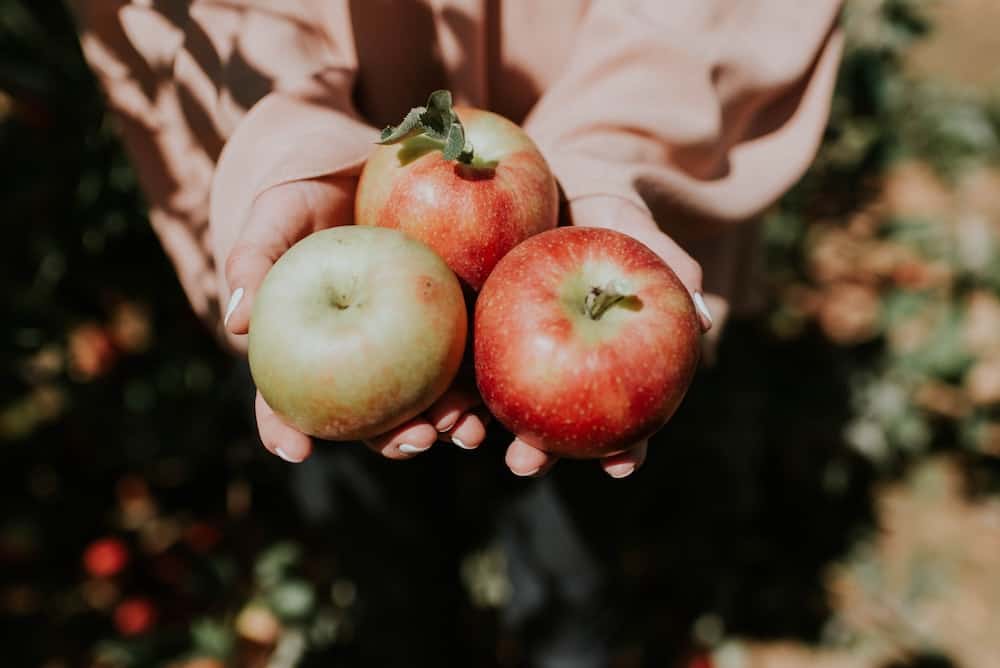 Nothing screams fall like biting into a crisp, red apple.
Luckily, you won't have to settle with a bag or plastic wrapped piece of fruit from your local bodega. You can go apple picking and pluck your own right from a tree!
There are loads of dog-friendly apple orchards just a short car or train ride away from New York City. We've compiled a list of them here.
Don't forget to snag some fresh apple cider and apple cider doughnuts while you're out there.
See a Scary Movie
Prepare yourself for Halloween by watching some ghouls, ghosts and goblins on the big screen.
You can snuggle up in a blanket to Netflix & Chill, or venture into the great outdoors for an in-person fright night at a drive-in or outdoor movie.
Syndicated in Bushwick has an outdoor cinema that's first-come, first-seated and free (just be sure to buy some grub), with screenings of classics like Hocus Pocus, Psycho and Halloween.
For those in Queens, there's The Bel Aire Diner, in Astoria, where the 55-year-old diner transformed its parking lot into a drive-in. There's also Nightout, a drive-in experience that has movies, Halloween installations, theatrical music performances and more. Get tickets on their websites.
If you're a Brooklynite, check out the Skyline Drive-In in Greenpoint. You can listen to the movie's sound through your car's stereo or via Skyline Drive-In's rentable radio. If you don't have a car, no worries, you can still bring your own chair or even rent one.
Scary not your scene? No worries! There are tons of movies to get you into that autumn feel and shoot fall vibes straight through your eyeballs.
A few of our favorites include:
You've Got Mail
Hocus Pocus

When Harry Met Sally

The Nightmare before Christmas
Get your Pumpkin on
Pumpkin spice, pumpkin butter, pumpkin lattes, pumpkin pies, pumpkin scones…! There's a pumpkin explosion every autumn when these bright round gourds are suddenly around every corner. They're carved, eaten, decorated and the list goes on and on.
For those who don't favor pumpkin, it sucks, but for those of us (like me!) who love it, it's time to relish in these orange globes of magic.
So how to make the most of pumpkin season? Here are a few ideas:
Get a pumpkin spice latte and a puppuccino for your pup.
Make these pumpkin spiced dog treats – easy and only three ingredients!
Order a Pumpkin Keg filled with Southern Tier Imperial Pumking Ale at Loreley Beer Garden (7 Rivington St, Manhattan).
Visit a pumpkin patch (Hint: many of the apple orchards linked above allow you to pick your own pumpkins).
Go to Trader Joe's and buy one of each pumpkin product on the market, then have a pumpkin party at home.
Check out the Fall Foliage
Autumn is when Mother Nature puts on her best display, with leaves in hues of orange, green, red and yellow.
Give your eyes a feast and check out the colorful foliage right in the city.
Central Park shares a map of peak foliage spots all around the park in their annual fall guide. Each year, approximately 18,000 trees transform, making it one of the most photogenic times in the park.
For those in Brooklyn, there are technicolor trees in Prospect Park too. Their park alliance shares different walking routes that'll have you wandering through the best of what their trees have to offer.
Take a Hike
Fall is the perfect time to enjoy colorful hikes and scenic trails. The temperature has dropped, and your dog can finally be outdoors for longer periods of time and enjoy themselves without overheating.
There are 22 National Parks in New York State, and 10 of them are right here in New York City!
If you want to stay within the five boroughs, check out our list of 5 Dog-Friendly Hikes in NYC, one in each borough.
The NYC Parks Department also hosts fall foliage hikes through parks in every borough. Their Urban Park Ranger naturalists lead you through urban forests, explaining the science behind the kaleidoscope of colors you'll see.
For those able to venture out of the city, check out the epic hiking to be done in the nearby Hudson Valley and the Catskills. They're just a car ride or a dog-friendly Metro North or Amtrak ride away.
See some Spooky Stoops
A great way to get in the Halloween spirit is to check out all of the spooky stoops that pop up around the city.
These are usually festive brownstone or townhouse stoops that have decorated for the holiday, with pumpkins, ghouls, ghosts, and goblin decor.
Neighborhoods known for their spectacular spooky stoops include: the Upper West Side, Cobble Hill, Brooklyn Heights, Astoria and the West Village.
If you're interested, we share a #SpookyStoops tour of different neighborhoods on the @dogsofnyc Instagram page. It's a fun way to spend a fall afternoon. 
Also, don't miss the best dressed house in all of NYC. A  Victorian Queen Anne-style house located at the corner of Albemarle Road and Argyle Roadhe in Prospect Park South goes all out every year, with the best Halloween decorations in all of New York City. Don't miss it!
Take part in the Tompkins Square Park Halloween Parade
The party of the year happens annually at Tomkins Square Park, when thousands of costumed canines and spectators get together for the biggest dog costume parade in the world.
Even if your pup doesn't want to dress up, this time honored tradition is worth going to. Creative pooches of all sizes and ages come to battle it out for best costume and to take home epic prizes. There are thousands of participants, spectators, and even celebrity hosts and judges. This is an event you won't want to miss!
Heads up: if you can't make the Tompkins Square Halloween Parade, no problem – head to one of the many other dog-friendly Halloween parties happening throughout the five boroughs.
Go on a Ghost Tour
Can dogs see ghosts? Find out when you take a dog-friendly ghost tour.
It's the best way to learn some New York history and get in the spooky spirit.
Boroughs of the Dead offer a variety of spooky tours to choose from, including Witches of Old New York, and the Magic and Mysticism of Central Park. They're found all over the city, with tours in Manhattan, Brooklyn, Queens and Roosevelt Island. They're a woman-owned boutique-sized business that is locally and independently owned and operated. As with most city walking tours, all of their stories are told in outdoor areas in public places such as parks and sidewalks. They also have virtual tours!
Haunted Manhattan offers four different ghost tours, all around different parts of Lower Manhattan. Each tour lasts 90 minutes and has 13 stops.
If you're on a budget or just want to go solo, consider the Sidewalk tour. They offer a self guided ghost tour, where you meander through the streets of Greenwich Village and learn about 400 years of murder, plague, greed, scorn and poetry. Their tour has you explore the dark histories of haunted churches, taverns, firehouses, parks and even a subway station.
There's also Free Tours by Foot, a pay-what-you-wish company that offers three different ghost tours in Manhattan.
If you're taking a tour, always ask if your dog is welcome and give the tour guide a heads up beforehand.
Visit the Farmers Market
When you can't escape the city, the next best thing is a Farmer's Market, with their bushels of apples, hot apple cider, and apple cider doughnuts.
Farmers Markets are a great place to hit up for fresh produce, fall vibes, and some cool weathered strolling and people watching.
Grow NYC has over 50 green markets and 15 farm stands all throughout the five boroughs. Over 200 local farmers, fishers and bakers sell what they grow, raise, catch and bake themselves, directly to consumers – no middle men or brokers allowed!
Our favorites Farmers Markets around NYC include:
The Union Square Green Market – open Mondays, Wednesdays, Fridays, and Saturdays from 8:00 a.m. – 6:00 p.m.
Grand Army Plaza Greenmarket – open Saturdays from 8:00 a.m. – 3:00 p.m.
Plan a Photoshoot
In the fall, the city comes alive with Halloween spirit, and pumpkins and skeletons start popping up all over the place.
There are spooky stoops (listed above), but also so many other places for great Halloween photo ops. Here's a few places to get the perfect spooky pooch photos:
Industry City's Pumpkin Spice Courtyard (274 36th St, Brooklyn)
Pier 17 Pumpkin Arch – Bonus: they usually host a Yappy Hour Halloween bash every year, check our dog calendar. (89 South St, Manhattan)
Crest Hardware & Urban Garden Center (558 Metropolitan Ave, Brooklyn)
Mansion Restaurant (1634 York Ave, Manhattan)
The Highline Hotel (180 10th Ave, Manhattan)
Carnegie Diner & Cafe (57th Street and 7th Avenue, Manhattan)
Your local bodega.
Go Wine Tasting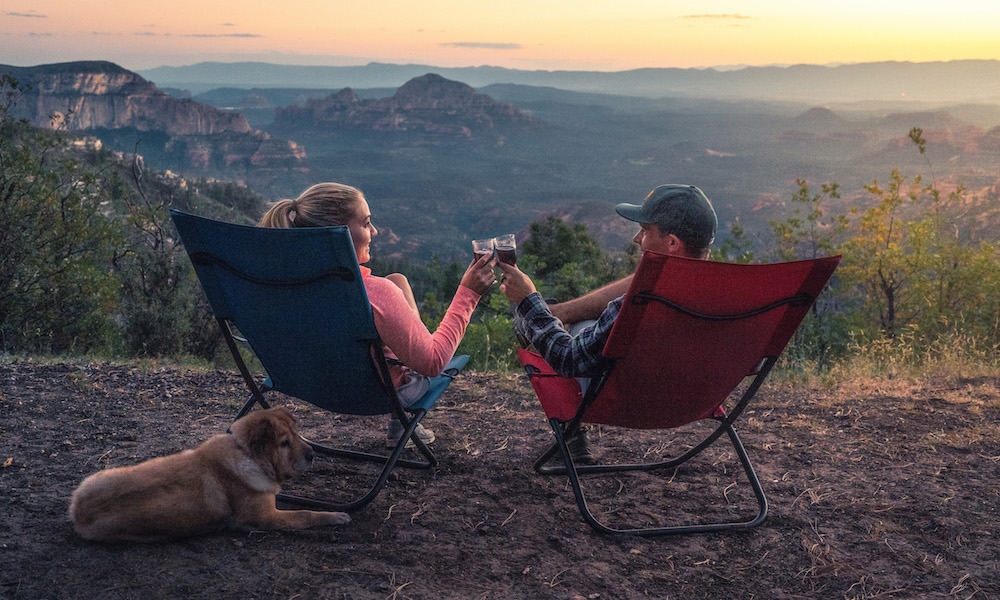 Wineries, with their rolling hills, cheese platters, and delicious booze, are a great place to relax, spend time with your dog, and watch the vibrant colorful trees.
Grab your puffy vest and flannels and head to a vineyard. If you're lucky, there'll be live music and food trucks to go with your bold reds and chilly whites.
Here's a list of dog-friendly wineries in the Hudson Vally.
If wine isn't your thing, check out a cidery or brewery. Bad Seed Cidery is open through October, with outdoor seating and food trucks, and Twin Star Orchards, open through November, has apple picking and wood-fired pizza.
For breweries, check out our list of dog-friendly breweries right in New York City.
How do you and your dog like to celebrate fall? Let us know in the comments!
---
Pin for later!