Flying to Brazil with Dogs: A Step by Step Guide
Brazil is the land of samba, caipirinhas, and sandy beaches. It's a country exploding in color, culture, and heat. We spent six weeks in Brazil with our two pups and can't wait to return. Besides being an amazing destination for human travelers, it's also incredibly dog friendly.
Big cities, like Rio de Janeiro and São Paulo, are packed with dogs, pet stores, and groomers, and that combined with great weather and plenty of outdoor activities makes it an unbeatable destination for you and your dog.
So grab your pup, jump on a plane, and head to one of the most magical countries in the world. Here is our guide to bringing your dog to Brazil and flying in cabin. We're sharing it step by step, so you can go too!
Update: Effective July 14, 2021, the CDC temporarily suspended (stopped) dog imports from countries classified as high-risk for rabies. Unfortunately Brazil is on the list of countries classified as high-risk for rabies. This will make things much more difficult if you're planning to travel to/from Brazil with your dog.
Step 1: Country Requirements
The first step is always to check your destination country's requirements to see if they're doable. Be sure to start this process early, so you have enough time to get everything done without scrambling. We checked Brazil's policy for entering the country with pets, and then double checked the information on their government website. Then, we triple checked by calling our local consulate. The internet is a great source of information, but websites aren't always up to date, and policies can change at any time. We like to get verbal confirmation before we start the process so we're 100% sure of things and don't waste time. Better safe than sorry!
To enter Brazil, we would need an International health certificate, issued 10 days before departure by a licensed veterinarian and endorsed by the USDA. We would also need a valid rabies vaccination and acknowledgment of treatment against internal and external parasites 15 days prior to travel (such as Heartworm medication). That's it!
Remember: It's important to stay organized throughout, and to keep a record of everything you'll need to enter the country. Make additional hard copies of all of your documents and store them in a special folder, and keep digital copies on your phone. These simple moves will save you time and energy when traveling.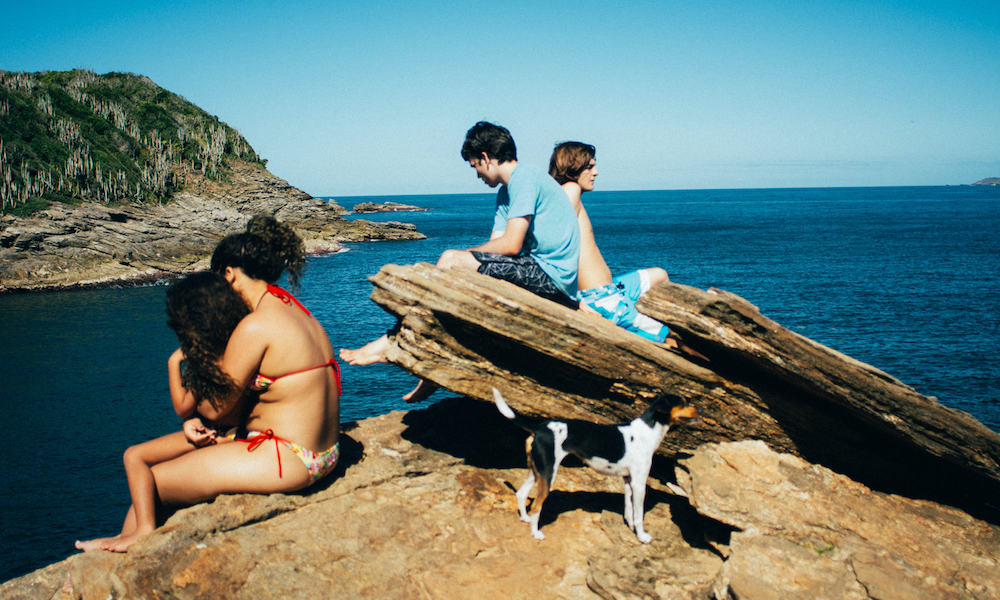 Step 2: Make Travel Arrangements
Since the health certificate is contingent on departure date, we'd need a confirmed date before moving forward. Check airline policies and look up flights. Decide how your pet's going to fly, and which method works for you. If there's an airline you've flown before with your dog and liked, see if they go to Brazil. We fly American Airlines a lot with our two pups, and have only had positive experiences.
Choose a flight, purchase your ticket and call the airline; it's important to contact the airline with your flight information, since many companies limit the number of pets allowed on board.
Next, find carrier requirements for flying in cabin. Be sure your pets bag fits requirements and will be accepted on the air craft.
Step 3: Call the Vet
Once your date is confirmed, you'll need to call your vet. Speak to them about your travel plans, the requirements, and set up an appointment. If your dog has a valid rabies vaccine, schedule your appointment for 8 – 10 days before your departure date. If they don't, you'll need to get a vaccine at least 21 days before departure.
Our dogs were up to date on rabies, so we scheduled an appointment 9 days prior to leaving. Make sure to ask your vet if they can provide the international health certificate, or if you should bring a copy yourself. Done and done.
Step 4: Vet Visit
Our vet visit went great! The vet checked over our dogs, and checked off on treatment against internal and external parasites, since we give our dogs Frontline and Heartworm medicine. She filled out the health certificate, and gave us the green light on travel. All good!
Step 5: USDA Endorsement
Next, our health certificated needed to be endorsed by the USDA. That means they would need to review our documents and stamp them. We used FedEx to overnight the following:
Rabies vaccination certificate
Payment
PRE-PAID return label
It's important to make a copy of all documents before mailing them and to keep a record of your tracking numbers. We sent the documents on a Thursday, and they were returned to us by Saturday.
Important Things to Note:
*USDA processing times vary, and offices are closed on weekends and national holidays. Get your documents in as soon as possible.
*If you are overnighting your documents, ask the carrier about weekend deliveries. You will typically have to sign off on them.
*You can either submit your documents via mail or in person, if a USDA office or affiliate office is close enough. Find the location that governs your state and give them a call.
Our flight was late at night, so we spent the day making sure the dogs got plenty of exercise so they'd be nice and sleepy for the flight. We gave them a small dinner four hours before the flight, and headed to the airport early. Give yourself plenty of time at the airport to check in and go through security. The gate agent reviewed our documents and carrier, and we were good to go.
Step 7: Arrival Check
When we landed, we went through immigration, grabbed our bags, and were motioned towards an area to get checked by a health inspector. A Brazilian officer looked over both dogs, checked our documents and made copies of them. She filled out some entry forms and gave us copies before sending us on our way.
Welcome to Brazil!
Have you ever flown to Brazil with your dog? We'd love to hear about it.
Learn more about dog-friendly Brazil here. 
---
Pin for later!