Dogs at Disney World: An Interview with the Disney Golden
Thinking of visiting Disney with a dog? Well, it's possible, if you have a service dog. And if you don't, you can still stay at Disney Resorts with your pet – they just can't enter the theme park.
We spoke with Amber Parascando, a Disney fan and employee, all about visiting Disney with her service dog Sully.
But first, some information on Disney and dogs:
Are dogs allowed at Disney World?
Only service dogs are permitted in the theme parks.
Are dogs allowed to stay at Disney World hotels?
Dogs are welcome to stay at the following Disney Resort hotels:
Where can dogs visiting Disney World stay while their families enjoy the theme parks?
Best Friends Pet Care offers pet care for both dogs and cats who come to Disney World with their families. Their facility has:
17,000 square feet of air-conditioned indoor space

10,000 square feet of covered outdoor runs and play areas

A 25,000 square-foot dog park
You have the choice of letting your pet stay for the day or overnight.
Best Friends Pet Care is open an hour before the theme parks open, and stay open one hour after closing.
Read on to learn all about visiting Disney World with a service dog.
Tell us about yourself.
My name is Amber Parascando and I am on a mission to travel the world. Luckily, I don't have to do anything alone thanks to my partner in crime, Sullivan. Sully is a 3-year-old golden retriever pup. Although our bond makes it look like we have been together forever, Sully was actually re-homed to me at 10-months from a family member who didn't have the lifestyle for a dog. Together, we live in South Florida permanently, but we do travel a bunch.
All of our travels so far have been domestic. In the coming years, I do have some international plans on our agenda. The states we have been to thus far include Florida, Georgia, Tennessee, Kentucky, Indiana, Illinois, Wisconsin, Michigan, New Jersey and New York.
The easiest way for us to travel is via airplane. Because of Sully's status as a task-trained service animal, he is able to travel with me in cabin on our flights. We also use other transit methods at our destinations such as train, Uber and the subway.
What about Sully?
Some preface on Sully's role and my disabilities. I struggle with a few forms of chronic illness, namely, Dysuatonomia: a form of autonomic dysfunction.
To break this down, the autonomic nervous system is the part of the nervous system that is responsible for control of all the bodily functions not consciously directed such as breathing, heartbeat, blood pressure and digestive processes.
As a result of this condition, I experience a plethora of symptoms every single day that significantly alter my life. Light sensitivity, sound sensitivity, heat intolerance, nausea, fibromyalgia, brain fog, vertigo, numbness/tingling, and even fainting are just the tip of the iceberg.
However, this doesn't need to be a bad thing. Although I live with these symptoms every single day, I still go out there and chase after my dreams. I run into bumps and halts, but always find a way to persevere.
Sully is task-trained to help me manage my illnesses which is also a big reason of why I'm able to travel so often. He alerts me before the onset of a fainting spell, uses his forward momentum body strength to help me walk when I'm fatigued, guides me when my vision goes black, and applies all of his body weight on to my legs to redirect blood flow when I'm down. Having him by my side has been a dream; not only does he make it all possible, but he is the best travel partner and makes adventures so fun.
You travel a lot with Sully. How do you prepare beforehand?
Before a trip, I always make a Google doc to share with traveling partners. This allows us to plan everything in advance, so we know when and where to leave, allow time for breaks with the dog(s) and even ourselves.
Looking at the weather trends in the weeks leading up to a travel will give the best bet of what kind of conditions to expect once you arrive, and also give enough time to order proper gear.
For cool conditions I always recommend a winter coat and snow boats for your dog. Even if there is no snow, the ground can still be cold or have salt on it which can burn their paw pads.
For warmer conditions I suggest a cooling coat and boots for concrete.
My biggest piece of advice is "when in doubt, over pack." You can always come home with extra supplies such as kibble or a first aid kit, but those items may not be readily available on your trip.
What is the hardest part about traveling with a service dog?
The hardest part about traveling with a service dog are unexpected emergencies. Along with a service dog comes a disabled handler. Often times, we cannot foresee medical events that can cause plans to take an entire 180.
As for your dog, they need to come before any plans you may have had. For instance, maybe they have a sick stomach or got hurt. In that case, they won't be able to go out for the day and you will need to stay back with them to make sure they are okay.
Another challenge when traveling with service dogs is the possibility of language barriers or lack of education from business owners and the public which can cause potential access issues.

How do you find accommodation on your trips?
Accommodation is the key word when traveling with a disability and/or service dog. All the way from the booking to going home, I use many accommodations along the way. Even if you are traveling with your pet, you will need pet-friendly accommodations such as hotel and transit.
The best bet is to start your research incredibly early and don't be scared to ask around. Reach out to businesses and other people who frequently travel with their pets. Utilize all options such as Airbnb, car rentals and driving over flying.
What are some essential items that you pack for Sully?
I always have my main packing list, which doesn't change much regardless of the destination. This includes all the basics for my dog: food for each day plus extra, treats, collar with tags, a leash, poop bags, portable water bowls, an emergency kit, and an informational folder with service dog laws and vet records.
In addition, I always add any weather related items that are essential such as a rain coat, winter jacket and boots.
An essential I would tell everybody to have is a microchip! You never know what could happen and assuring your dog is chipped will allow a higher possibility of reunion.
Name a trip highlight.
A trip highlight would for sure have to be during my favorite vacation we ever took together to Manhattan, New York. We went to Central Park and everything just felt so magical. The sights, the people, the number of dogs out and about. Being there made me realize how much I wanted to move to NYC. We truly had so much fun that day.
What is it like to visit Disney World with a service dog?
Disney World is a very hectic place- between the crowds, sounds, rides, and overall environment. Adding a dog into the mix can make things even crazier.
It's important to note that Disney World is not an animal-friendly location and only service dogs are allowed at most resort locations. The theme parks themselves have a strict service animal only policy. Because of the nature of their training, these dogs are very well prepared for any kind of stimulus they may experience while at Walt Disney World.
Believe it or not, our dogs are actually allowed on some of the rides! Any ride without a height requirement that is deemed safe for a dog, they are allowed to join. Some examples include It's a Small World, Pirates of the Caribbean, Toy Story Mania, and The Kilimanjaro Safari. The dogs will experience small spaces, extended periods of laying down, rapid movements, and quick loads/unloads.
For any ride that service animals are not permitted on (whether that be because of height requirement or another safety reason), we are accommodated in two ways. You can either:
Utilize ride swap while one person waits with the dogs, or

You can kennel the dogs in the cages they provide.
These cages vary in size and typically sit at the ride exit area. Sometimes, you will go through the line as normal and at the last minute before loading, a cast member will direct you to the crate. Other times, you will go in an alternate or "back entrance" to the ride where you will crate the dogs then go right on. Due to the location of some of the kennels at ride exits, the dogs are very visible to the public. However, they are never alone because a cast member waits with them the entire time!
In addition to some of the rides, all of the shows are service animal friendly as well. Here, the dogs will experience effects such as strobe lights, smoke, loud music, stimulated canon/gun shots, fireworks and performers in the audience.
Overall, Disney with a service animal seems like it's a handful, and while it definitely can be, they are well trained enough to handle these kinds of things.
If someone is visiting a Disney park and they see a service dog, what is the appropriate way to behave?
If anybody ever sees a service dog in the parks, it is best to ignore them and continue on. Although they are very cute, it is important to understand they are there to assist their handlers. We understand how exciting it is to see a dog in a place where they typically don't belong, but causing a scene is very inappropriate. If you feel inclined to take a photo, when it doubt, always ask first. Make sure to have manners and approach the handler, not the dog. Remember we are humans first, service dog handlers second!
Why else might someone encounter service dogs at the park?
Sometimes when you see multiple dogs together they are in training to be service animals! Trainers utilize the parks for high exposure reasons – almost anything a service dog may possibly experience in their life can be trained for at Disney! Other times it's just a group of friends who all happen to have service dogs!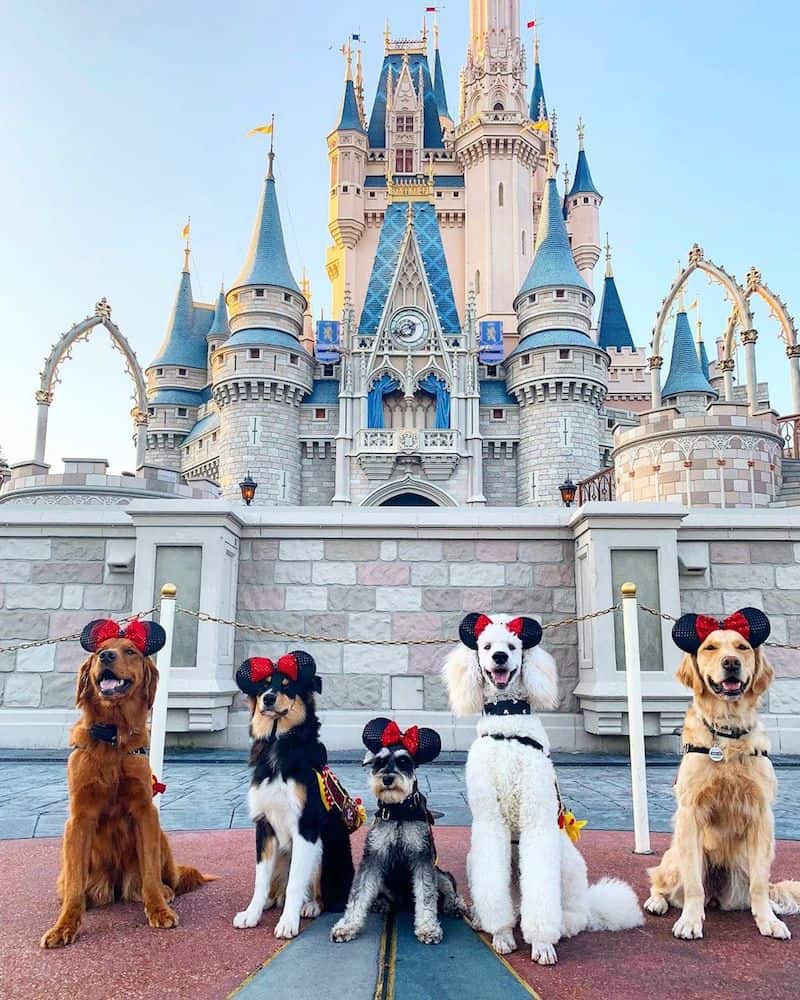 You worked at Disney World in Florida with your service dog. What can you tell us about your job and what it's like to work with a service dog?
In fall of 2019 I interned at the Walt Disney World resort as a part of their College Program. My role was merchandise and my location was World of Disney. Fun fact, this is actually the LARGEST Disney store in the entire world! Sully even had his own set of trading pins to exchange with guests!
Working there was definitely an experience like no other. I got to meet people from all around the world and learn about where they come from and even some of their assistance dog laws. I think that these interactions were the best part of my job – getting to really know each and every guest on a personal level.
The most difficult part of having a service dog here was the reason behind having one in the first place – disability. Often times Sully would alert me that an episode was coming while talking to guests and I had to quickly excuse myself mid-conversation to run to a safe space. I'm beyond grateful to have had him with me during my time with the company, he made it all possible.
With the exception of service dogs, dogs are not permitted in the theme parks, but are allowed to stay at a few Disney hotels. Have you ever visited any of these hotels, and what can you tell us about them?
With the addition of so many dog-friendly hotels on the property and their Best Friends day care center, this gives families with pets a great opportunity to vacation to Walt Disney World. I have been to each of these as a guest, but only ever stayed at non-pet friendly locations with Sully as a service animal. All of these accommodations are such a great step in the right direction to making travel with animals do-able!
There's a lot of talk about service dogs, ESAs, therapy dogs, etc., without people realizing that they are very different. What's something you wish more people knew about service dogs?
I wish more people knew that service animals love their job and we love them – they are not forced to work! Another major thing that I really want the public to understand is that even though I have a disability, nothing is "wrong" with me. Just treat me like a human being.
What advice do you have for people who want to travel with their dog, but are nervous to do so?
Just do it. Start small if you need to get your dog comfortable in the car or in new locations. Try and make everything super fun for them and focus on activities that they will enjoy. Do your research and make sure where you are going has pet-friendly accommodations. Traveling with my dog has not only changed my life for the better, but it gave us an untouchable bond and unforgettable memories.
Thank you so much to Amber and Sully!
You can follow along on their adventures here.
Read more interviews with people who travel with their pets here.