12 Dog-Friendly Things To Do In Baltimore
Steamed crabs, and Old Bay, and Ravens, oh my! Baltimore, a seaport city in Maryland, has so much to offer visitors. Known as Charm City, there's plenty to do and explore for both two- and four-legged friends alike. Here are 12 dog-friendly things in Baltimore that you won't want to miss.
1. Go On A Ghost Tour
Listen to hair-raising tales of Baltimore's haunted history on a ghost tour! Baltimore Ghost Tours offers Ghost Walks in Fells Point and Mount Vernon, where you'll be spooked by the many eerie sites in the seaport town.
Leashed, well-behaved dogs are permitted on the ghostly walking tours (sorry, no dogs allowed on the haunted pub tours).
Pro tip: tour guides are known to end the tour with a treat!
2. See A Movie
Catch a flick at Bengies Drive-In Theatre, home of the biggest movie theater screen in the US. Well behaved dogs and their owners are welcome to enjoy the movie from their car, or relax on the grass in a lawn chair or blanket.
Dogs must be kept on a short leash (6 feet or less) and pets are not allowed to enter the concession stand or restrooms.
Location: 3417 Eastern Blvd. Middle River, MD
3. Head Out On The Water
Cruises on the Bay
Cruises on the Bay offers a narrated Baltimore Harbor boat cruise. You can check out the attractions of the Inner Harbor including the iconic Domino Sugar sign, Fort McHenry, and the Key Bridge.
Dogs must be leashed, but they get to cruise for free!
Cruises on the Bay offers 45-minute and 90-minute cruises, evening rides, and cruises in Annapolis.
Baltimore Water Taxi
Dogs of Charm City teamed up with Baltimore Water Taxi to offer Canine Cruises, a series of curated, on-board rides for you and your pup.
For each month of spring and summer they'll bring you a themed boat cruise to hang out and ride the waves! The Baltimore Water Taxi is a great way to explore Baltimore, and now your dog can join in too.
Bonus: Dogs of Charm City also offers pack adventures, group hikes, and loads of dog-friendly events. Check out their Instagram page to learn more!
4. Attend A Dog Festival
BARCStoberfest is the ultimate dog festival! It happens every fall at Patterson Park, and includes a beer garden, live music, a 5k run, yoga, a shopping market, a one-mile walk, food trucks, costume contests and more.
It's the ultimate way to have fun while raising money for homeless animals at the Baltimore Animal Rescue and Care Shelter (BARCS). BARCS is the largest shelter in the state of Maryland, taking in over 11,000 animals each year. Help fundraise, either individually or as part of a team, and enjoy the festival.
5. Visit Fort McHenry
Fort McHenry is best known for defending the Baltimore Harbor from an attack by the British navy in 1814. That event, called the Battle of Baltimore, inspired "The Star-Spangled Banner."
Pets are allowed, and permitted to explore areas of the scenic park and walk the seawall trail. You can reach Fort McHenry by water taxi from the Baltimore Inner Harbor or by car.
Location: 2400 E Fort Ave, Baltimore, MD
6. Eat Delicious Dog Treats
The Dog Chef makes delicious handmade treats for your pup to enjoy. They have a selection of savory and sweet treats available, including doggy frozen yogurt, chickpea training treats, berry bones, and custom birthday cakes. Sip coffee in the lounge while your dog enjoys fresh goodies.
Location: 863 N Howard St
7. Play At A Dog Park
Baltimore has many amazing dog parks where your furry friend can stretch their legs and enjoy some off-leash play. Here are a few great ones:
Locust Point Dog Park: Located in Latrobe Park, this dog park features astroturf, trees, rock outcroppings, and a water slide for thrill-loving pups. Dogs of all sizes are allowed, but be aware that the park is reserved for small and senior dogs every day from 9:00am – 10:00am and from 3:00pm – 4:00pm. (1518 Latrobe Park Terr)
Patterson Dog Park: This well-maintained dog park has separate areas for both small and large dogs. It has kiddie pools, water fountains, artificial grass mounds, and benches for humans. It's located in Patterson Park, Baltimore's most frequented large park. It features basketball courts, two ice rinks, a swimming pool, pagoda, tennis court, and more. Head to nearby coffeeshop Patterson Perk afterwards for a coffee and free dog treat. (2601 E Baltimore St)
Howards Dog Park: This modern dog park has a section for larger dogs and one for smaller or elderly ones. There are benches for humans, and shady trees. The surface is concrete and astroturf, with small mounds for climbing. It's a popular spot, so be prepared to socialize! (7 4th Ave)
Canton Dog Park: This dog park is spacious and clean. It's divided into two areas, one for large dogs and the other for smaller or elderly dogs. The surface is sandy, so be prepared to wipe paws after a good romp. Head to nearby and dog-friendly Lighthouse bar afterwards to grab a drink. (3221 Toone St.)
*Not A Dog Park But Still Worth A Mention – Sherwood Gardens: Sherwood Gardens is a privately owned community park that's open 365 days a year. They're most known for their annual tulip display, where 80,000+ bulbs occupy over a 28 beds spread throughout the six acres. Leashed dogs are allowed in the park, just be sure to clean up after your pet! (Located in Northern Baltimore, one block east of the 4100 block of St. Paul Street.)
8. Drink Booze
The Admiral's Cup: The Admiral's Cup hosts #DrinkWithYourDog events, where they offer free pup portraits and beer discounts. Try their Flying Dog brew and sweet potato tater tots while you're there. You can keep up with the latest news on events by joining their #DrinkWithYourDog Facebook group. (1647 Thames St.)
Independent Brewing Company: Located at the top of the popular Ma and Pa Trail, the Independent Brewing Company features 26 rotating taps of small batch artisanal ales and cider. They have a daily rotating calendar of local food trucks, so you can grab some grub too. Well-behaved dogs are welcome in the tap room. (418 N Main Street)
Diamondback Brewing Co.: Diamondback Brewing Company makes hazy, bold beers worth guzzling. Try their handmade pizzas and pretzels. Although they have a brewery cat (named Inky!) they're still dog-friendly. Dogs are allowed on the outdoor patio. (1215 E Fort Ave.)
Blue Pit BBQ: Although Blue Pit is a BBQ joint, they host great Yappy Hour events especially for dogs! They're known for organizing fundraisers for nonprofits like the Baltimore Animal Rescue and Care Shelter (BARCS) and the SPCA. Their dog-friendly back patio welcomes well-behaved pups and has water bowls, a dog selfie board, treats, and special gifts for four-legged friends. (1601 Union Ave.)
9. Grab A Bite
Riptide by the Bay: This waterfront restaurant offers spectacular views, delicious seafood, and is popular with local pups. They have great daily specials, like $5 Margarita Mondays, or $1 Oyster Thursdays. Try the crab soup or the crab dip. (1718 Thames Street)
Atwater's: Atwater's serves up fresh farm-to-table goods from 17 farmer's markets. Try their Scottish pies, handmade sandwiches, or their golden milk lattes! Although there are six Atwater's locations in Baltimore, we recommend the one at Belvedere Square Market. Dogs are allowed outside. (529 E Belvedere Ave.)
Miss Shirley's Cafe: Miss Shirley's Cafe is a family-friendly, locally owned Maryland landmark. It's definitely worth a visit when you're in Charm City! Try their Funky Monkey bread, Creole Mac & Cheese, or Chicken N' Waffles. Dogs are allowed on outdoor patios. (Multiple locations)
Bmore Licks: This family-owned, 2nd generation ice cream shop serves up over 100 flavors of handmade soft serve ice cream available every single day! They also offer milkshakes, sundaes, and snowballs. There is ice cream for everyone, including vegan flavors, and dog-friendly options. Come in for a scoop or two with your furry friend. (2437 Eastern Avenue)
10. Play Games
The Sandlot:The Sandlot is a fun-house for adults. Located right on the harbor, this beach oasis has games like giant Jenga, volleyball, and corn-hole. There are tables, lounges, couches, and even hammocks to relax on, and a sandy surface to get that real beach feel. Try their Bed of Roses rosé slushie and Pup in a Cup corn dog. Bring a credit card – they're cashless! (1000 Wills St)
DogWatch Tavern: Come for the Skee-Ball and pinball, and stay for the free treats and water bowls. DogWatch Tavern has tons of happy hour specials and bar games, and enough fun and games for both you and your pup. Dogs are welcome to hang at the outdoor tables. (709 S. Broadway)
11. Walk Along The Waterfront
Baltimore is a port city, with an inner and outer harbor that stretches for miles. You can walk along the promenade, or cut back into one of the Baltimore neighborhoods along the waterfront.
The Baltimore Waterfront Promenade, a pathway meandering some seven miles, is home to an abundance of restaurants, shops, parks and attractions. Sniff your way along the brick-and-board and allow your pup to explore!
The waterfront also plays host to a variety of events and festivals throughout the year, including an ice festival, Oysterfest, Summer Socials, and a book festival. On the first Friday of spring and summer months, the waterfront hosts Yappy Hours, with live music, food trucks, adoptable pups, and dog-friendly vendors.
12. Go For A Swim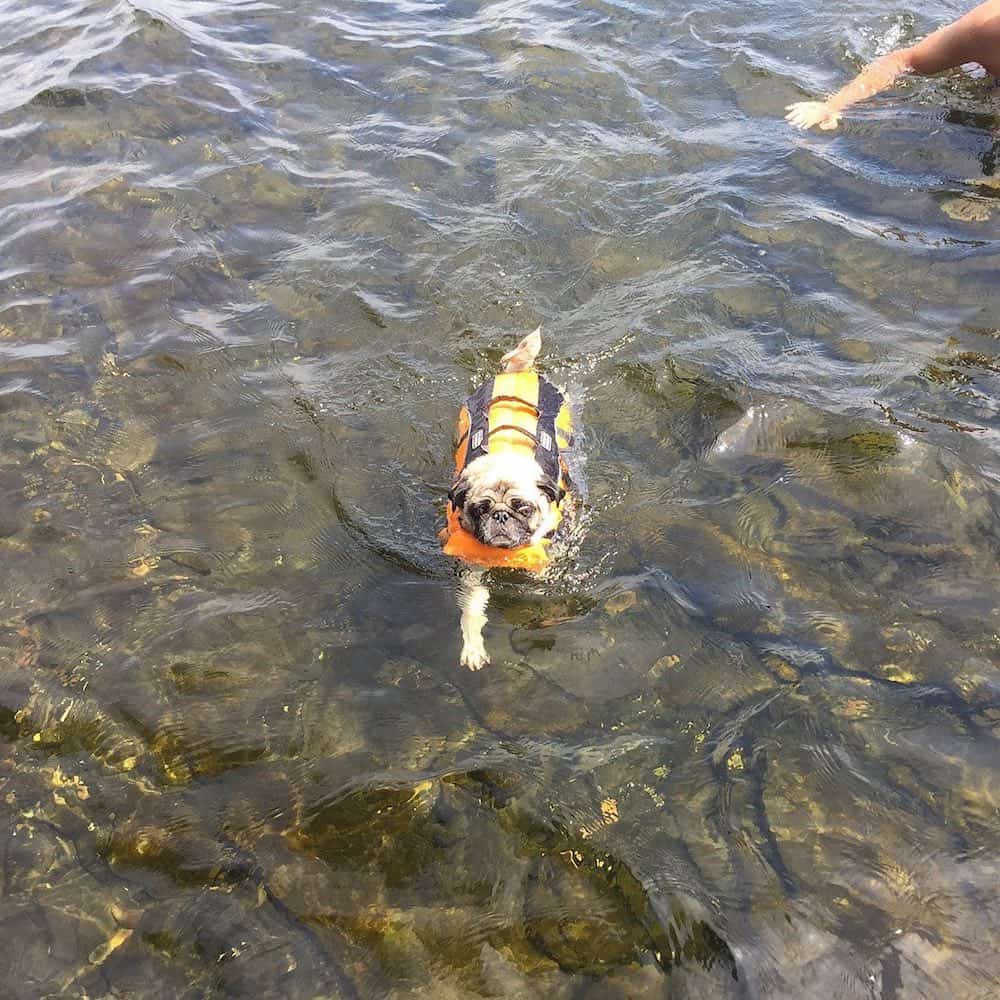 Downs Park Dog Beach: Situated on the Chesapeake Bay, Downs Park offers more than five miles of paved and natural trails, as well as a dog beach. There are panoramic views of the bay, as well as shady, paved trails to enjoy. The dog beach is partly fenced in, so you can feel safe allowing your dog to frolic off-leash. (8311 John Downs Loop, Pasadena, Md. 21122)
Pet Depot: Just a short trip from Baltimore, Pet Depot offers a hydrotherapy and recreational pool for your pup to enjoy. Their super large pool (16 feet wide x 36 feet long x 4 feet deep) has a 2-foot knee wall surrounding the pool and can fit multiple dogs. Plus, there's a ramp for easy walk-in access, so no dogs need to be lifted in or out of the pool. Your dog is free to visit same day, but we recommend calling ahead to make a reservation. (2151 Greenspring Drive, Timonium, MD 21093)
Canine Fitness Center: The Canine Fitness Center is dedicated to keeping your furry friend healthy and happy. They offer an array of services, like acupuncture and massages, as well as swimming. Bring your dog and their shot records, and they'll provide the rest, including swim vests, water toys, and a shower facility with an air dryer and towels. (1353 Generals Highway, Crownsville)
Matapeake State Park: Just over the Bay Bridge on Kent Island is Matapeake State Park. Down a short wooded trail you'll find swimming beaches for both dogs and humans to enjoy. There are great views of the bridge and the bay. Be prepared to fly a kite, have a picnic, make sandcastles and get plenty of time in the water. (1112 Romancoke Rd, Stevensville)
Quiet Waters Park: Quiet Waters Park's 340 acres includes boating, a playground, a butterfly garden, art galleries, and six miles of paved trails. It's the perfect place for a quick getaway. There's both a dog park and a dog beach! (600 Quiet Waters Park Road, Annapolis)
Paw Point Dog Park: Paw Point Dog Park (1000 Lakeside Dr) in Lake Roland Park has an off-leash swimming area for dogs, but a passcode is needed to enter. Consider going if you have a local friend with access. (1000 Lakeside Dr.)
Click here to learn more about other dog-friendly destinations for you and your pup!
---
Pin for later!