Flying a Cat in Cargo: The Stress Free Way to Do It
If you're moving or going on a long vacation, your feline friend may need to fly.
The truth is, your cat will most likely be able to fly in cabin, unless they are super large and/or don't meet the weight requirements.
But a situation might arise where cargo is the only option.
This is what happened to us when we recently flew from Brazil to the United States. We had three pets – two dogs and one cat. We had been able to take all three in the cabin of the aircraft on our way to Brazil, but when we flew home 15 months later, airline policies had changed. We could only fly with two pets in the main cabin, meaning one would have to go in cargo.
Boogie is a pug, and pugs should never fly in cargo, so he was off the table.
Marcelo is a puppy mill rescue who is incredibly co-dependent (mostly on Boogie). He would not do well flying solo, so he was a no go as well.
Kitty, who is incredibly independent, was our best option.
So it was decided, Kitty – the former street cat – would be flying in cargo. I was nervous, as this was my first experience ever flying with a pet in the belly of the plane.
But, spoiler alert, everything ended up being fine. It even went much smoother than I'd imagined.
Here's how to fly your cat in cargo in an easy and stress-free way.
1. Make Your Travel Arrangements
Before buying a ticket, check the airline and route.
Each airline will have restrictions that depend on a number of different factors, like destination, aircraft, the weather and connecting flights.
If you can, fly direct. It will make the process much easier, for both you and your pet.
Once you're set on a flight, call the airline and notify them you'll be traveling with a pet in cargo. Capacity is limited on flights, and checked pets are often reserved on a first-come basis. Secure your spot as soon as you can.
Also, confirm the price. Some airlines have fixed prices, while others vary depending on kennel size, animal, etc. American Airlines charged a flat fee of $150 per pet when traveling between Brazil and the United States.
2. Get the Right Kennel
Your airline will have requirements for the type of kennel that your cat can travel in.
For example, here were the requirements for our American Airlines flight:
We were in Brazil, so Amazon wasn't really an option for us for getting a kennel – long shipping times and even higher shipping fees!
Instead, we visited a few different pet stores to scope out kennels. Many offered crates with plastic doors, and that wouldn't work.
We went to about six different pet stores to compare crates and prices before finding the one that was right for us. Prices differed, and we saw a range of kennels that were anywhere from R$150 to R$500 (between about $25 and $100).
We ended up buying a crate at this little hole in the wall pet store who only had one available. The price was right (it cost R$150, which is about $25). We bought it and brought it home so our cat could get used to it.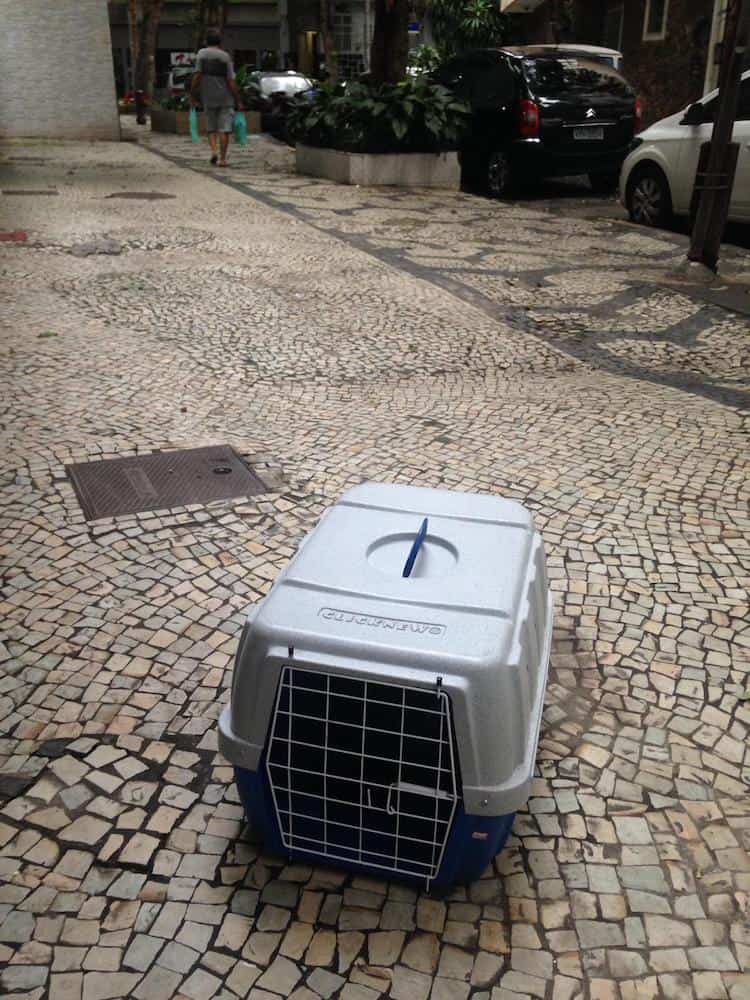 Keep a copy of your airline's guidelines on hand (a screenshot on your phone is fine) in case you need to reference them when purchasing your kennel or checking in.
Once the kennel was home, we kept the door open and made it a cozy space for our cat to explore.
We added tape to the top with our contact information: name, email and phone number, our flight number, and our cat's name and color.
We also purchased metal bird feeds to attach to the door of the crate, one for food and one for water.
3. Get Your Paperwork in Order
If you're flying internationally, your pet will need certain paperwork to fly.
Related: Country Policies
If you're traveling within the United States, requirements vary state by state.
Be advised that you will likely have to think about both airline requirements and country requirements.
Once you have your documents, keep them organized and on hand. You'll be required to show them when you're checking in and often after you land.
4. Flight Day
On flight day, we were ready.
We fed our cat four hours before our flight.
We put a wee wee pad on the floor of the kennel, and then a pet bed inside so Kitty would be nice and cozy.
We taped a packet of cat food to the top of the kennel, only to be used in the case of major delays or issues.
We closed the kennel, and headed out.
Plan on getting to the airport early, since check-in will take longer than usual.
Once at the check in counter, the gate agent looked over Kitty's paperwork, had us sign a document about the weather, and then attached a bunch of stickers to the kennel. We paid the $150 fee with a credit card.
We brought zip ties to tie the kennel door shut, but the gate agent said not to worry about it. An airport worker walked over, grabbed the crate, and whisked Kitty off. They zip tied his crate themselves.
5. Pick Up
Once you've landed and gone through immigration, it's time to get your baggage.
Pets in cargo will be brought to the oversized luggage area of baggage claim. Head on over to reunite with your cat.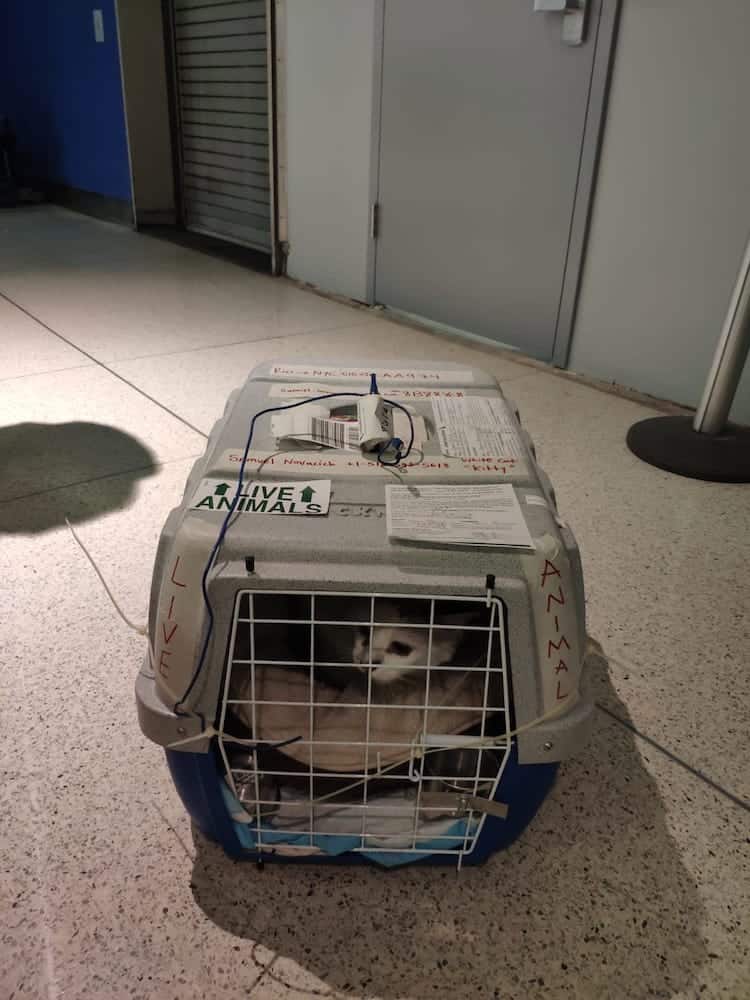 Have you ever flown with your cat?
Click here to learn more about flying with your pet.
---
Pin for later!