Dog Menus Available in New York City
Going out for a bite to eat can now include dinner and dessert for your pup. The following restaurants and cafes in New York City offer dog menus so that your canine friend won't be left with an empty stomach. They're not just dog-friendly restaurants, they're dog welcoming restaurants – they take the extra step to make you and your pup feel special. Head to these locations to chow down with your pup.
Boris & Horton
This East Village dog cafe has a fully stocked barkery with yummy treats for your pup.
Choose from favorites like paw'reos, "cheesy" sweet potato fries and carob donuts. There's also doggy frozen yogurt and cookies.
All baked snacks are made fresh in NYC with human grade ingredients, and they're gluten free. They're available on the dog side of the cafe.
Boris & Horton is located at 195 Avenue A. in Manhattan.
by CHLOE.
This wildly popular vegan chain is also dog-friendly!
by CHLOE. serves up two dishes for our four-legged friends and, you guessed it, both are vegan. Choose from Pupcakes, house-made organic whole-oat k9 cupcakes, or Bag O' Dog Bones, house-made organic peanut butter dog bones.
The latter isn't only delicious, but charitable too! For every bag sold, $1 is donated to the Humane Society. Can I get a woof woof?
There are multiple by CHLOE. eateries in Manhattan.
Château le Woof
Château le Woof is a charming pet market and cafe located in Queens, NY.
Their combined love of caffeine and canines has them serving up delicious craft coffee for humans, and treats and toys for pups.
Choose from pup-cakes, sweet potato pup-pie, or one of their other doggie offerings.
Château le Woof is located at 31-01 Vernon Blvd in Astoria, Queens.
Greenwich Sports Tavern Village (GST Village)
This neighborhood sports tavern serves up delicious American pub fare and tasty drinks (their pulp bar features cocktails made with fresh juice!).
They recently opened up the Fur Baby Cafe, with a full pet-friendly menu featuring eats like Mutt S-Loaf (lean ground beef with steamed veggies) and The Saluki Tzu (fresh water Alaskan Salmon with steamed rice).
There's bacon flavored dog ice cream for dessert, and your pup can wash it all down with some dog water (a specialty mix of CBD & vitamins infused in water).
Head there any day of the week from 11am-3pm for Lappy Hour, where you and your best furry friend get 10% off your entire bill.
Greenwich Sports Tavern Village (GST Village) is located at 1 7th Avenue South in Manhattan.
JustFoodForDogs at Petco
Petco Union Square has teamed up with JustFoodForDogs to open a brand spanking new 1,350-square-foot health and wellness kitchen for our furry friends.
JustFoodForDogs will serve up USDA-certified hand crafted food for dogs, with options like beef with russet potatoes, turkey and whole wheat macaroni, and venison with squash. Meals are prepared in-house by veterinarians, with 100% human-grade ingredients.
This open kitchen for pups is the first of it's kind on the East Coast. An adjoining pantry will also offer make-at-home meals, grab-n-go snacks, and vitamins and supplements.
Petco Union Square is located at 860 Broadway in Manhattan. 
La Contenta Oeste
This Mexican eatery caters to our canine amigos with their own doggy menu.
Give your dog a taste of Mexico with dishes like Pollito Con Papas (poached chicken breast with roasted carrots and potatoes) and El Vegetariano (quinoa, rice, sweet potatoes and carrots).
While they're chowing down, treat yourself to some guacamole and chips, fish tacos, and one of their signature cocktails (we recommend The Mayan or one of their Micheladas).
They have happy hour seven days a week, late night bites at 2am, and brunch on the weekend.
La Contenta Oeste is located at 78 West 11th Street in Manhattan. Their sister restaurant La Contenta is located at 102 Norfolk Street in Manhattan.
Milk & Cookies Bakery
This pocket sized, cozy bakery serves up fresh baked cookies and ice cream sandwiches for humans, in flavors like dark chocolate toffee, snickerdoodle and s'mores. There are also homemade brownies, crumb bars and rice crispy treats.
For pups, check out their Peanut Butter Pumpkin Dog Treats, made with whole wheat flour, pumpkin puree and peanut butter. They'll get your dog's tail wagging.
Milk & Cookies is located at 195 Avenue A. in Manhattan.
Shake Shack
New York's best burger chain has their own dog stuff on the menu, and I'm not talking hotdogs (they have those too!).
Your pup can choose from two items: the Pooch-ini®, a pairing of ShackBurger® dog biscuits and vanilla custard, or a Bag O' Bones, 5 ShackBurger® dog biscuits made by NYC's Bocce's Bakery.
Shake Shack's dog menu is available at all Shake Shacks except those in stadiums, ballparks and airports.
There are multiple Shack Shacks all over the city.
Sprinkles
Sprinkles bake shop makes delicious handcrafted cupcakes, cookies, layer cakes and bake boxes. They're known for their Cupcake ATM (the world's first!) and signature bite-sized cupcakes.
They're also huge dog lovers, with a special hand-crafted, sugar-free pupcake topped with yogurt frosting. You can purchase them in store, or buy online.
Sprinkles shops are located coast-to-coast, with three locations in NYC.
Sprinkles is located at Brookfield Place (225 Liberty Street), Penn Station (2 Penn Plaza), and on the Upper East Side (780 Lexington Avenue). All locations are in Manhattan.
Starbucks
Enjoy your frothy latte or delicious cold brew while your pup slurps down a Starbucks puppuccino!
Starbucks gives dogs their very own puppuccino to enjoy while you're on your morning coffee run. Don't worry, your furry friend won't get coffee jitters – a puppuccino is a cup filled with whipped cream! There's no coffee or caffeine involved. Plus, there's more good news. This sweet treat won't set you back (unlike their $5 lattes…ouch!). They're free!
There are multiple Starbucks all over the city.
Ollie's Ice Cream + Stuff
Ollie's Ice Cream + Stuff is the first-ever ice cream parlor in NYC that's for both dogs and humans. It's the brainchild of Eric Kyriakopoulos, a local bartender-turned-barktender, and dog dad to Simon, a rescue from Korean K9 Rescue.
Ollie's plans to dish out flavors like Sea Salt Carmel and Nitro Cold Brew for humans, and Peanut Butter Pumpkin Butt, made with pumpkin, peanut butter and cashew yogurt for dogs. Yum!
Ollie's Ice Cream + Stuff is located in Bushwick, Brooklyn (158 Irving Avenue).
The Wilson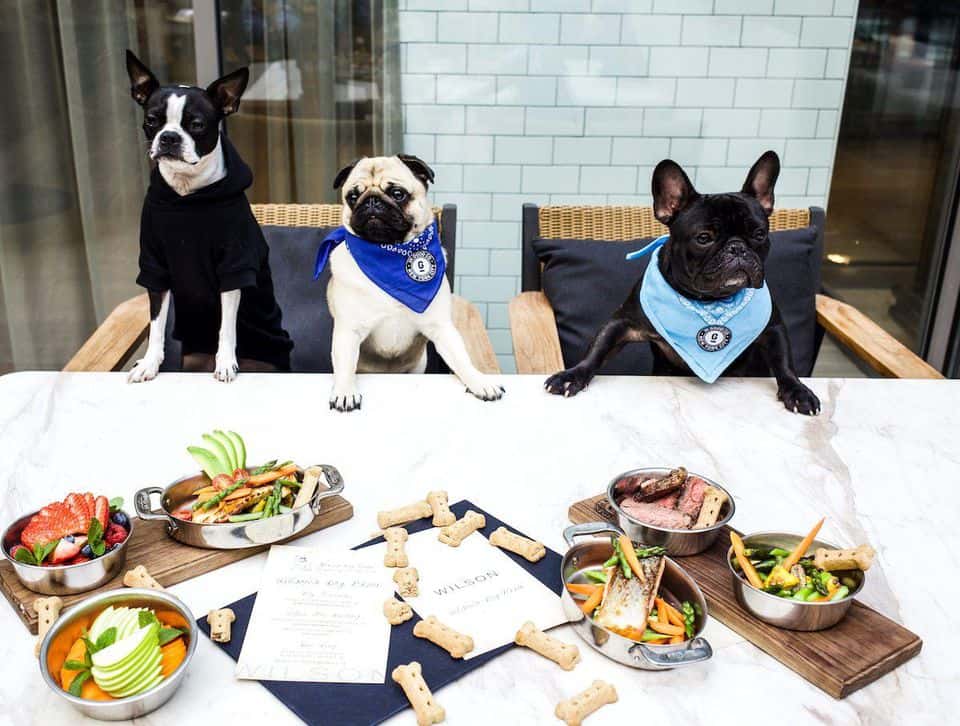 The Wilson is a chic contemporary American eatery with delicious food and classic cocktails. They have their own special dog menu that offers everything from grilled ribeye steak to a bowl of mixed berries. Prices range from $11 to $42, and include five different mouth watering dishes.
The Wilson is located at 132 W 27th St. in Manhattan.
Check out what else dog-friendly New York City has to offer here.
---
Pin for later!